BTC Bounces and Crosses Key Level
Stocks are sinking lower and lower. The S&P 500 dropped 11% in the first 16 trading days of 2022 — its worst-ever start to a year. The losses have continued today as the Dow Jones plunged by over 1,000 points in anticipation of the Federal Open Market Committee (FOMC) meeting later this week.
Since Bitcoin (BTC, Tech/Adoption Grade "A-") has followed traditional finances in the last few weeks, it wouldn't have been unreasonable to think it would continue today.
But, luckily for crypto investors, Bitcoin decoupled a bit and bounced to reclaim the $36,000 level. We'll still need for it to confidently close above this level before we can call it support.
But surely, this is a positive indicator that BTC has found a local bottom, right? Possibly, but the times are uncertain, and this may all be short term.
So, let's see what the metrics say ...
Funding rates certainly look favorable for short-term bulls, after many bears shorted $33,000 — from which BTC bounced. Hence, bears got heavily liquidated.
There's also a good amount of buying on Bitfinex — a crypto exchange that offers spot and derivatives trading — while most top traders on Binance are long.
And after five weeks of outflows, digital assets investment products have finally seen inflows — albeit modest ones, totaling $14.4 million last week. This suggests that institutional investors are carefully starting to take advantage of a dip. It's likely they'll try to dollar-cost average (DCA) their purchases in the future.
Although weak, this is an important sign, as it shows that investors are slowly starting to look for a bottom and good buying opportunities. They haven't shown interest in Ethereum (ETH, Tech/Adoption Grade "A") yet though, as Ethereum products continued to see outflows.
Considering that Bitcoin's dominance is increasing, money is flowing from altcoins to Bitcoin, which usually happens during the fear phase as Bitcoin is seen as a steadier crypto investment.
The BTC/USDT 30-minute TradingView chart shows BTC has crossed $36,000 and is trying to stay above it.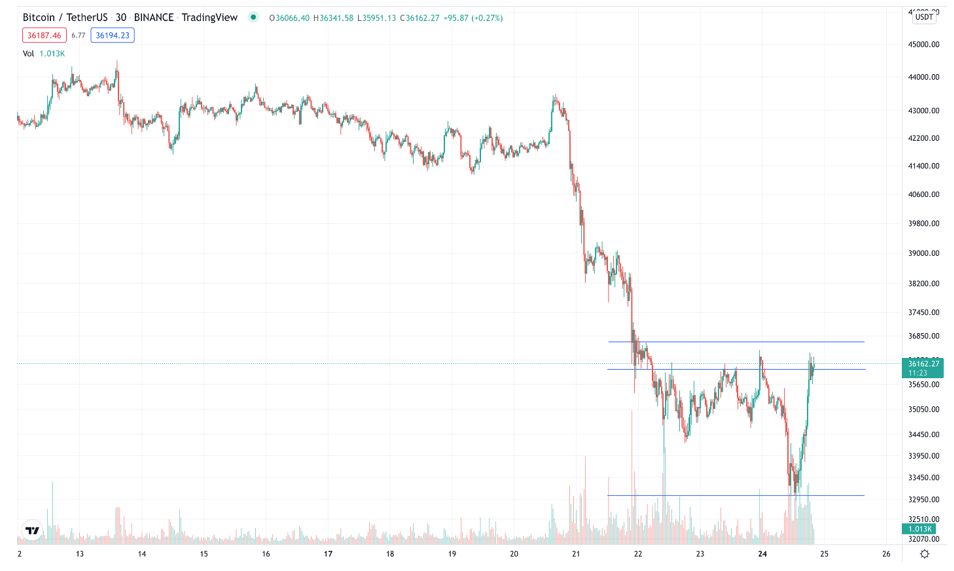 If BTC can hold this level, there will be notable resistance levels between $36,000 and $40,000 — namely $36,700 and $39,600.
If it can't, however, then we can see more downward movement back to the $33,500-34,000 support. Below there, $29,200 is the critical downside level.
The ETH/USDT four-hour TradingView chart shows that the price of ETH broke below its descending channel two days ago. It dropped as low as $2,200 before bouncing a bit.
It's currently trading near $2,370.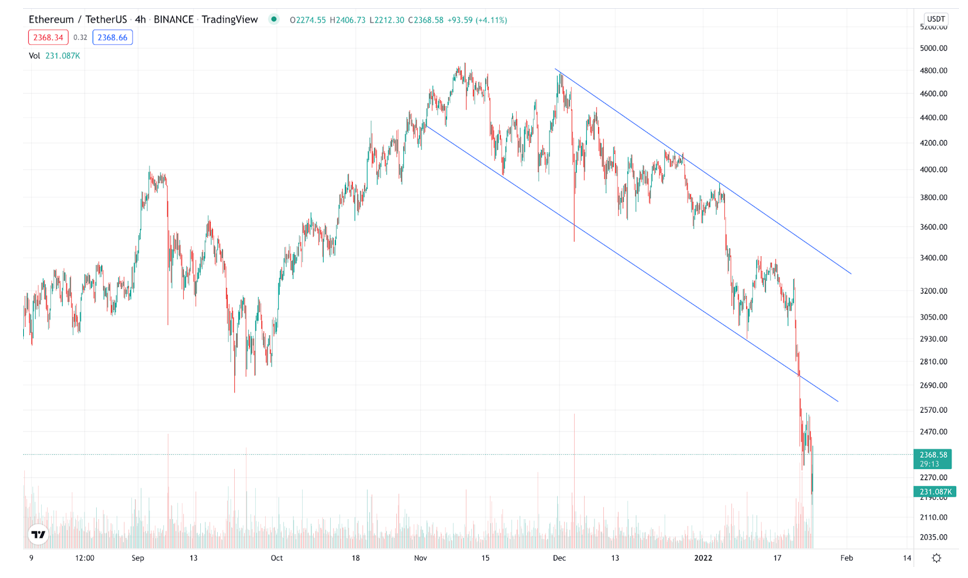 Despite this, all eyes are still on Bitcoin as most traders prepare for volatility, at least through the FOMC meeting.
Notable News, Notes and Tweets
Buying Bitcoin Anonymously: Looking for legal ways to buy BTC or other cryptocurrencies without attaching your name to it? Here are some options.
After receiving hundreds of requests, the Chinese government started rejecting metaverse trademark applications. Applications by tech giants — including Tencent and Alibaba — are still pending review.
What's Next
When it comes to short-term sentiment, top traders on Binance are 76% in long positions. Overall, though, traders are 52% in short positions.
This means that top traders are expecting a short-term bounce.
We'll have to wait and see, however, if BTC continues to follow traditional markets and continues to show weakness. Many have already started looking for the bottom, but whether one will be established will depend on the ability of BTC to decouple from traditional finance (TradFi)!
Best,
Marija Matić