BTC Breaks Out After 2 Months!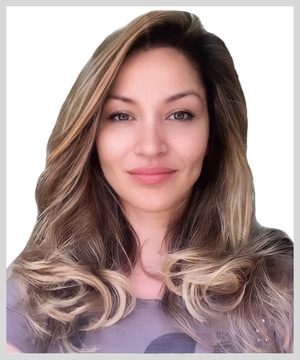 By Marija Matic
Bitcoin (BTC, Tech/Adoption Grade "A-") has finally broken out of its months-old trading range, surpassing overhead resistance near $46,000. Since the amazing weekly close, BTC has shot up to almost $48,000 today!
Many are now asking how far it can go.
Well, we'll have to see. But BTC saw a wave of new institutional investors last week. Approximately $193 million flooded into digital asset products, representing the largest inflow since mid-December.
Interestingly, 76% of that — roughly $147 million — came from Europe.
Is this European interest in crypto heightened by the Ukraine crisis coupled with BTC showing resilience in the time of adversity?
It's certainly possible. We already know that both Russian and Ukrainian citizens have raced into crypto in hopes of protecting their wealth through the turmoil. That other Europeans may be doing the same isn't a far stretch.
Most exciting out of this development, though, is the fact that Bitcoin has reclaimed all the value it lost in 2022! It's now trading at the same level it did on Jan. 1, having gained 15% in the last seven days.
The BTC/USDT daily TradingView chart shows clearly that BTC has broken out of its trading range to the upside. The blue arrow shows one likely trajectory for future price action, assuming this bullish momentum continues: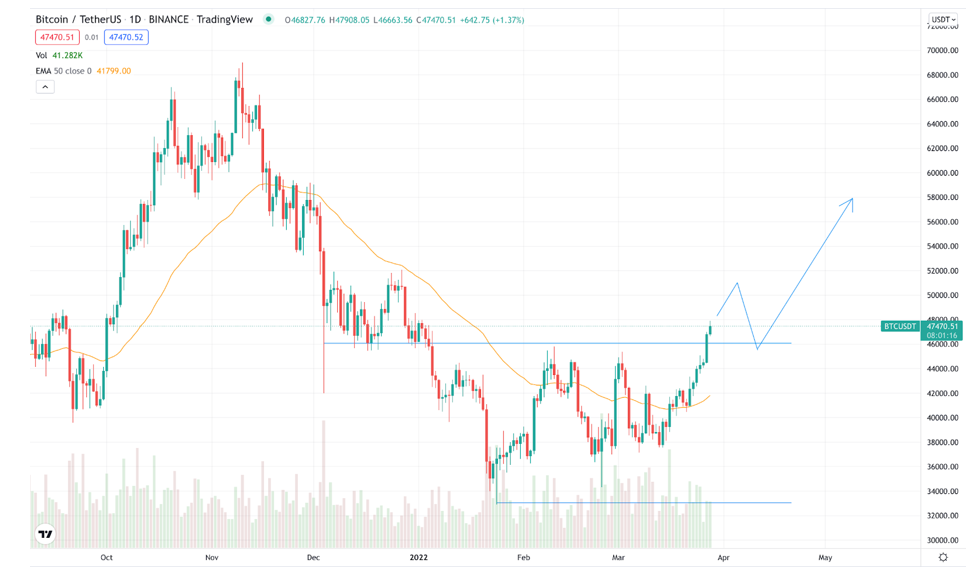 Ethereum (ETH, Tech/Adoption Grade "A") experienced an even stronger push higher than BTC, gaining 17.4% over the same seven days.
You can see in the ETH/USDT daily TradingView chart below that ETH has reached a historical resistance level. It'll need to break above it and hold in order to move on to challenge its next targets: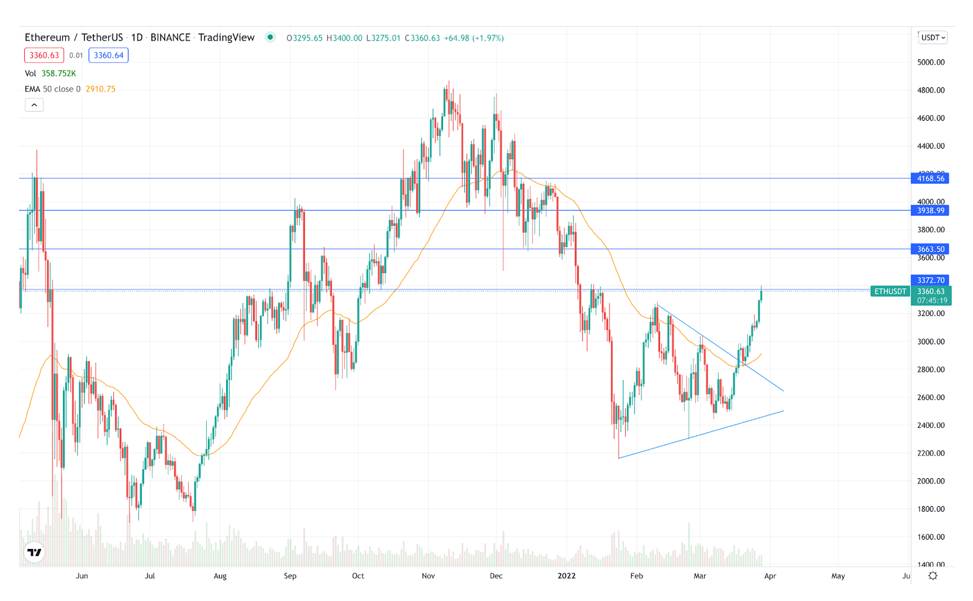 Notable News, Notes and Tweets
What's Next
BTC looks ready to claim $51,000, my first major target. The measured move from the breakout of the pattern will likely take it to $58,000 at some point.
As you know, crypto rarely moves in a straight line, so there are several paths BTC can take on the journey to that level. In my opinion, the most probable involve jumping to around $51,000 then returning to test support at $45,000 before heading even higher.
The only short-term bearish scenario would be if, when testing support at $45,000, BTC failed to hold and made a daily close below $44,700.
Considering that the EU is set to vote on critical crypto AML provision — which could mean an outright ban on non-custodial wallets — Thursday could be a make or break moment in this rally.
But the bullishness of European institutions, as reflected in the previously mentioned inflows, is giving me hope that this provision may not pass.
Bitcoin is up 35% since the Ukraine conflict started, making it now undeniably clear that geopolitical instability should not reflect negatively on Bitcoin.
In reality, it's rather the opposite. I expect to see that bullish sentiment continue in the short and long term.
In the medium term, I'm looking ahead to a few proposals that are scheduled to come from the Biden administration this summer that may throw a bearish wrench in the mix. But there's plenty of time before then for BTC to flex its muscles!
Enjoy the bullishness. After patiently waiting — and HODLing — you deserve it!
Best,
Marija Matić