BTC Hovers Above Decisive Trendline
January's crypto market sentiment has been dominated by extreme fear, according to the Fear and Greed Index, leading to a broad market correction.
Bitcoin (BTC, Tech/Adoption Grade "A-") has retreated to the low $40,000 range since we rang in the new year, sparking even more fear.
Despite this, certain indicators are showing that BTC is undervalued and oversold ... just like in mid-2021.
On CryptoQuant — a website that provides access to review on-chain data — we can see that net unrealized profit and loss (NUPL) shows the current amount of losses is excessive. Meanwhile, Bitcoin's network valuation confirms it's currently oversold.
An oversold, undervalued market can't continue for too long.
In fact, BTC is currently hovering just above an important trendline, as shown by the blue line in the BTC/USDT daily TradingView chart below ...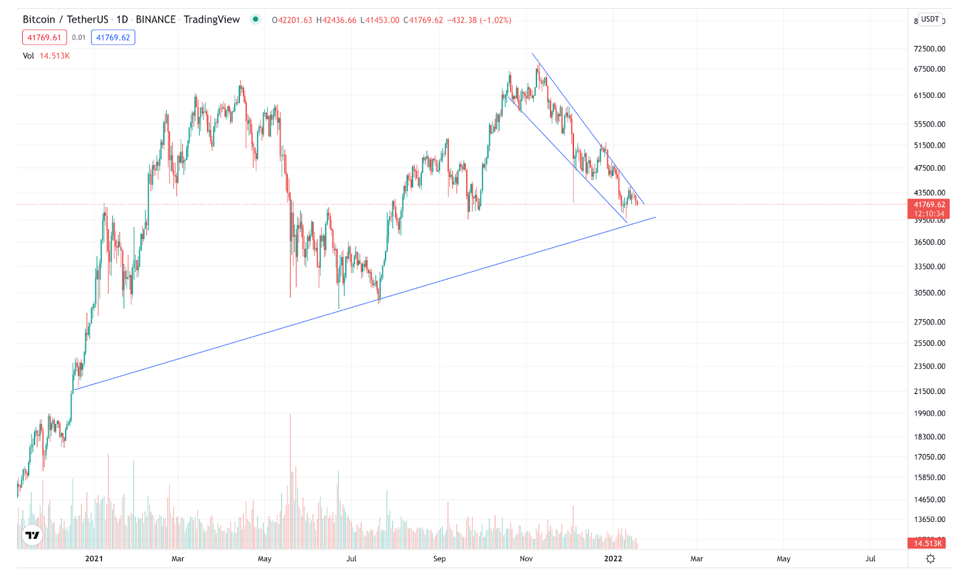 A break and close below this level could result in the market continuing downward.
A more bullish outcome would be if Bitcoin can bounce off support here with significant trading volume.
This chart also shows another potentially bullish pattern: BTC has been trading in a falling wedge — a traditionally bullish sign — since reaching a record price in November.
If downside support can hold, and if Bitcoin can close above the upper line of this wedge near $42,600, it would be the first strong confirmation of support this year.
In that case, the next level of resistance would be near $46,000.
But BTC isn't alone. Ethereum (ETH, Tech/Adoption Grade "A") is also hovering above in a falling wedge formation … while hovering over a significant support level, as you can see in the ETH/USDT TradingView four-hour chart below ...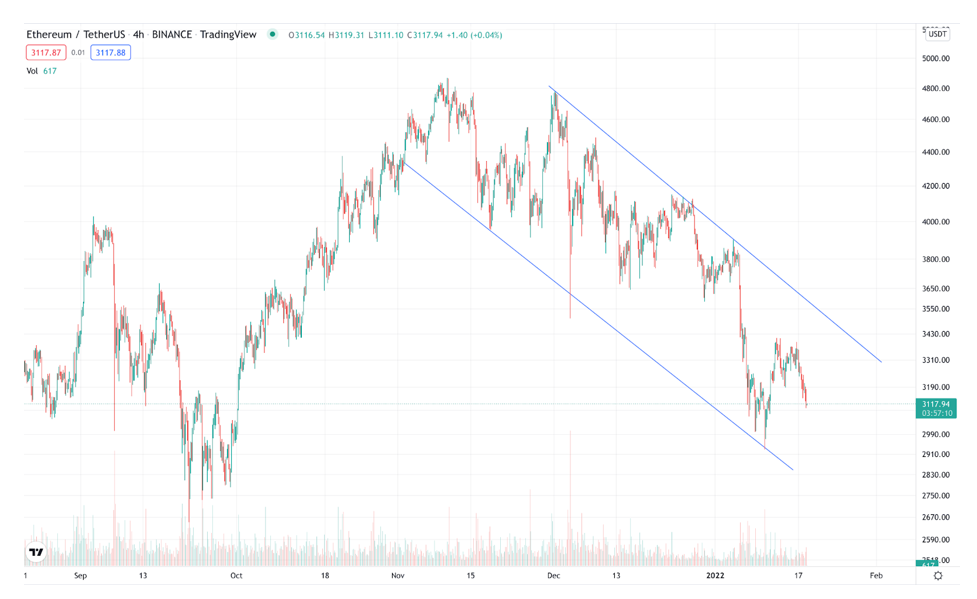 ETH needs to cross and hold $3,400 to gain enough momentum to break past the top of its wedge near $3,500.
The strongest overhead resistance, however, lies around $4,100, as seen on the Weiss volume chart: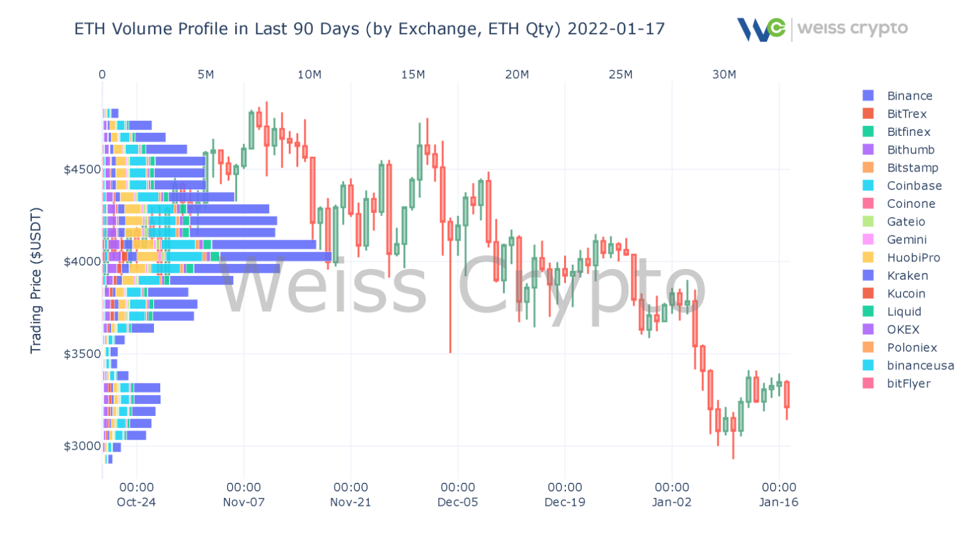 Despite some of these bullish patterns, the extreme fear in the markets means we can't say which way these market leaders will break just yet.
Notable News, Notes and Tweets:
What's Next
Trading volume is currently quite low — more than 50% lower than during the peak of the 2021 market — as investors are waiting to see which way the wind will blow.
If a deleveraging event were to take place, this low volume would only accentuate it. On the other hand, open interest in perpetual futures is extremely high.
In plain terms: Sentiment in the near term is dominated by fear. But the long-term outlook has investors optimistic.
So yes, we could see some strong volatility soon with either a short or long squeeze. Considering that most "longers" — those trading long on margins and futures — have already deleveraged, there is a higher chance we'll see a short squeeze.
Less likely, although possible, would be a lower volatility scenario, such as Bitcoin forming a strong double bottom with $39,800 as support, or even establishing and holding a higher low.
As I said, it's still too early to say which way the market will go. That's why I suggest you keep checking in with Weiss Crypto Daily to get your latest updates and market insight.
Best,
Marija Matić