For the third time in the last seven days, Bitcoin (BTC, Tech/Adoption Grade "A-") is attempting to break the $39,000 mark, while Ethereum (ETH, Tech/Adoption Grade "A") is heading to $2,700.
The below BTC/USDT one-hour TradingView chart shows that today's price jump might be just a retest of a trendline that was broken yesterday (orange). If so, there is a possibility of a sharp decline to $35,500 or even $33,000.
A break above the $39,000 level, on the other hand, would invalidate this bearish setup!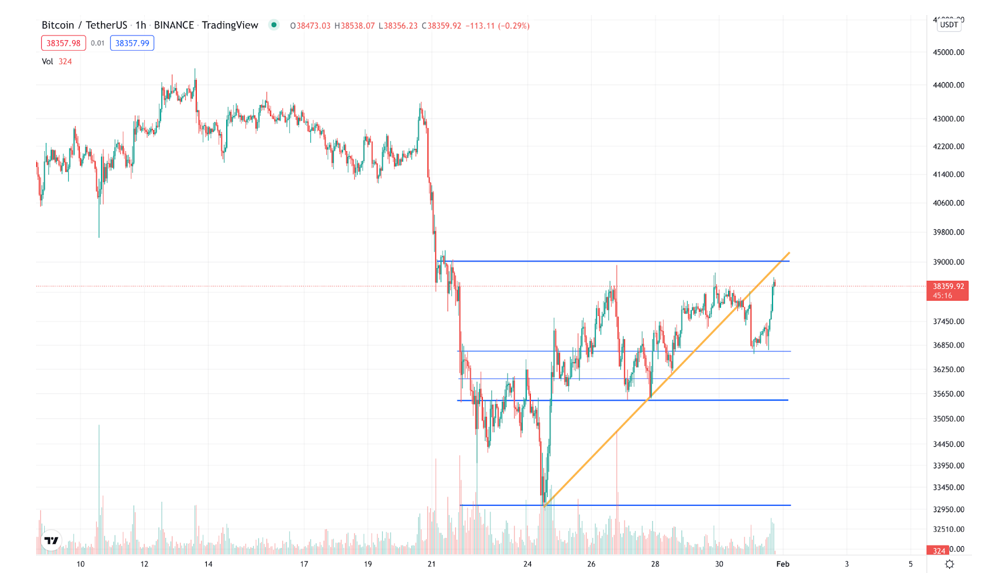 Meanwhile, crypto is seeing high correlation with the traditional assets, despite certain geopolitical events suggesting that decoupling would be more suitable.
The correlation between crypto and equity markets has been trending up strongly this year. At the same time, correlation between crypto and the U.S. Dollar Index (DXY) shows a largely inverse correlation.
In other words, when DXY is weak, BTC is strong and vice versa.
However, the U.S. dollar tends to get more correlated with crypto during the initial phases of important macro events — such as the outbreak of COVID-19 in early 2020 or during the Ukraine/FOMC heat we saw last week — as you can see below.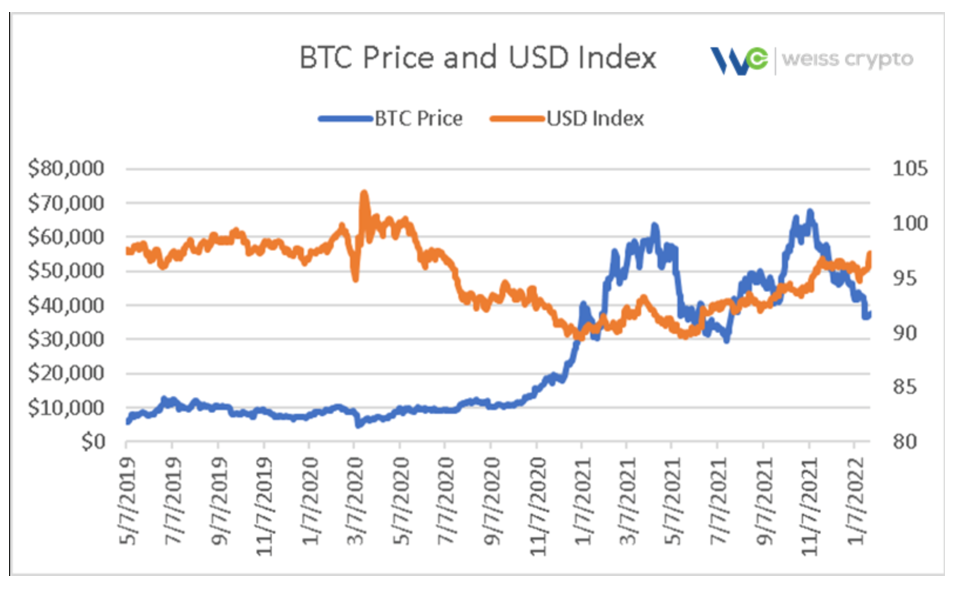 As can be seen from the chart, BTC and the U.S. dollar notably parted ways in the second half of 2020 and have only briefly correlated since.
For a simpler visual, this next chart shows BTC and DXY's 30-day rolling correlation. Over that same period of time, it's been mostly negative at -0.2:
High correlation with stocks and equities and inverse correlation with U.S. dollar became more standard when large, institutional traders entered the market in greater numbers.
It's something we've all but adjusted to at this point. But it makes the International Monetary Fund (IMF) uncomfortable as some officials believe that sharp deleveraging episodes in cryptocurrencies are feeding into sell-offs in equity markets.
What makes me uncomfortable isn't the consequences of deleveraging, however. It's the fact that we should be seeing more decoupling from the correlation, especially during geopolitical turmoil, like the one in Ukraine.
Why? Because geopolitical strife puts the need for decentralized, trustless currencies in the spotlight.
Even Russian president Vladimir Putin has put a break on his central bank's push for a crypto ban in light of the situation. I assume that's because he's aware of the effects that sanctions and a potential war could have on Russia's banking system … and how cryptocurrencies — which can't be sanctioned — could be beneficial.
On the other hand, U.S. policymakers immediately reacted to Putin's leniency toward crypto by pushing for their own regulations. They claim it's for "national security" reasons.
Unfortunately, American investors are the ones that may suffer the most from these regulations, which tend to limit and crack down on users' privacy — a foundational element of cryptocurrencies.
Those same policymakers also run the risk of their regulations limiting the scope of cooperation between decentralized finance (DeFi) and centralized industry and creating parallel markets, especially if the U.S. Treasury imposes know-your-customer (KYC) regulations on transactions involving self-custodial wallets.
The crypto community as a whole will once again have to step up its lobbying efforts to influence the shaping of the laws in a beneficial way.
Notable News, Notes and Tweets
What's Next
Bitcoin has mirrored the sharp fluctuations in traditional markets over the past year as more professional traders enter the digital finance arena.
Correlations with U.S. tech stocks, crude oil and government bonds have all risen significantly over the past two years. Most notably, BTC has moved extremely closely with the Nasdaq 100 — considered a proxy for sentiment towards America's tech giants.
Both the Nasdaq and Bitcoin tumbled in January, which goes to show that Bitcoin is still seen as a risky technology play by new institutional entrants to the market. So, higher correlation will likely continue in the near future.
But crypto does tend to go on its own with relevant industry-specific news and events. Hence, we will wait for them.
Best,
Marija Matić