Crypto Regulation Talk Reels Back Market Momentum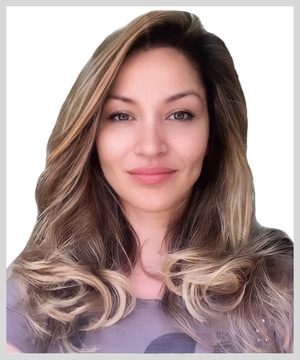 By Marija Matic
In January, the White House revealed that an executive order to study cryptocurrencies was in the works. Now, that order is expected to be signed later this week.
It's important to note that no action will be recommended in this order. Rather, the Biden administration is instructing all departments to review and study the crypto markets to determine what regulation to propose and how to roll it out. It's also looking into the option of a central bank digital currency (CBDC) for the U.S. dollar.
The order will likely call for reports by various agencies to be due in the second half of 2022.
Still, the news has generated a lot of uncertainty, cooling the crypto market today as Bitcoin (BTC, Tech/Adoption Grade "A-") has fallen about 4%, reaching $37,300.
And President Biden's executive order isn't the only news influencing the market today. The European Parliament proposed expanding the so-called "travel rule" to every single crypto transaction, as advised by the Financial Action Task Force (FATF).
The current version of the "travel rule" obliges banks and payment companies to store information that "travels" between payers and recipients and make it available to authorities for several years. The policy only triggers when a transaction exceeds the threshold of 1,000 euros.
The new proposal recommends dropping the threshold for crypto transactions, which would effectively force exchanges and wallet providers to record the "travel information" for every single transfer.
European authorities would obtain the name of the sender and the recipient, the sender's home address, passport number and the wallet address of both the sender and recipient. The proposal states that certain exchanges could possibly be exempted from having to record every single transaction if the regulator is satisfied with their "know your customer" (KYC) implementation.
As savvy Weiss Crypto Daily subscribers, I'm sure you already see the flaw in this proposal: A complete implementation of the "travel rule" would be quite difficult — if not impossible in some instances considering that decentralized platforms do not allow personal information to be stored and transferred.
As it would be impossible to comply with such a requirement, there's a chance that this proposal won't pass, as was the fate of many harsh and sometimes even ridiculous crypto policy blueprints that have been presented in front of the European Parliament in recent years.
However, we never know with regulators, so we'll have to wait and see with this one.
But the war in Ukraine has inspired talks of regulation across the board as regulators are concerned the space will undermine sanctions against Russia or allow bad actors to operate freely in times of turmoil.
Even Bloomberg is talking about "crypto sanctions."
That said, institutional investors were more encouraged by the market conditions last week, as evidenced by the $127 million in inflows to digital asset investment products. This is a considerable increase compared to the week before.
Bitcoin products in particular have seen $95 million in inflows over the past week — the largest single-week inflow since early December, according to CoinShares data.
Ethereum (ETH, Tech/Adoption Grade "A") is also picking up steam; its product inflows totaled $25 million last week, the largest amount in 13 weeks.
It certainly makes sense for ETH to become bullish soon, as it'll become deflationary in the next three to four months. ETH whales are obviously preparing for this, judging by the on-chain activity of the billionaire addresses which continue to accumulate ETH.
ETH is currently trading inside a big triangle, as you can see in the ETH/USDT four-hour TradingViewchartbelow. Its price already bounced against overhead resistance three times. Meaning the price will likely test support (the bottom part of triangle), before the next move.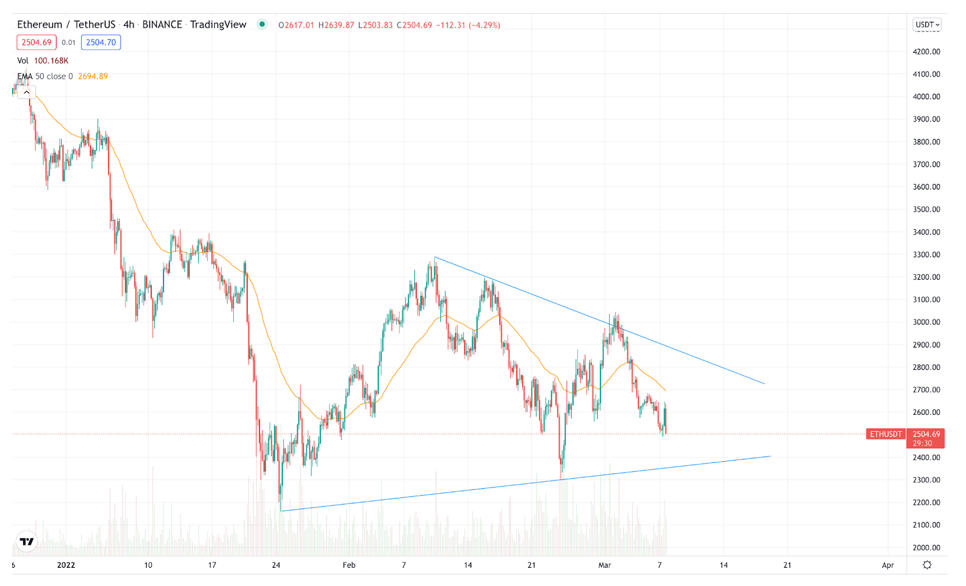 In order for ETH to shift back to BULLISH, it would need a confirmed breakout above $2,900.
Even though $2,500 is a local support, $2,300 is possible as it lies at the bottom part of the triangle. We can certainly expect a much bigger move soon when the triangle breaks.
Notable News, Notes and Tweets
What's Next
We expect a large move when ETH's triangle breaks, though we can't know for sure in which direction it'll go. But judging by the quiet accumulation of the whales, as well as the incoming summer Merge — when ETH's mainnet will "merge" with the beacon chain proof-of-stake system — my vote of confidence says it'll break to the upside.
Even if the price breaks downwards, however, it doesn't make sense for the downtrend to last long as many buyers appear ready to accumulate during dips.
Important resistance levels to reclaim are $2,900, $3,200 and $3,700.
That said, ETH will likely follow Bitcoin's price action ... which is generally still responsive to wider market sentiment, geopolitics and crypto regulation news.
But we'll certainly know more once the U.S.'s federal crypto plan is announced this week through Biden's executive order, and once the reaction of European regulators to the travel rule proposal are in.
Best,
Marija Matić