Crypto Whale Watching Raises Questions
Whales started depositing Bitcoin (BTC, Tech/Adoption Grade "A-") to exchanges a few days ago, prompting a price drop which, at its lowest, saw BTC down to $41,900.
Despite a modest recovery, the dip has destabilized the market.
The real backdrop for the market-wide bearishness came from a combination of outside influences: The spread of the Omicron variant, news of the Federal Reserve's tapering plans and the upcoming release of the November CPI data — which will likely show inflation continuing to rise — all played parts in spreading fear, uncertainty and doubt (FUD).
Bullish sentiment in the futures market took a hit, according to the negative taker-buyer sell ratio. And Bitcoin's Fear and Greed Index is at 16, the lowest score since July, showing that there is "extreme fear" on the market!
Normally, this kind of sentiment is usually a good buying opportunity. However, BTC may trade below $53,000 for weeks ... or even months, as this may be a hard ceiling to break in the shorter term.
The BTC/USDT four hour-chart from TradingView shows BTC is trading below the broken trendline (blue line), which is now acting as resistance: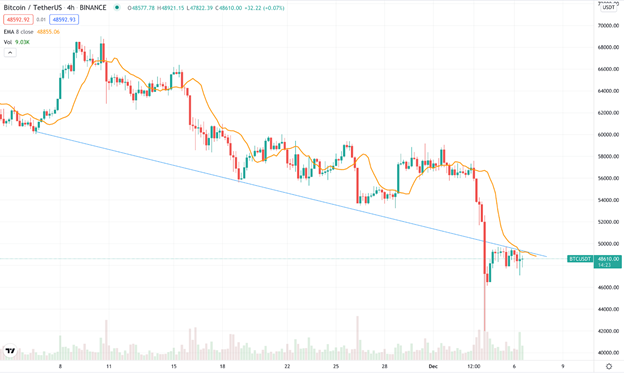 Zooming out to the weekly chart, we see that the price of BTC is supported by its 50-day moving average (50MA, as shown by the blue line) ... the same as during the summer correction: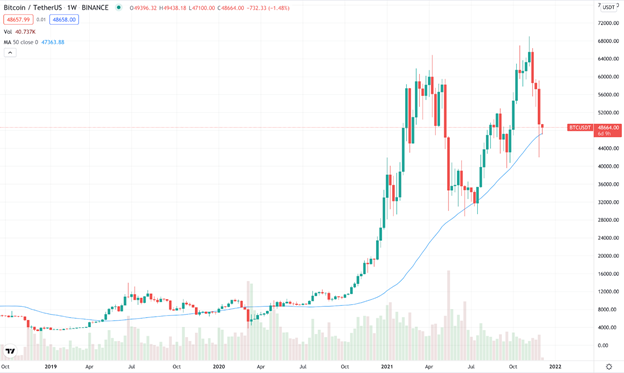 One of the main questions right now is will the weekly MA50 hold, like it did during summer?
Notable News, Notes and Tweets
What's Next?
There is a high probability that we'll see a so-called "range-bound" December as Bitcoin trades between $42,000 and $53,000.
Depending on the volatility of BTC while in that range, we may see some altcoins bounce from here. To put it simply …
If BTC stabilizes, Ethereum (ETH, Tech/Adoption Grade "A") will lead the way higher for large-cap altcoins.
While range-bound trading is a likely possibility, it isn't the only one to consider. If BTC breaks below $42,000, alts will likely bleed further. But, if it breaks to the upside and surpasses the $53,000 level, we're likely to see a quick return of the bulls.
In summary, investors should closely watch the $42,000 and $53,000 levels as key markers of what comes next, coupled with weekly closes of the price below/above 50MA!
So, that's the short to medium term. What about the long term? Does this mean the parabolic run is off the table?
A late cycle pause like this means we're in uncharted territory. But it's important to note the factors I mentioned earlier influencing this wave of FUD are all external.
In fact, nothing has happened to Bitcoin nor the broad market in fundamental terms. Indeed, fundamentals are stronger than ever!
Our team will keep a close eye on the markets as things develop, but we believe this to be a pause in the bull run that shouldn't affect our long-term outlook.
Keep an eye on your inbox for your next Weiss Crypto Daily issue to stay up to date and in the know in this volatile market.
Best,
Marija Matić