Curve Hack Can't Keep Ethereum Down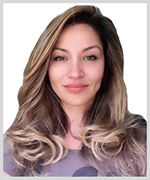 By Marija Matic
There's been another hack in crypto. This time, the target was Curve (CRV, "B-"), the most established DEX for borrowing, trading and lending stablecoins, as well as trading of similar assets like Ethereum (ETH, "B") for staked ETH, such as stETH.
Estimates at the time of writing indicate that losses suffered by Curve and related platforms could amount to over $40 million, though exact numbers are still unclear.
This is because the attack not only caused certain pools to suffer losses, it also led to a sharp price decline for Curve's native token. CRV has plummeted by 15% to 61 cents as of writing.
That, in turn, raised concerns over potential liquidations on the Aave (AAVE, "B") platform, where Curve's founder Michael Egorov holds a $70 million borrowing position. He is currently defending his position by adding more collateral to it.
The repercussions of the hack further manifested in a significant decrease in the total value of assets locked on Curve, plummeting from over $3 billion on Sunday to $1.7 billion on Monday as investor capital seemingly fled the exchange.
However, the was some good news amid the chaos, namely in instances of redress. A bot operator called "c0ffeebabe.eth" returned approximately 2,879 ETH, or the equivalent of nearly $5.5 million, to the Curve Finance platform. This was possible because the bot was frontrunning its malicious intent, turning the tables against the hacker.
But while the effects of the hack seem contained for now, there are worries of deeper implications.
This is because the actual attack itself was possible due to smart contracts being written with the help of experimental programming language called Vyper, which DeFi platforms, including Curve, used for some of their contracts.
Basically, Vyper is a language for writing smart contracts on the Ethereum platform. The benefit of using Vyper is that it prioritizes maximum human readability, which makes it more accessible. But it's not as widely accepted nor as supported as Solidity, another programming language used to write smart contracts.
Sure enough, bad actors were able to find a weakness.
And as you know, all DeFi platforms operate on smart contracts. So, if there's a weakness in the programming language, there's a weakness in the platform.
Which brings us to why the space was filled with worry of contagion — other projects employing specific versions of Vyper might be susceptible to similar vulnerabilities.
But while the Curve hack has underscored the vulnerability within the DeFi ecosystem, it also revealed ETH's resilience in the face of adversities.
Fortunately, in the time since the attack, ETH has displayed remarkable resilience, retaining its value.
Following a notable upward surge over the past few weeks, ETH has recently entered a significantly tight trading range between $1,850 and $1,885 over the past seven days.
Even yesterday's attack wasn't enough to break it, as you can see below: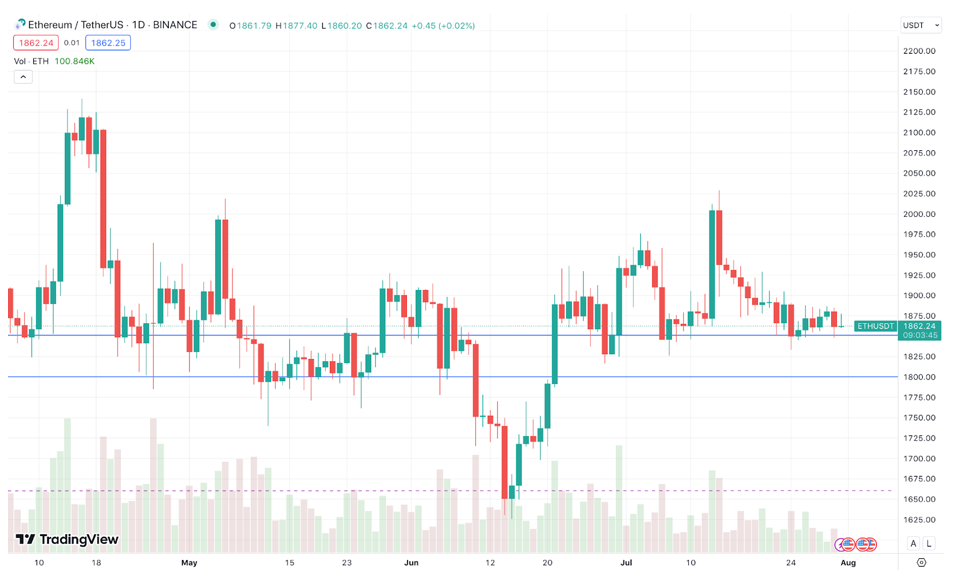 While range-bound trading isn't exciting, it is worth celebrating when negative headlines or fear in the market fail to make the price fall below the range.
That's why I'll point out that I see two strong support levels exist below the current price — $1,850 and $1,800 (represented by blue lines on the chart).
So, if fear, uncertainty and doubt aren't enough to push the price down right now, what will be enough to push it up?
Liquidity. With the current market, we'll need to see new inflows of cash before we see upward movement on the buy side.
To get that liquidity boost, we may first need ETH to retrace back to its lows, offering investors a better entry price to load up again. That would allow for the accumulation of necessary fuel to bolster Ethereum's momentum toward the psychologically significant $2,000 level.
This is why nothing in crypto moves in a straight line. To go up, sometimes you have to first go down.
Notable News, Notes & Tweets
What's Next?
Market leader Bitcoin (BTC, "A-") is also trading in a tight range, demonstrating a lack of sufficient strength to surpass its resistance level at $29,560. Just like with ETH, this means we could see a correction before we can move higher.
As such, I'm keeping my eye on three key levels:
Overhead resistance at $29,560.
The closer support level at $29,000.
And further support at $28,800.
When it comes to notable events, the upcoming Litecoin (LTC, "B") halving is scheduled to occur a day after tomorrow, as indicated by the countdown clock.
The Litecoin blockchain, which shares a slightly modified version of the Bitcoin codebase, is among the pioneering altcoins and was established back in 2011.
Similar to Bitcoin, Litecoin's blockchain follows a halving mechanism, whereby block rewards are reduced every four years. Initially set at 50 LTC, this halving event occurs at regular intervals to decrease the rate at which new Litecoins are generated.
Despite the significance of this event, Litecoin's halving is not receiving as much attention in comparison to Bitcoin's highly anticipated halving expected in April of the following year.
Historically, hard-coded inflation reduction events have been regarded as incredibly bullish for Bitcoin. This is because they diminish its future issuance, safeguarding BTC against arbitrary creation or "printing" akin to fiat money, ensuring its scarcity and value retention.
We'll be watching closely to see how the market reacts to this halving.
Best,
Marija