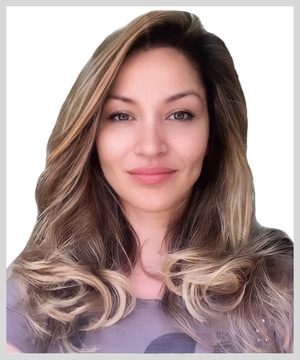 By Marija Matic
Bitcoin (BTC, Tech/Adoption Grade "A-") gained 8% over the past week and is now trading near $40,950. At the same time, Ethereum (ETH, Tech/Adoption Grade "A") saw its biggest gain in six weeks — over 16% — and looks ready to test resistance at $3,000. Both crypto giants are roughly down 40% from their respective all-time highs.
What sparked this recent bout of bullish sentiment? Well, in the aftermath of the Federal Open Market Committee meeting last week, it looks like the crypto market had already priced in the Fed's 25-basis point rate hike, giving crypto room to breathe. Chicago Mercantile Exchange's BTC open interest also seems to have bottomed out.
With all this, the pressing question is which will lead the short-term momentum?
The crypto markets can be unpredictable. But right now, while both are looking good, ETH is showing more strength.
The BTC/USDT daily TradingView chart shows BTC is still in neutral, trading well within its two-month-old channel.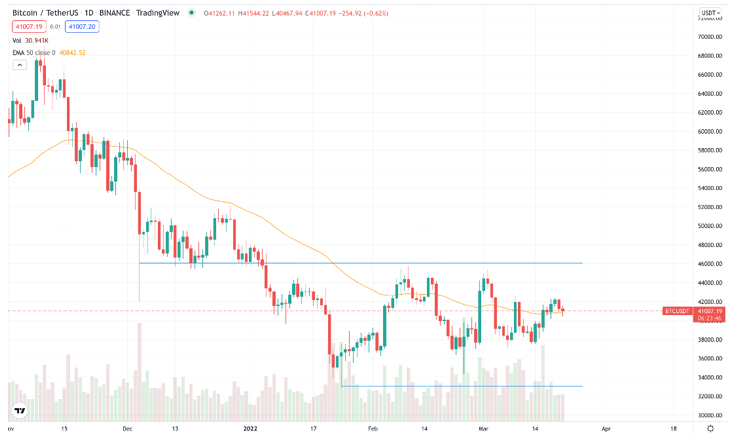 The ETH/USDT daily TradingView chart, however, shows that ETH has broken above its 50-day moving average and out of its recent range.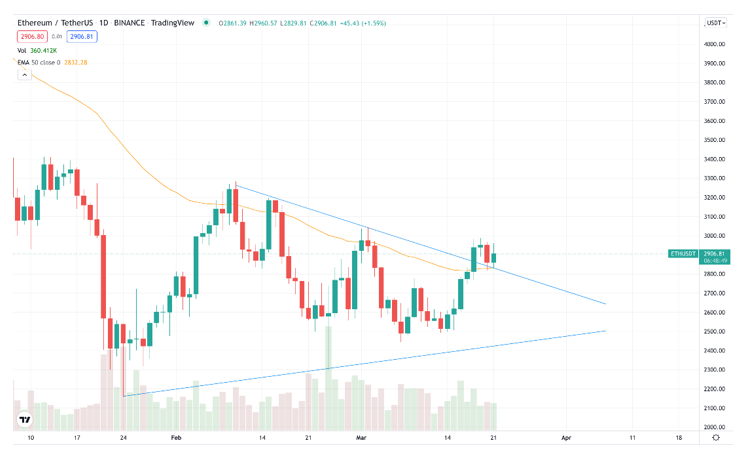 Don't get me wrong, though. While ETH is certainly showing more upside potential right now, BTC is still bullishly above $40,000. It's next level of resistance will be around $46,000.
And fundamentally, both leading cryptos are very strong.
Bitcoin addresses holding between one and 10 BTC have increased since the January drop, meaning midsized investors are growing more confident in BTC's ability to withstand the current geopolitical tempest.
And its Lightning ecosystem is growing rapidly in El Salvador. Major brands such as McDonalds (MCD), Starbucks (SBUX) and Pizza Hut are now accepting BTC there via the Lightning Network. And, not wanting to be left out, social media apps are increasingly aware of Bitcoin. It's now possible to send BTC via Twitter, Juggernaut, Zion and Spinx.
ETH, on the other hand, still carries a bit more risk as it still needs to finish transitioning over to a proof-of-state (PoS) system this summer. It's uncharted territory for the No. 2 crypto by market cap. But it should bring multiple benefits, like making the network more energy efficient and ETH deflationary!
And with additional new proposals, like EIP-4844, Layer-2 networks will become cheaper and more attractive to users.
Notable News, Notes & Tweets
What's Next
ETH looks ready to finally break above $3,000! We'll keep a close watch to see how easily this can be done.
The altcoin market's dominance has broken the downtrend resistance line and it's currently retesting it. This means that some of the altcoins will make a sweet move this week. ETH breaking out can only help this push!
But the big winners of this market, at least so far, seem to be stablecoin makers, such as Terra (LUNA, Tech/Adoption Grade "D") and THORChain (RUNE, Tech/Adoption Grade "C+") — which just announced its plan to roll out its own stablecoin. If 2021 was the year of DeFi, then 2022 is shaping up to be the year of the stablecoin. I expect to see standouts show further strength and continue to grow, with healthy, short-lived corrections.
Keep checking your Weiss Daily Crypto issues for our latest updates as these events unfold.
Best,
Marija Matić