EthCC Puts the Spotlight on the Ethereum Ecosystem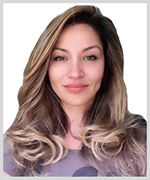 By Marija Matic
The Ethereum Community Conference, or EthCC for short, is off to a dynamic start. Held in Paris, this is the single most significant European event centering around the Ethereum network, which has brought together innovators and thought leaders.
And as a crucial platform for the Ethereum (ETH, "B") ecosystem, EthCC plays a central role in unveiling major news and developments. As such, it has historically been a bullish event for numerous Ethereum-based projects.
In fact, while today marked only the first of the four-day event, we already have three highlights to unpack …
1. Uniswap X
Uniswap (UNI, "B-"), the world's most established decentralized exchange, is set to launch a new platform, UniswapX. Its main promise is to facilitate "better prices" by aggregating liquidity sources.
Additionally, UniswapX will introduce gas-free swapping, protecting users against maximal extractable value — or value pulled from block production in excess of the standard block reward and gas fees. It also ensures that users are not charged for failed transactions.
Looking ahead, UniswapX plans to expand to gas-free cross-chain swaps, where "fillers" will cover gas fees on behalf of swappers.
That would mean traders won't need to own a blockchain's native network token — such as ETH for the Ethereum network — to participate in trading, and they still won't bear any financial responsibility for unsuccessful transactions.
According to Uniswap, fillers will incorporate gas fees into the overall swap prices but have the option to reduce transaction costs by aggregating multiple orders, fostering a competitive environment and offering users the most favorable prices.
2. Gnosis' Self-Custody Crypto Card
Gnosis, a prominent blockchain project focused on addressing the gap between self-custodial wallets and traditional payment methods, has announced the launch of the Gnosis Card. This new product will let you spend self-custody crypto in Europe, and Gnosis plans to spread to the U.S. and Hong Kong shortly.
The timing of this announcement couldn't be more perfect. Now more than ever users are increasingly shifting their assets away from centralized exchanges to more secure self-custodial wallets.
The main problem with this is that it's inconvenient to spend their crypto in the real world from their self-custody wallets.
Backed by Visa (V), the Gnosis card addresses that concern, allowing users to spend funds from their self-custodial wallets wherever Visa payments are accepted.
The card will be sold for 30 euros, with the surplus revenue contributing to engineering and compliance infrastructure. Partners like Fractal will ensure compliance and data privacy while maintaining a seamless user experience similar to using traditional credit cards.
Gnosis is also launching Gnosis Pay, a set of developer tools that will enable other crypto wallets to issue their own cards, providing a new revenue stream for Gnosis.
And that's not all! Gnosis is working with partners like Monerium to offer a stablecoin option that's EU-compliant.
All these developments are furthering Gnosis' ultimate goal — to build a truly peer-to-peer financial system that offers superior user experience compared to the current legacy systems.
3. Mantle: A New Layer-2
Layer-2 networks have grown in popularity over the past year or so. The latest player to step into the spotlight for Ethereum L2s is Mantle Network.
This reveal is well timed, as the network recently merged with BitDAO, the world's largest decentralized autonomous organization by treasury value, worth roughly $2.5 billion. The merger also initiated the activation of the $200 million EcoFund, which will fuel the growth and development of the Mantle ecosystem.
By connecting one of the world's largest DAO-led ecosystems — comprised of partners, builders and innovators — Mantle Network enables token holders to govern the use and allocation of the substantial treasury inherited from BitDAO.
Notable News, Notes & Tweets
What's Next
Apart from the aforementioned announcements, EthCC attendees have been engaging with and are eagerly anticipating discussions on several intriguing topics, including decentralized physical infrastructure, web3, the Internet of Things and the tokenization of real-world assets.
One anticipated presentation will be from Vít Jedlička, the president of Liberland, who will shed light on how DAOs can create new states.
Back in the broader crypto world, institutions have maintained a bullish outlook on crypto, but their focus remains largely on Bitcoin rather than altcoins.
According to CoinShares data, digital asset investment products witnessed significant inflows of $137 million last week, with 99% of the total inflows associated with BTC. Over the past four weeks, the cumulative inflows have reached an impressive $742 million, marking the most substantial influx since the final quarter of 2021.
Furthermore, retail interest in cryptocurrency remains steady, and as a result, Bitcoin has been consolidating within a consistent range (orange) for almost four weeks now.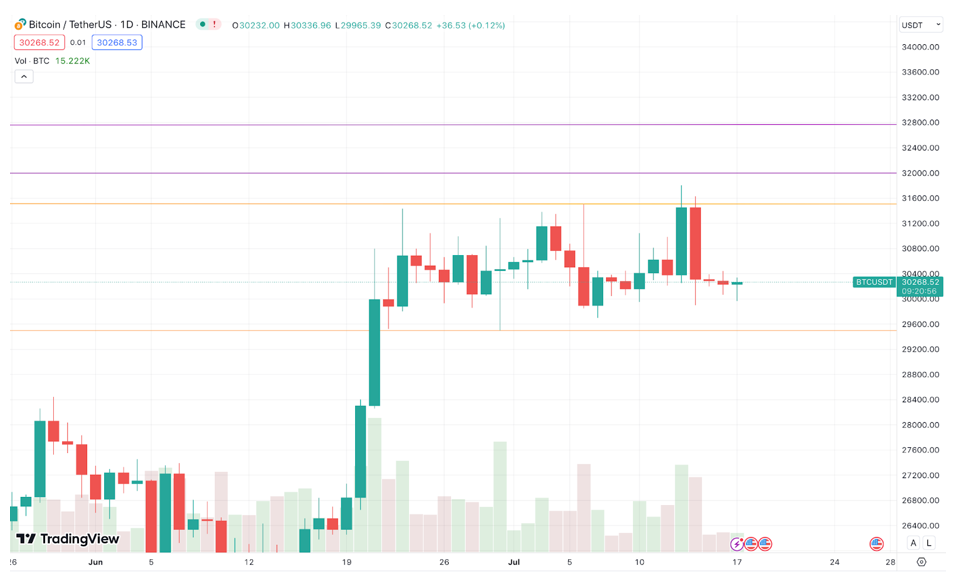 At the time of writing, Bitcoin has slipped just below the significant $30,000 level, meaning how it closes over the next few days is crucial in determining where it'll go from here.
If it can't hold $30,000, it might decline further to the lower end of the channel. If that happens, $28,000 could present a favorable buying opportunity.
On the other hand, if BTC breaks upward, the next target range to watch for is between $32,000 and $32,750.
In addition to EthCC, there are several significant market-moving events to watch out for this week, such as earnings reports from major tech companies and banks, which may have an impact on the cryptocurrency market.
Investors should keep a close eye on price action following these events for potential trading opportunities.
Best,
Marija