EU Averts BTC Ban but Bearish Anticipation Still Simmers Ahead of FOMC Meeting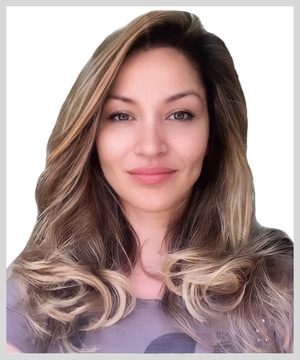 By Marija Matic
Today, the European Union (EU) voted against banning proof-of-work (PoW) cryptocurrencies such as Bitcoin (BTC, Tech/Adoption Grade "A-"). But we're not out of the regulatory woods just yet. It seems policymakers are exploring options to heavily tax EU-based crypto miners due to environmental concerns.
Raising a tax too much would indeed be a more cunning move if they decide to harm Bitcoin and stop more EU citizens from mining. However, it wouldn't be a smart move. That's because BTC will still be mined. Only then, a larger hash power share will be concentrated in the hands of U.S. and Russian miners.
Following the Chinese hostility toward Bitcoin, in any shape or form, is indeed foolish in the current geopolitical circumstances.
And the week is certainly going to get even more interesting now that the focus can shift to the Federal Open Market Committee (FOMC) meeting on March 15-16. In it, the Federal Reserve is widely expected to start its hiking cycle, beginning with a 25-basis-point increase in the funds rate.
In addition, asset purchases are scheduled to end now. Economic projections should show higher inflation and lower GDP estimates for this year.
How will crypto traders react?
No one really knows. But for example, last week's U.S. Presidential Executive Order to study digital assets scared institutional investors, leading to the first week of digital asset outflows after a seven-week run of inflows. Outflows have totaled $100 million last week, with the vast majority — $80 million — derived from North America.
At the same time, however, Bitcoin's options metric suggests more traders are taking bullish bets. Even though the put-to-call ratio is equal at around 0.5, the ratio has been falling for more than a month, indicating that traders are becoming more bullish.
Also, some influencers, like Elon Musk, seem to have a good grasp of what crypto was made for. The Tesla (TSLA) founder has confirmed his commitment to hold his bags of BTC, Ethereum (ETH, Tech/Adoption Grade "A") and Dogecoin (DOGE, Tech/Adoption Grade "B-") as a way to hedge against rising inflation.
MicroStrategy CEO Michael Saylor — another influencer who bets big on BTC — has commented that, "Weaker currencies will collapse, and the flight of capital from cash, debt and value stocks to scarce property like Bitcoin will intensify."
Certain crypto projects certainly seem like an interesting bet now when the Consumer Price Index (CPI) in the U.S. surged to a new 40-year high at 7.9% in February.
Bitcoin's inflation rate currently sits at 1.7% as it continues to follow its preprogrammed, fully predictable downward trajectory.
ETH's inflation was also drastically slowed during the summer of 2021 when the burning mechanism was implemented. In addition, ETH is expected to become deflationary this summer after the so-called merge, with an expected inflation rate of -1.05%!
Coupled with thriving ecosystems, economies and their un-censorable nature, these and some other coins indeed seem to have a lot to offer … both as unstoppable currencies and investment assets.
The BTC/USDT four-hour TradingView chart shows that BTC has been less volatile in the past four days and is trading in the middle of the channel at $38,740.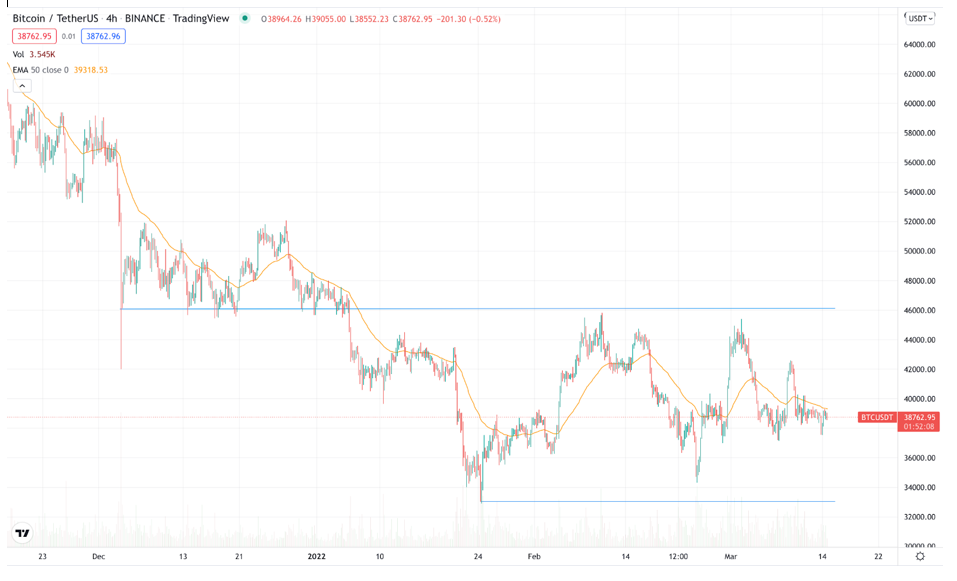 Could this be the calm before a breakout? We'll have to wait and see.
Notable News, Notes and Tweets
What's Next
Bitcoin's next move will be heavily influenced by the FOMC meeting tomorrow and Wednesday.. The question is: How much of the meeting's perceived bearishness is already priced in?
Likely a lot … at least when it comes to crypto.
Whatever may happen, large influencers seem to be more and more vocal that it's better to own scarce, desirable assets than currency derivatives in times of inflation.
And when smart money talks, it's usually best to listen.
Best,
Marija Matić