Inflation, Tapering and Crypto
U.S. and global inflation rates are on the rise. In fact, the largest year-over-year annualized inflation rate since the 1980s has just been announced: Inflation surged 6.8% in November, which is even more than expected.
Bitcoin's (BTC, Tech/Adoption Grade "A-") price dropped on the inflation news, and it has been more correlated to traditional equities than gold lately.
This is surprising as it's contrary to the perception of Bitcoin as an inflation hedge. In theory, BTC should be a primary beneficiary of inflation worries.
However, high inflation means the Federal Reserve will likely speed up their tapering plans ... and that's what concerns investors.
Ethereum (ETH,Tech/Adoption Grade "A") had been more resilient to FUD, outperforming Bitcoin over the past few months. Unlike BTC's flat options volumes, ETH's options volumes were still strong after reaching all-time-high levels at the end of November.
However, spot volumes were stagnant, in anticipation of the BTC move. Hence, when BTC dropped today to $46,700, ETH followed by dropping to $3,760.
BTC/USDT's weekly TradingView chart shows BTC is still trading above its 50-day exponential moving average (EMA50).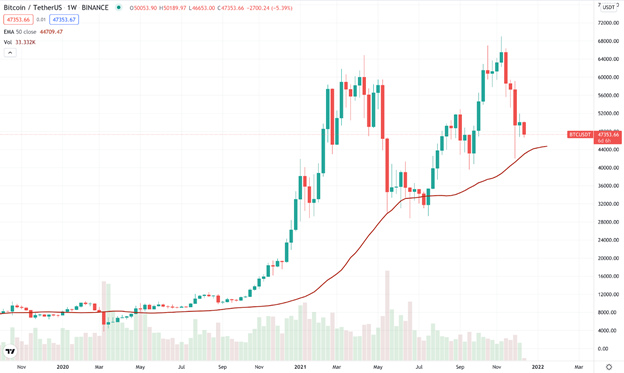 Caption here
Turning to the ETH/USDT daily TradingView chart, you can see that ETH started this week trading below its 100-day exponential moving average (EMA100).
Are we about to see a similar pattern as in September?
Remember, the latter half of September saw a steep drop ... followed by about 10 days of consolidation. That's marked on the chart below by the first red circle.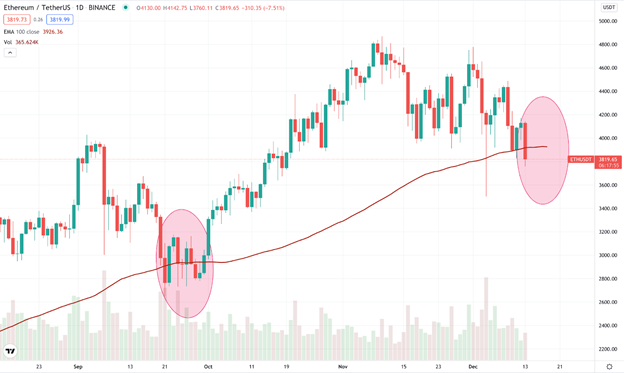 Caption here
Notice after this circle — after the consolidation period — ETH went for a run. The second red circle is where we're at now. Seeing the same pattern as in September would mean a consolidation phase for ETH, followed by a bullish run.
However, even though ETH looks strong, any potential run higher would depend on BTC's reactions.
Notable News, Notes and Tweets
HSBC (NYSE: HSBC) and Wells Fargo (NYSE: WFC) use blockchain to settle foreign exchange market (forex) trades.
What's Next
All eyes are now on the Federal Open Market Committee (FOMC) meeting, where the Fed is expected to discuss the pace of tapering. The meeting is supposed to take place Dec.14-15.
The FOMC meets eight times a year to discuss monetary policy changes, review economic and financial conditions and assess price stability and employment output. Due to anxiety over inflation, there is a possibility that the Fed will announce their quantitative easing (QE) program will end in February.
Some believe that tightened monetary policy may lead to less rapid growth in the demand for Bitcoin as many use it to hedge inflation.
Less QE, in theory, means less inflation.
But tapering news may have been, for a large part, already priced in when it comes to Bitcoin.
So far, BTC has been trading within a channel between 42,000 and 53,000, which I mentioned last Monday.
I'll be watching the price action closely, along with the rest of the Weiss Crypto team. Keep checking back with Weiss Crypto Daily for the most up-to-date analysis.
Best,
Marija Matić