Intraday Optimism for Bitcoin After Rough Weekly Close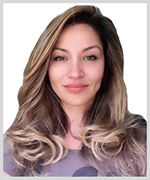 By Marija Matic
Bitcoin (BTC, "A-") is recovering today after last week's tumultuous trading, which saw the market leader lose -5.2% of its value.
Remember, last week's Consumer Price Index readings showed that inflation fell to 4.9% in April, though the market was not excited about the core inflation remaining unchanged.
Hence, BTC made a short squeeze on Friday by dropping to $25,800 at one point. Fortunately, its price closed the day above this level (solid purple line below), so support at $26,660 still held:
However, the 50-day exponential moving average (blue line) didn't hold. Bitcoin has been trading below it for the past seven days. Reclaiming that level is necessary before we can expect any kind of bullish continuation.
But there is some bullish hope. If we look at a shorter, four-hour time frame in today's trading, we can see that BTC has broken above its downtrend line (yellow) and has a clear likelihood of reclaiming the $27,300 support (orange) at close:
The price action of the asset has shown that market bulls are still active and have exhibited the potential to help BTC in its recovery.
Many investors used the bear market weakness in Bitcoin to further their goals. How do I know this? On-chain metrics, of course!
The number of BTC addresses that now hold at least one whole BTC or more has now surpassed the one million mark as of a few days ago!
We call these investors "wholecoiners." The expansion of their ranks is a very bullish indicator for Bitcoin.
However, it is still crucial for BTC to reclaim $27,600 in order to stay bullish.
Notable News, Notes & Tweets
What's Next
Crypto investment funds are seeing outflows for the fourth consecutive week, which coincides with declines in crypto prices. BTC, for example, is down almost 10% over the past month. (Though I'd be remiss if I didn't remind you that BTC is still up over 66% year to date!)
Surprisingly, though, there have been noticeable inflows in certain single-asset altcoin funds in the past week. This shows that institutional investors might expect an alt season or are feeling more adventurous.
Let's see if they are right about it.
Best,
Marija