Investors Burned on SHIB Return to BTC
Bitcoin (BTC, Tech/Adoption Grade "A-") is particularly strong today, having gained 5% to recently trade above $63,000.
And this is after a weekend of slight weakness as BTC pulled back from its new all-time high (ATH).
So, what happened over the weekend?
Investors were selling billions of dollars' worth of BTC and Ethereum (ETH, Tech/Adoption Grade "A-") to buy a meme token called Shiba Inu (SHIB) at its all-time-high (ATH) price!
Meaning...
• SHIB's volume of trading overshadowed BTC and ETH.
Investors from Turkey seemed particularly interested in this meme token, as the volume on SHIB/TRY trading pair on Binance grew to over half a billion dollars!
Unfortunately, many accounts got shaken by Elon Musk's comment that he doesn't own any SHIB ... as many previously thought when he tweeted a photo of his real-life Shiba Inu dog, Flocky. As a result, the token's price dropped dramatically; earlier today, it was consolidating 13% below yesterday's ATH.
As a result, lots of liquidity moved back to more sensible BTC and ETH pairs today, as well as some valuable altcoins.
But Bitcoin's bullishness isn't only because of SHIB's suffering ...
• Investors were additionally motivated by very bullish Mastercard (NYSE: MA) news.
Mastercard and Bakkt, the digital wallet, will enable banks and merchants to integrate cryptocurrency solutions into their systems. Partners of Mastercard who sign up for the program will enable clients to buy, sell and hold digital assets through custodial wallets provided by Bakkt. Integration will also allow users to be able to spend and earn rewards in crypto.
Considering that Mastercard has billions of users and millions of partnerships, this news is indeed huge!
BTC/USDT TradingView daily chart shows Bitcoin blasting off today after the weekend sell-off, which was stopped by tons of investors who were ready to buy at $60,000.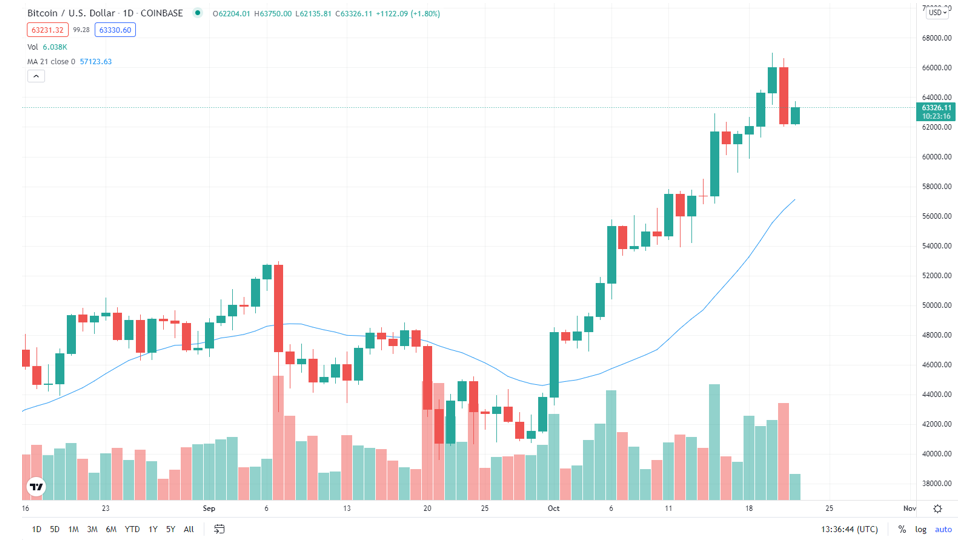 ETH/USDT TradingView daily chart also shows bullish momentum, with ETH breaking strong resistance of $4,170: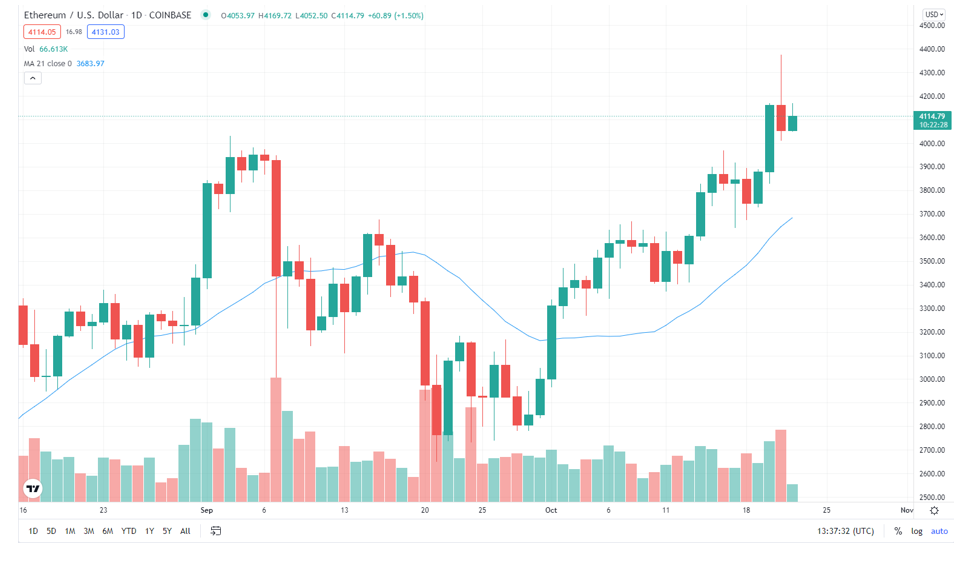 Some other altcoins are also looking bullish. We have seen some important altcoins breaking out of their ranges. We'll be keeping a close eye on a few of these, such as Chainlink (LINK, Tech/Adoption Grade "B+"), THORChain (RUNE, Tech/Adoption Grade "C") and Polygon (MATIC, Tech/Adoption Grade "B-").
Notable News, Notes and Tweets
• A $40 billion Korean teacher's fund is eyeing a big Bitcoin investment.

• If you had invested $1,000 in Shiba Inu on Jan. 1, it would now be worth $500 million.

• Nigeria will launch its central bank's digital currency (CBDC) on Monday, months after banning crypto exchanges.
What's Next
Don't be mistaken by some of the altcoins popping over previous all-time highs here and there; we're still solidly in Bitcoin season!
Bitcoin needs first to confidently close above its all-time high, and then trade high above it — known as "price discovery mode" — before the real altseason can begin.
Altseason will come soon, no worries. But first, Bitcoin will lead.
Also, don't be surprised with any kind of incoming volatility, or unexpected corrections. Nothing goes up in a straight line, and downside moves will be needed from time to time to cool off overleveraged traders!
We are in blast-off mode. So, hold on tight and enjoy the ride.
Best,
Marija Matić