Markets Await June CPI and Earnings Data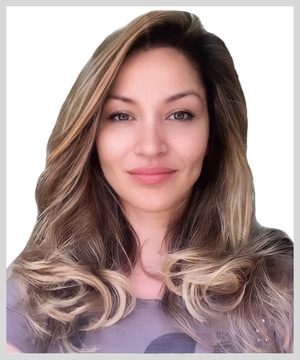 By Marija Matic
Last week's trading ended in a nice spot.
Bitcoin (BTC, Tech/Adoption Grade "A-") has been trading sideways for almost 30 days now ... despite "the extreme fear" flooding the market. It even managed a short-lived breach past $22,000 last week before falling back into its most recent trading range, with $21,600 acting as the hard-to-break ceiling and $19,000 as support.
While Bitcoin was breaching $22,000 decentralized finance protocols made some nice gains. In fact, Uniswap (UNI, Tech/Adoption Grade "B") and THORChain (RUNE, Tech/Adoption Grade "B-") were among the largest top 100 gainers last week, before reversing the upward momentum on Sunday.
Polygon (MATIC, Tech/Adoption Grade "B") also performed well, as approximately 50 projects that had previously been on the Terra (LUNA, Unrated) network began migrating to Polygon almost two months after the Terra ecosystem collapsed, due to $20M of incentives earmarked for this occasion.
Last week's trading was also colored by the U.S. Treasury Department's reveal of the long-awaited Framework for International Engagement on Digital Assets — the factsheet mandated in President Biden's March executive order.
The goal was to outline the risks cryptocurrencies pose to the economy, national security and the climate, while also noting their possible benefits and proposing potential regulations.
The framework is quite mild and doesn't say much. In fact, most of what it does suggest are things we've heard before.
Considerations like ...
• Introducing regulatory standards to protect users and investors;

• Mitigating illicit finance to protect against systemic risks to U.S. and global financial security;

• Reinforcing U.S. leadership and competitiveness through payment innovations and standards;

• Promoting shared learning; and

• Accentuating the importance of institutions such as the Financial Stability Board.
The only slightly unexpected thing was the suggestion that private U.S.-based companies — rather than public institutions — should lead in the development of a new central bank digital currency global infrastructure, in cooperation with G7 countries. This coincides with the Bank for International Settlements calling for global CBDC standards today.
The bit about CBDCs aside, the framework, overall, expresses an understanding of the importance of crypto, which is a positive.
So, after the eventful week we just saw, how is the market holding up today? Well, the majority of coins are struggling to hold onto last week's gains.
Considering the crypto market has been closely following traditional markets lately, traders will be looking at the release of June Consumer Price Index data on Wednesday, as well as a number of key earnings releases from major companies.
Data released last week was fairly optimistic, showing that the U.S. added 372,000 jobs in June. This means the economy is not slowing down as rapidly as expected ... and, arguably, that the Federal Reserve has room for another 0.75% rate increase this month.
As you can see, the BTC/USDT four-hour TradingView chart shows BTC went back below its 100-day exponential moving average (purple line) yesterday.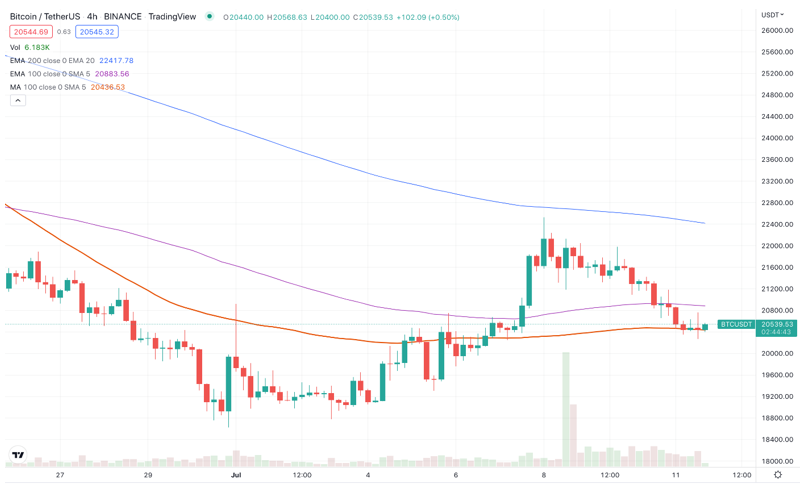 If the 100-hour MA (orange line) at $20,400 holds, BTC could rebound toward the 200-hour MA at $21,900. If the 100-hour MA doesn't hold, it could trigger a downswing to $19,900.
Notable News, Notes and Tweets
• Binance served crypto traders in Iran despite U.S. sanctions, according to clients.

• Financial Times and the Swiss Finance Institute offered opinions on the high correlation between the S&P 500 and Bitcoin.

• KuCoin (KSC, Tech/Adoption Grade "C") denies lay off rumors and says it's hiring 300 staff.
What's Next
Last week's employment metrics have shown that the economy is not in a recession yet, which has alleviated the main concerns and given more flexibility to the Fed to continue with its hawkish policies.
Market movement in the near term will now depend on inflation data this Wednesday, as well as earnings recorded by major companies.
When it comes to crypto-related catalysts, considering that the Grayscale's spot Bitcoin exchange-traded fund application was declined, all eyes are now on the potential of the Ethereum Merge at the end of summer to offer some upside momentum.
Best,
Marija Matić