Move Over Merge; Inflation Is Directing Price Action Again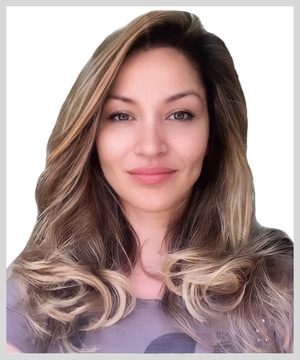 By Marija Matic
Bitcoin (BTC, Tech/Adoption Grade "A-") has dropped to $18,240, a three-month low, before bouncing back above $19,000 today.
This has been the most volatile day for Bitcoin since last Tuesday, when the August Consumer Price Index report showed an increase in U.S. inflation, throwing all risk assets under the bus.
Bitcoin has now been in a persistent downtrend for 10 months, since it hit its all-time-high price in November 2021. While that's a painfully long time, it's still important to keep in mind that the drawdown of this bear market is still not deep as the lows reached in 2015, 2018 and 2020.
Does it mean that there is further pain ahead? Not necessarily, though more downside action still can't be ruled out.
The next headline that could impact price action is the Federal Open Market Committee meeting scheduled for later this week.
The BTC/USDT daily TradingView chart shows the volatility we're experiencing ahead of that meeting: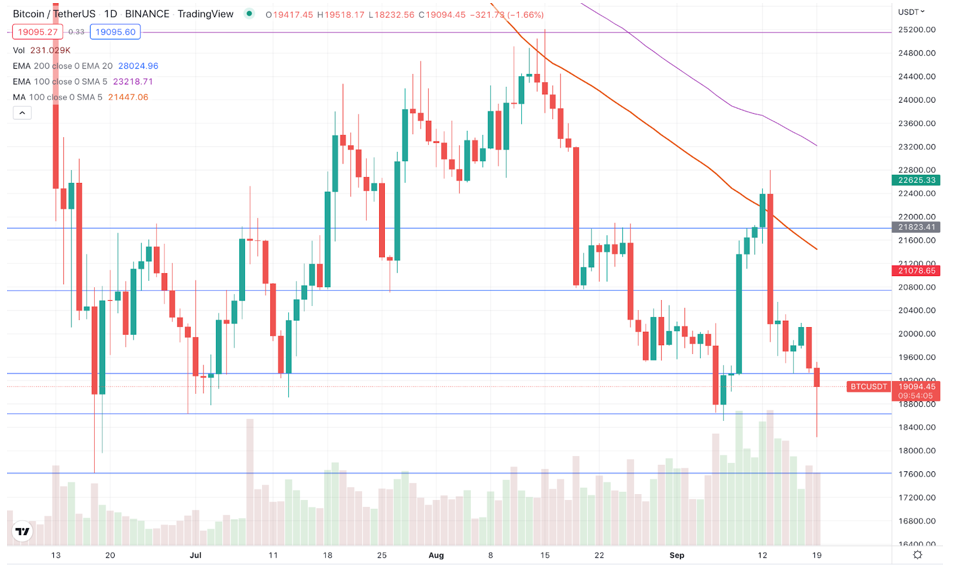 On the bright side, adoption news is everywhere.
Here are three that caught my eye ...
1. The Central Bank of Bahrain is testing a Bitcoin payment solution via OpenNode, a Bitcoin and Lightning Network infrastructure provider.

2. Local media company in Russia Izvestia reported the country may begin accepting Bitcoin and some cryptocurrencies as payment for international trade in 2023.

The announcement of a timeline for the usage of the alternative payment method for cross-border payments comes a week after the Russian Central Bank and Ministry of Finance agreed the move would be necessary.

3. Bitcoin-gaming company ZEBEDEE and advertisement technology startup Slice have teamed up to pay users in Bitcoin when they search the web.

Slice developed a browser extension which can be plugged into the Google Chrome, Mozilla Firefox, Edge or Brave browsers. The extension will provide rewards as the user earns redeemable points or slices.
Of course, there are still setbacks in mainstream adoption.
Greenpeace and the Environmental Working Group have intensified their attack against Bitcoin's energy intensive proof-of-work algorithm with a $1 million ad campaign.
The climate groups are pushing for institutions like Fidelity, BlackRock (BLK), Block (SQ) and PayPal (PYPL) — bigfoot institutional investors — to influence the Bitcoin protocol to follow Ethereum's lead and switch to proof-of-stake.
Even though these giant funds have no governance control over Bitcoin, pressures like these are likely indirectly aimed at regulators, and will probably increase inspired by Ethereum's transition to PoS.
Speaking of the No. 2 crypto by market cap, ETH has extended its losses after its Merge. Namely, bearish momentum surrounding the next anticipated interest rate hike has pushed investors to sell the Merge news, causing ETH to lose 23% of value over the past week.
And that's despite the Merge proving a resounding success!
Still, the historic upgrade casts aside the miners who had previously secured the world's most used blockchain, immediately causing a 99.95% decline in Ethereum's energy use.
That could lead to stronger institutional adoption of ETH, in addition to deflationary effects and improved scalability.
Notable News, Notes & Tweets
• The largest Indian crypto exchange, WazirX, will delist USD Coin (USDC) to boost Binance's stablecoin.

• Crypto exchange FTX was not authorized in the UK, financial watchdog warns.

• Crypto mining billionaire Jihan Wu has purchased a maximum security vault, Le Freeport, in Singapore for $40 million.
What's Next
If BTC breaks below June's low, it could extend the bear market considerably. That's why Wednesday will be a big day. The exact hike percentage, which will be announced after the FOMC meeting, is important for crypto as well as the broader market.
If the rate hike turns out to be worse than expected, Bitcoin is likely to record a new lower low, as it would get dragged down by macro situation.
But with an expected 75 bps hike, there's a chance of recovery. However, turning the crypto market to the long-term upside may not be an easy task without the macro situation showing signs of recovery.
Until then, sit tight and keep checking in for the latest updates.
Best,
Marija