New Crypto Survey Sheds Light on Institutional Sentiment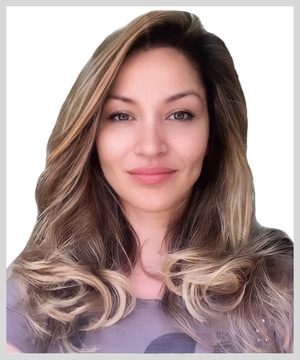 By Marija Matic
A new Nasdaq survey of 500 financial advisors — who combined control roughly $26 trillion in assets — has found that 72% would be more likely to invest in crypto if a spot-price exchange-traded fund (ETF) was available in the United States.
It also found that some other interesting information, like the fact that 86% of advisors who are already investing in crypto plan to increase their exposure within the next 12 months.
And that not one reported any plans to decrease.
But the notion that a spot-price ETF could increase demand is notable … if not new. After all, the crypto saw a boost following the launch of the ProShares Bitcoin Strategy ETF (BITO), which only tracks BTC futures.
The survey goes further: The ideal crypto allocation in a diversified portfolio is 6%, according to those who are already investing or planning to invest in crypto. And the majority (69%) would consider using an index fund for broad exposure vs. the 40% who would prefer to invest in individual digital assets.
So, demand for a spot-price crypto ETF is there. And with substantial reason to believe adoption would greatly benefit. The major question now is how Securities and Exchange Commission (SEC) Chair Gary Gensler will react.
Will he listen to the demand or continue to ignore it?
Well, it might be some time before we know one way or another. A spot-price ETF stands a better chance at approval in the second half of 2022. That's when agencies are expected to report back to President Joe Biden on his executive order ... and the climate around regulation will likely be more certain.
But the majority of financial advisors surveyed by Nasdaq still don't expect approval to come this year. Nevertheless, they see it as more a question of when, rather than if. And when a spot-price ETF gets approved, it'll enable a flood of institutional money.
Just look back at the numbers for the Nasdaq survey — 6% of $26 trillion would roughly equate to $1.56 trillion of crypto on institutional balance sheets. This would be incredibly bullish, especially when compared with the overall crypto market cap, which is right now stands at only $2 trillion.
Luckily, while we wait for approval, the lack of a spot-price crypto ETF isn't stopping some advisors from adding crypto exposure to their portfolios.
Long-Term Bullish, Short-Term Bearish?
Nevertheless, when we look at the short-term price action, crypto has followed tech stocks' weakness over the past seven days, wiping $200 billion from its overall market cap. In fact, the 90-day correlation between Bitcoin (BTC, Tech/Adoption Grade "A-") and the Nasdaq-100 has reached a new record peak.
If tech stocks continue underperforming due to monetary tightening, crypto may take a further beating.
The BTC/USDT daily TradingView chart shows BTC's price has dropped below support at $45,500 five days ago. It's now trading in an ascending channel: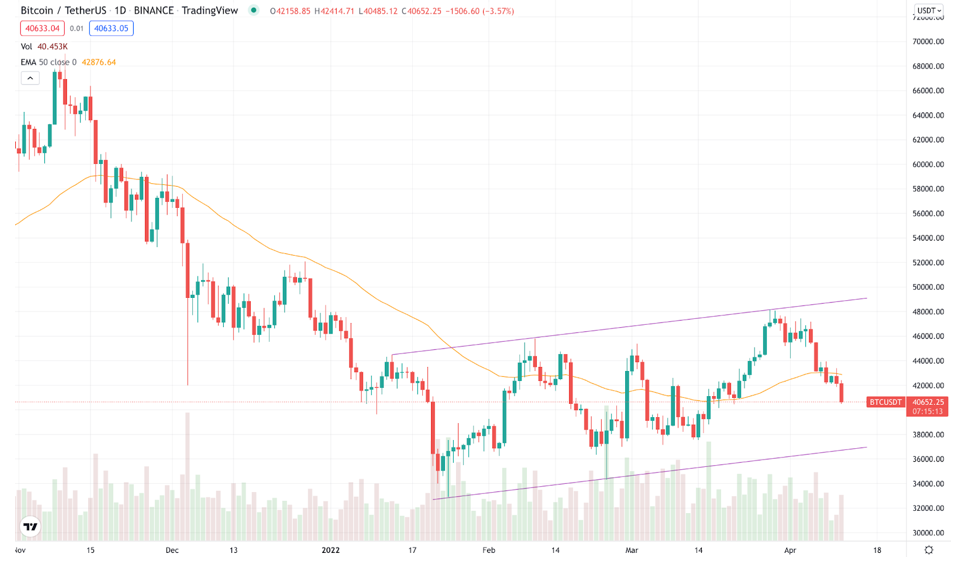 The borders of the channel currently lie between approximately $37,000 and $49,000, which means that we are range-bound for now.
The ETH/USDT daily TradingView chart shows Ethereum (ETH, Tech/Adoption Grade "A") is trading at support near $3,000 after incurring a 9% loss, its second largest daily loss in the past 30 days: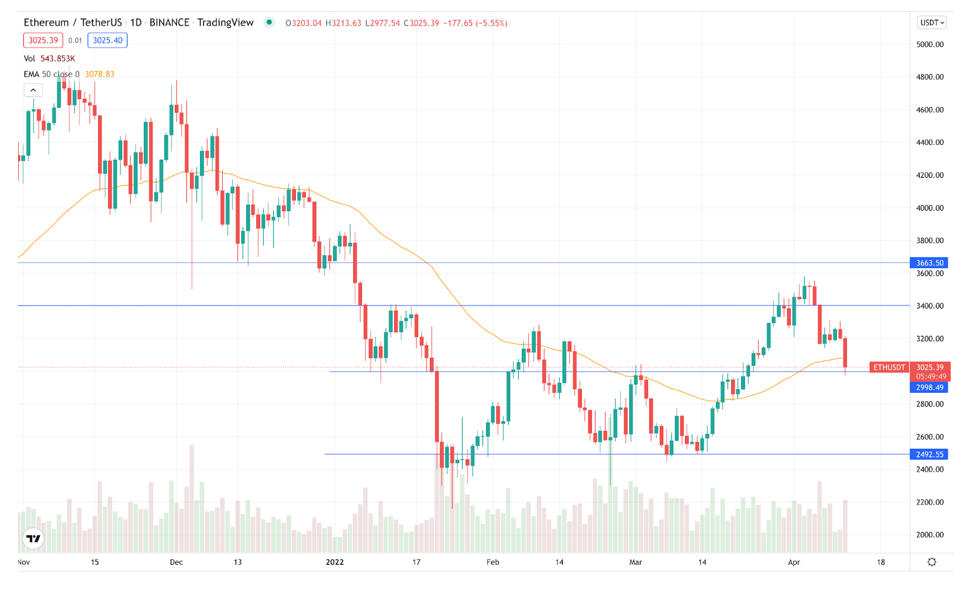 ETH's volatility has meant that altcoins incurred even higher losses today. For now, we'll look to see if ETH can maintain support
Notable News, Notes and Tweets

What's Next
BTC will likely trade in the range shown in the TradingView chart above until it can either break through resistance ... or falls through its main support. It may take some time for either to happen.
Meaning it'll take time to determine the medium-term market outlook.
But when it comes to the shorter term, we'll be looking to see if today's daily close falls above or below the yearly volume-weighted average price (VWAP) level, which is around $40,900.
In the meantime, my best recommendation would be to brace for volatility. Due to the very high current correlation with Nasdaq, BTC is bound to follow its price action for now. And considering that inflation data on the consumer price index (CPI) is released tomorrow, it means further volatility for both.
Hold on tight.
Best,
Marija Matić