Oman Opens Its Arms to Bitcoin!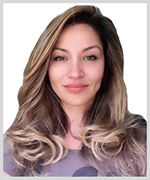 By Marija Matic
What goes up must come down. But recently in the crypto space, what we've seen is relatively small rallies and dips — for crypto, that is — followed by prolonged sideways action.
And that pattern is back. Following the notable downturn and liquidation cascade over the past ten days,Bitcoin's (BTC, "B+") price has now entered a consolidation phase.
It's worth recalling that, since the downturn, over $1 billion was temporarily removed from the markets. This occurrence marked the most significant cascade observed within this cycle.
Since the retreat to its mid-June price level, BTC has maintained a sideways trajectory. This has led to a consolidation centered around the $26,000 level: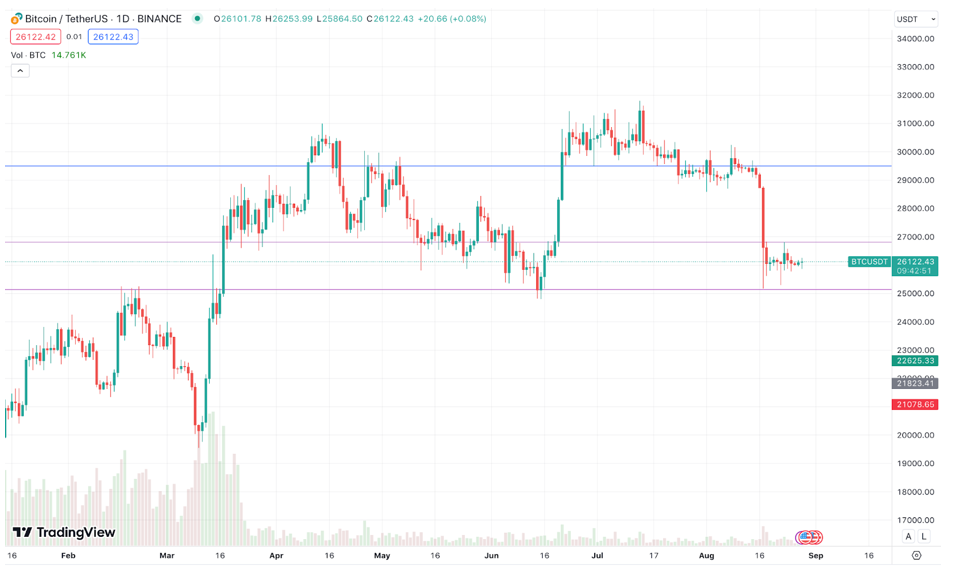 Crucial support of the current range lies at $25,166, marked by the lower purple line. Meanwhile, overhead resistance is at $26,832.
But it isn't just price volatility that's cooling off. The market has also seen a considerable reduction in trading volume, while the Relative Strength Index, or RSI, is signaling a state of neutrality.
That means you can't just focus on price action. You'll also need to monitor for a substantial uptick in trading volume as well and a breakout from the current range.
Both indicators are needed to ascertain the likely trajectory of the market's forthcoming movement.
But while we wait for that confirmation, I want to take this time to highlight positive aspects amid these developments. Because if you're only looking at current price action and trading volumes, you're missing a lot of the story. And you won't be prepared when it comes time to act.
One truly remarkable trend, as observed by CryptoQuant data, reveals that Bitcoin Exchange Depositing Transactions have plunged to a level not seen in 6.5 years.
The daily average sum of BTC deposited to exchanges has diminished to a mere 30,798 BTC, mirroring a comparable statistic observed back on Dec. 11, 2016.
Basically, that means there's a prevalent reluctance for investors to part with BTC. This supply shortage is poised to serve as an ongoing catalyst for fostering growth in the future.
Another piece of good news is yet another country is embracing Bitcoin. Oman has allocated significant funds to the crypto sector, obviously considering it to be Sharia compliant.
As Decrypt reported, the Omani government recently unveiled a noteworthy commitment of nearly $800 million for new investments in cryptocurrency mining ventures.
One part of that is a significant agreement involving a $300 million partnership with the Abu Dhabi-based Phoenix Group, announced on Aug. 23. The collaboration aims to construct a 150-megawatt crypto mining farm in collaboration with Green Data City, Oman's inaugural licensed crypto mining entity.
This facility is projected to be operational in the upcoming year.
In the weeks preceding this, the Omani capital city Muscat gave its approval for a $370 million mining operation managed by Exahertz International. This initiative plans to launch an additional 15,000 machines by October, as reported by local news sources.
Oman is obviously betting big on crypto and the digital economy, even though there will be fewer Bitcoins to mine due to the halving coming up in the first half of 2024. And Bitcoin stands to gain additional security with so many new machines ready to process transactions.
The process of gaining state-level acceptance for cryptocurrency started gradually, with El Salvador accepting it as legal tender in 2021. But one should expect it to gather momentum once a few countries like Oman jump in!
Notable News, Notes & Tweets

What's Next
As August draws to a close, Bitcoin appears poised to conclude it with a significant double-digit negative return. September has historically been a challenging month for BTC as well.
The outlook brightens for the period spanning from October to December, however, as that has historically shown a bullish trend. And the phase before October has historically been crucial for strategic positioning through dollar cost averaging, which ensures a balanced entry into the market.
Moreover, the potential approval of a spot BTC exchange-traded fund or Futures ETFs on Ethereum (ETH, "B") adds to the market's intrigue. Many applications will either need to be decided on or extended during that time.
But before all that, we have to get through this week, which could be pivotal. Numerous significant events are scheduled for this week, foreshadowing an anticipated surge in volatility. Furthermore, open interest continues to rise again.
We are likely to see some proper action over the next couple of days as long as open interest keeps rising at this pace.
So, keep your wits about you as you navigate the near term. Don't let volatility or headlines shake your investment plan out of fear. Let the market speak for itself.
Best,
Marija