Optimism Still Holds Strong Even as Bitcoin Consolidates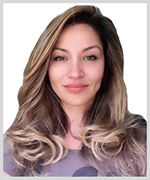 By Marija Matic
In the fast-paced world of cryptocurrencies, even moments of apparent boredom can give way to dramatic shifts.
And I'd call last Thursday's significant crypto dump, involving over a billion dollars in liquidations, pretty dramatic.
Media outlets quickly attributed this plunge to the news of SpaceX's $373 million Bitcoin (BTC, "A-") write-down. But you should know better than to take the media at its word. That's why I took a closer look and found a lot more to this story.
On the surface, yes, the catalyst for this sharp dump was SpaceX's disclosure, courtesy of the Wall Street Journal, that it had recorded a $373 million reduction in the valuation of its Bitcoin holdings throughout 2021 and 2022.
This news raised eyebrows and speculation about the broader implications of large corporations adjusting their crypto positions. However, details regarding the extent of SpaceX's holdings and whether the company sold any of its Bitcoin remain private, leaving room for uncertainty.
But the crypto market's reaction to this news might have been exacerbated by additional unrelated elements.
First is the fact that the market had experienced a period of stagnation, creating an environment ripe for swift price fluctuations.
A flat market can lead to a domino effect, where the accumulation of futures positions causes prices to plummet when a significant player initiates a large sell-off. The subsequent selling pressure forces long traders to off-load their positions to avoid liquidation, contributing to a cycle of falling prices and further position closures.
Second, Bitcoin's open interest had been progressively accumulating short positions since mid-July as its price decreased. This — coupled with a period of decreased Bitcoin demand in the U.S., evident from a negative Coinbase (COIN) premium — likely added to the selling pressure.
Third is the involvement of whales in the sell-off, apparent from the on-chain analysis. It's plausible that certain long-position holders, in a bid to evade liquidation, opted to sell their assets. This would have added another layer of influence on the downward trajectory of the market.
All these factors together are what allowed the SpaceX announcement to be the first headline that was really able to move the market significantly since its sideways trading began. But as the dust settles, a more optimistic sentiment is emerging in the crypto landscape.
Current BTC funding rates indicate a careful shift toward positivity, also evident in the more balanced number of long and short positions:

Additionally, a 13% surge in 24-hour trading volume across exchanges, now totaling $42 billion, underscores renewed market activity and possible consolidation around these prices.
The price shows that Bitcoin is around $26,000 and back in the range which started in March: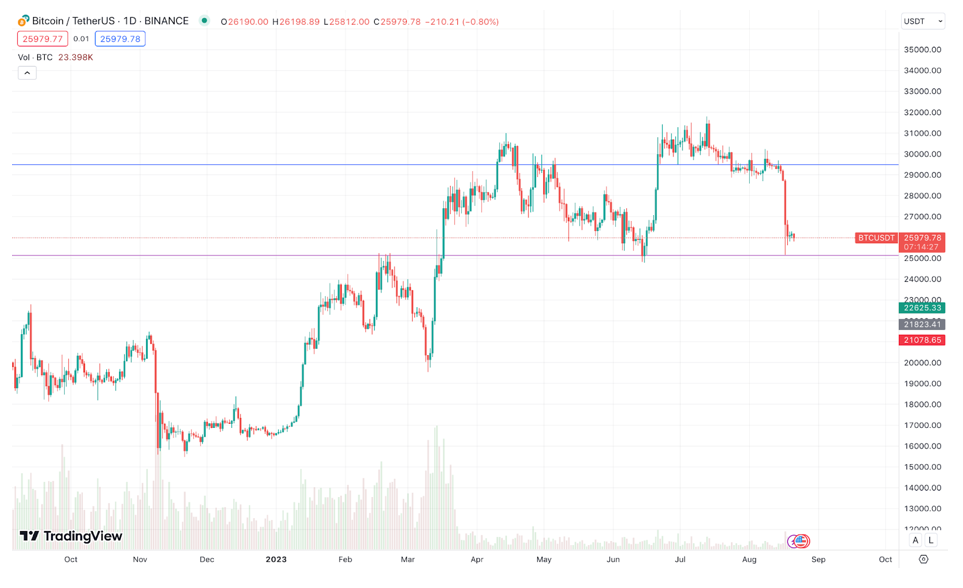 The price rebounded on Thursday from the same level it did in June, testing that support once again.
Meanwhile, it's incredible that Bitcoin's hashrate — the level of computational power on a blockchain — is increasing. That means more people are mining, and that mining is becoming more difficult.
Besides being a positive sign for Bitcoin overall, the rising hashrate makes the fact that a lone Bitcoin miner has successfully solved one block of transactions single-handedly, earning the valuable 6.25 BTC reward worth over $160,000, even more incredible.
This accomplishment is particularly rare as this miner was using a less powerful machine that typically solves a block about once every seven years.
Despite competing against miners with exahash-level capacities — which can make one quintillion hash computations per second — this individual with a modest petahash machine — capable of one quadrillion hash computations per second — defied the odds.
But those odds may be shifting. While still incredibly rare, this miner is the third solo miner this year to process a block. The first two happened in March and June, respectively. All three used Solo CKpool, a service that allows miners with outdated or inefficient equipment to mine as a lottery, retaining 98% of the reward when they strike lucky.
So, if you know someone with a retired/inefficient Bitcoin machine, you can suggest they check out this pool, which is suitable for:
Regular miners struggling to recoup costs who wish to take extra risk for greater reward potential for part or all of their hashrate.

The last backup for all miners who don't have a solo setup or wish to avoid the overheads of running one.

Miners with old/inefficient miners that will never earn any rewards through regular mining that wish to leave it mining as a lottery.
You never know!
Notable News, Notes & Tweets
What's Next
Currently, the BTC bulls appear resolute in safeguarding the present level, evident from the absorption of "sells" at this point.
Turning to Ethereum, its price has dipped to the robust support at $1,660, where it is presently consolidating. Maintaining this support level, last assessed in mid-June, is crucial for ETH's stability. Should this support hold, there is a possibility of price consolidation within the range of $1,660 to $1,800 over a certain period.
Numerous other altcoins are likewise positioned at historically robust support levels, underscoring the significance of maintaining these levels to ensure market stability.
As I said earlier, a flat market creates a perfect environment for swift fluctuations. I suggest setting an alert on your favorite cryptos on our website to be informed of any price action.
To do this, simply go to our Crypto Ratings page and select the asset you'd like. Then, click on "My Alerts" at the top of the page to add it to either. To keep track of your favorite cryptos, you can also add them to your list by clicking "My List" on the top of each crypto's page, as well.
Best,
Marija