Positive Sentiment Is Brewing Under Bitcoin's Quiet Price Action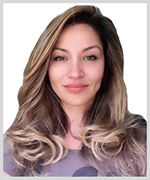 By Marija Matic
The total crypto market cap remained almost unchanged over the quiet weekend, standing at around $1.22 trillion. This is because Bitcoin (BTC, "A-") has been stuck in a range between $29,500 and $31,500 for 17 days now.
The consolidation in this well-established range has continued in today's trading.
But behind the scenes, BTC has not been quiet.
Bitcoin's computational power, also known as the hashrate, has now reached a remarkable all-time high of 395 EH/s, demonstrating relentless growth.
Let me put this into perspective: The new hashrate signifies an astounding 395 quintillion guesses being made every second in the pursuit of solving the intricate Block puzzle.
Such an impressive surge in hashrate indicates the unwavering optimism among miners regarding the future of BTC. This sentiment is exemplified by their persistent and substantial investments in mining equipment.
Interestingly, even Standard Chartered — a British multinational bank with operations in consumer, corporate and institutional banking, and treasury services — increased its 2024 Bitcoin forecast to $120,000 due to expectations that miners will reduce the amount of Bitcoins they sell per day.
Their argument is that miners have to sell less Bitcoin to pay for electricity whenever the price rises.
Also, the outlook on BlackRock's (BLK) spot BTC exchange-traded fund filing has garnered considerable optimism among individuals. This is exemplified by the behavior of larger Bitcoin holders — those who possess more than 10 BTC in their wallets — who have accumulated a staggering $2 billion worth of BTC since mid-June.
The prevailing positive market sentiment has been amplified by BlackRock's Larry Fink. The notable figure was once critical of cryptocurrencies but has now expressed his belief in Bitcoin's transformative potential.
Fink now envisions a revolutionary impact on the world of finance, stating that cryptocurrencies have the power to reshape the industry. Moreover, he emphasizes that Bitcoin, functioning as an international asset, could serve as a hedge against inflation or instability within specific nations.
This remarkable shift in perspective is particularly noteworthy, considering it originates from the most influential individual in the field of finance.
We've yet to see this optimistic sentiment manifest in price action, as you can see in the BTC/USDT chart below. It shows Bitcoin trading in the same range (orange) for over two weeks now.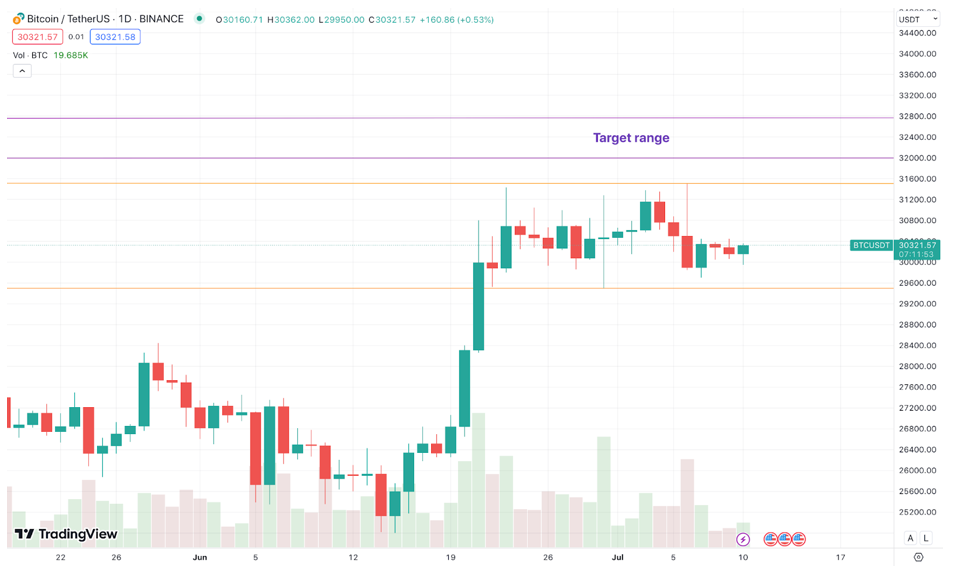 We are waiting for it to break out from this range in order to establish a new direction.
To realize a bullish scenario for Bitcoin — where it breaks to the upside of the current range and establishes itself in the next one between $32,000 and $32,750 — it is imperative for Bitcoin to swiftly overcome the resistance level at $30,500.
Notable News, Notes & Tweets
Since reopening withdrawals to users on June 23, Voyager has seen a net outflow of $250 million worth of crypto assets. At present, there is $176 million worth of crypto on the platform, according to on-chain data.
Ethereum (ETH, "B") inventor Vitalik Buterin has advice for Bitcoiners.
Coinbase (COIN) shares are up 50% since the Securities and Exchange Commission lawsuit.
What's Next
The price of BTC remains within a trading range, resulting in mixed signals that could lead to it breaking in either direction. However, once a breakout occurs, it is expected to have a considerable impact.
The upcoming release of inflation and Producer Price Index data next week has the potential to prompt a retest of support levels such as $28,100 or even the range of $27,400-$27,600, where substantial liquidity exists.
Conversely, if the data proves positive, it could propel BTC's price above the $32,000 mark.
Either way, market participants anticipate a significant breakout in the near future. It would be prudent to take the quiet market as a gift to evaluate your own portfolio to see what, if anything, you would sell into strength or buy on a pullback.
This quiet trading won't last long, and you'll be glad you had a plan when things pick up.
Best,
Marija
P.S. — If you haven't yet, I highly urge you to sign up for our upcoming Weiss Investment Summit. Over the course of this multiday event held in beautiful Boca Raton, FL, we'll reveal eight urgent strategies to help you build wealth in a risky economy, presented by a panel of Weiss Ratings experts and guest speakers.
For more information, call 855-278-9191 (or +1 561-409-8591 for international) to speak with a member of our VIP Executive Accounts Team and claim your discounted "Early Bird" ticket anytime between 8:30 a.m. and 5:30 p.m. Eastern Monday - Friday.