SEC's Latest Lawsuit Alleges Major Cryptos to Be Securities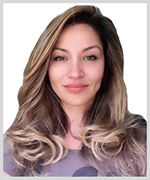 By Marija Matic
With the U.S. debt ceiling debacle decidedly behind us, Bitcoin (BTC, "A-") has been quiet for weeks.
Until now, that is.
The cold shower came today when the Securities and Exchange Commission stepped up its war against crypto by suing centralized exchange giant Binance and its founder CZ for unlawful offer and the sale of securities.
In addition to parroting the Commodity Futures Trading Commission's stance from March that U.S. investors were able to buy, sell and trade crypto on Binance Global through inefficient know-your-customer procedures, the SEC has extended that stance to say that these U.S. investors were effectively buying and trading securities.
In order to reach that conclusion, it obviously had to pronounce the largest cryptocurrencies as securities. Indeed, the lawsuit shockingly alleges that Binance (BNB, "C"), Cardano (ADA, "B-"), Polygon (MATIC, "B"), Solana (SOL, Not Yet Rated), Sandbox (SAND, "C+"), Decentraland (MANA, "B-"), Algorand (ALGO, "D") and Cosmos (ATOM, "C") — among others — represent unregistered securities.
The SEC also considers Binance's staking (coin-earning) programs such as BNB Vault and Simple Earn as securities, which is in line with its earlier stance on staking with other centralized exchanges, such as Kraken and Coinbase.
Those are the allegations against Binance as a whole. But the lawsuit also calls out founder CZ directly. That's because the SEC is accusing CZ of several acts, such as wash trading to inflate the volumes on Binance U.S. and commingling of funds between Binance and Binance U.S.
For the record, the latter infraction is what Sam Bankman-Fried did across his FTX empire. Hence, the fear from the SEC. If it turns out to be true and there are funds that are missing or unaccounted for, it could prove harmful to Binance users.
But ironically, the most damaging thing to Binance users right now is the accusation that at least eight large cryptocurrencies are securities, as it has caused their prices to dump.
Now, it is worth mentioning that these are all civil lawsuits and do not bear criminal charges.
And it's worth remembering that the SEC still hasn't managed to win its case against Ripple (XRP, "B-") after years of trials and accusing it of being a security.
It makes me wonder how the SEC even plans on winning a similar case against Ethereum-like cryptocurrencies, which, unlike XRP, are permissionless.
Meanwhile, Binance has stated that "any allegations that user assets on the Binance.US platform have ever been at risk are simply wrong, and there is zero justification for the Staff's action."
Market Reaction
Up to today's news, the market had been flat with coins merely switching from the hands of the inpatient to the patient.
But BTC price dumped on the lawsuit headlines. It is now showing two important things on a weekly timeframe: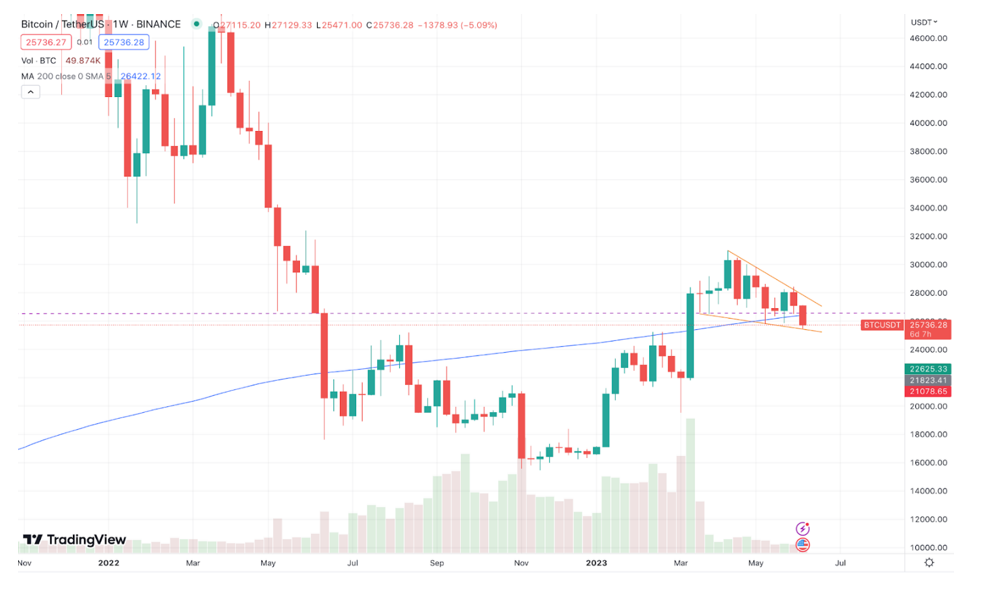 First, is that two significant supports were broken today. Remember, intraday action isn't enough to confirm anything according to our Crypto Timing Model. But it is still a sign we should be paying attention.
The first significant support is at $26,600 (the dotted line) which I have been mentioning for weeks now. And the other is the 200-week moving average at $26,427 (the blue line).
We haven't had a week close below either since early March. Meaning the weekly closing price will be vital.
Second is that Bitcoin is trading in a bullish descending structure (orange channel). Usually, this breaks upward and could theoretically take us to $31,000.
Furthermore, today's dump aligned perfectly with the bottom of that channel.
However, due to the circumstances, this breakout on the upward may be unlikely. We'll have to wait and see where the weekly close lands.
Notable News, Notes & Tweets
• Binance: SEC complaint aims to unilaterally define crypto market structure.

• Significant shifts in the stablecoin market: Market cap of Tether (USDT) increased by $11.3 billion to $83 billion, while the USDC market cap fell from $43.5 billion to $28.9 billion, since March 8.

• Arthur Hayes expects bitcoin's next bull market to start by October. Here's why.

• Binance hands rising star Richard Teng key role to replace CEO Zhao at the largest crypto exchange.
What's Next
The next thing we will look for is whether there will be a bank run on Binance and, if there is one, how it will affect their reserves.
As long as the 200-week moving average remains intact on a closing weekly basis, Bitcoin can be considered bullish in the medium term. If the week ends below that key level, however, the narrative may change.
Meanwhile, the amount of available Bitcoin on exchanges is very low, and it will be even lower with people withdrawing from Binance. And considering the fear, uncertainty and doubt the SEC kicked up with its lawsuit, we should expect to see more withdrawals.
In the meantime, it's important to state that what looks like SEC's war on crypto highlights the freedom and innovation within the crypto industry.
The goal of crypto is a decentralized and trustless financial system free from overbearing centralized authority. Is it so hard to wonder why that goal may be deeply sought after upon seeing the lengths some governments may go to for control?
The lawsuit also undermines the U.S.' position as a global hub for innovation and new technologies. As would be the case for any country that makes itself so inhospitable to crypto.
The U.S. is already feeling the effects of this, but it is going to get worse as other parts of the world take over with their more advanced, open stances.
This is a new development in the regulation conversation. And it's one we'll be watching closely, especially considering the market at the moment.
So, keep your eye on your inbox for your Weiss Crypto Daily issue to keep you informed.
Best,
Marija