Shakeouts Possible, but They Won't Stop Bitcoin
While Bitcoin (BTC, Tech/Adoption Grade "A-") is on its way to a new all-time high (ATH) price:
• Total crypto market cap has just surpassed $2.5 trillion, breaking May's record!

• Ethereum (ETH, Tech/Adoption Grade "A") is about to settle over $9 trillion in transactions this year!

• Non-fungible token (NFT) marketplace, OpenSea, and Axie Infinity, the play-to-earn (P2E) NFT game, broke into the top 500 most popular websites on the internet!
Coupled with the U.S. accepting Bitcoin futures-based exchange-traded funds (ETFs), it's obvious the overall market sentiment is bullish!
And there's some other big news bolstering that bullish sentiment…
Binance dedicated a $1 billion growth fund for crypto gaming, finance and virtual reality (VR), Stripe is reentering the crypto market and Jack Dorsey's Square (SQ - C) is about to build an open-source Bitcoin mining system.
It's no wonder that BTC Open Interest exploded in October, rising by a meteoric +107% ($6.3 billion) since September lows and now nearing ATH levels.
Bitcoin retested support and bounced. It needs to hold above $62,500 before pushing to resistance at $65,000. Support levels below the current price of $61,882 — remain strong.
BTC/USDT TradingView's daily chart shows Bitcoin nearing its ATH, which is also an important resistance level: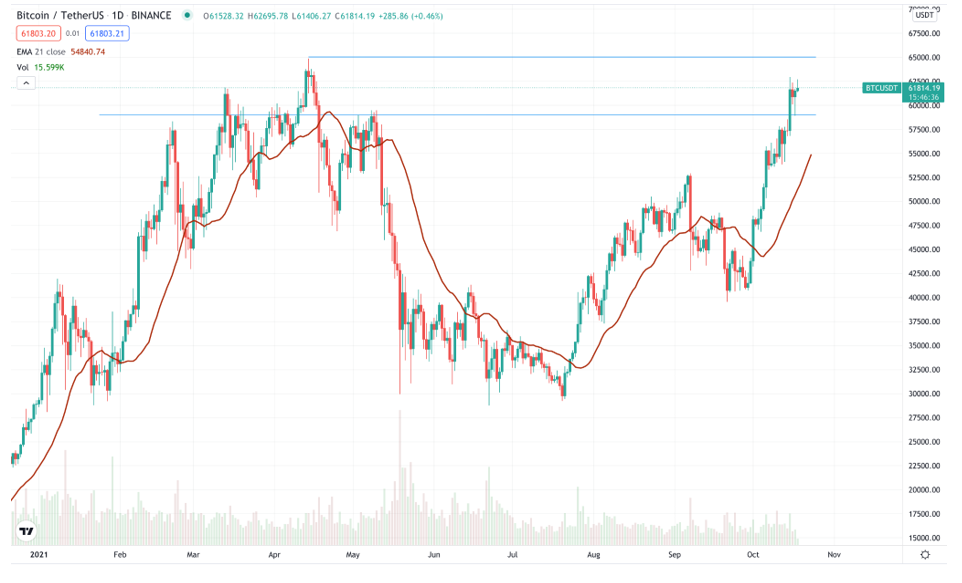 Meanwhile, ETH tested support at $3,640 and bounced back from there to its current $3,742. It needs to break and hold above $4,000 to go toward its ATH and the next level of $5,000.
If ETH can't break through $4,000, we'll likely see some consolidation and sideways action before another try.
ETH/USDT TradingView's daily chart shows the importance of breaking the $4,000 resistance level: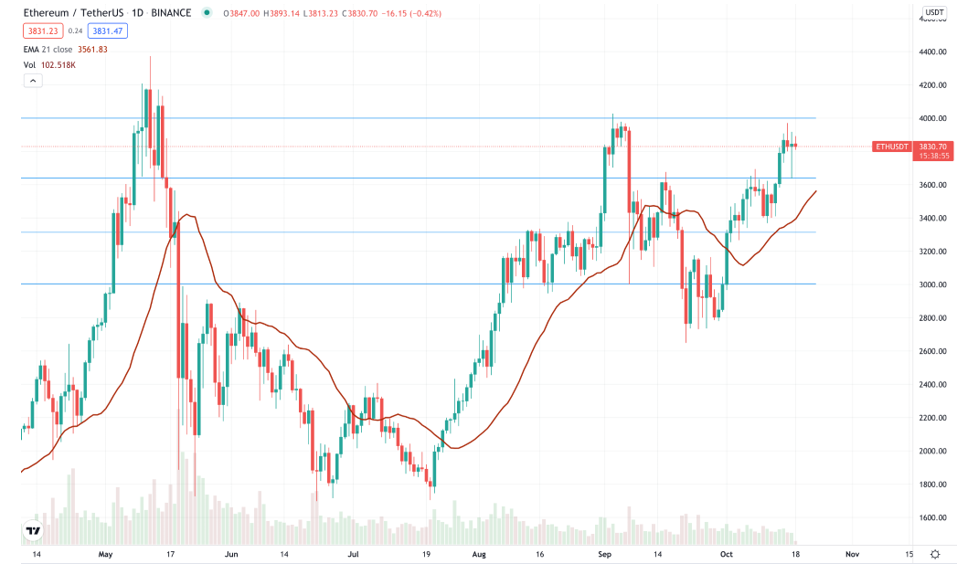 Oh, and we learned that the "merge" could happen by June 2022, according to developer Tim Beiko!
When it comes to the Ethereum network, the merge is the most important event as it means merging the current network with a proof of stake (PoS) network.
It's basically an upgrade to Ethereum that swaps out the current proof of work (PoW) consensus mechanism with a more eco-friendly and efficient PoS.
It's Not NFT Season, but …
Digital non-fungible assets are gathering a lot of attention:
• OpenSea and Axie Infinity broke into the top 500 websites on the internet.

• Visa (V - B) is launching an NFT program to support digital artists.

• Coinbase (COIN - C) is launching its own NFT platform, and 2.5 million users have already signed up for it.

• Sotheby's announced its own metaverse platform.

• Important publications, like The New Yorker, are writing about NFTs.

• The list of rich and famous NFT owners is expanding, including Reese Witherspoon and Josh Hart.

• The cheapest CryptoPunk is now priced at 105 ETH ($406k).
Oh, and a bit of an interesting trivia: The highest-selling NFT artist, Beeple, first learned about NFTs … just one year ago!
This might be encouraging to other digital artists, as it shows that they are NOT late to the party!
They shouldn't be discouraged by the price volatilities or the speed at which the space is developing. Many new platforms are being built with a focus on motivating artists to enter the NFT space in a meaningful and organized way.
Notable News, Notes and Tweets
• Start a decentralized autonomous organization (DAO) in four steps.

• THow crypto narratives are changing.

• This wallet has 141 punks, likely worth over $100 million, and has been inactive for over four years.
What's Next
Considering that we are very near its ATH price, over 99% of all owned BTC is now in profit!
Long-term holders — who, according to Glassnode data, hold 70% of Bitcoin's market cap — have very large and unrealized profits. This means holders believe another rally is around the corner. During the rally, following the "belief" phase is "euphoria" and then "greed."
The next major step is to break that ATH price, as we are still in "Bitcoin season!"
There will likely be some corrections here and there to reset indicators before continuing upward. And, we may see some false breakouts and breakdowns to shake out leveraged traders.
But, strongly consider ignoring this volatility if you are a holder!
There's an awful lot of reasons to be bullish on Bitcoin from a long-term perspective.
Best,
Marija Matić