Should Bitcoin Fall with the Rise of Geopolitical Tensions?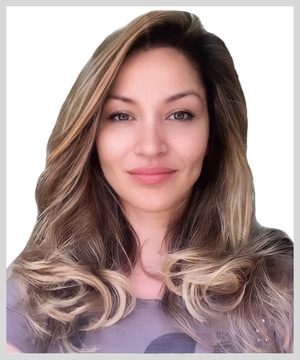 By Marija Matic
Even after the long weekend, the headline most directly affecting the markets is still the rising tension in Europe.
After years of frozen conflict with many violations of cease-fire, Russia has decided to recognize the independence of Ukraine's Donetsk and Luhansk regions — collectively known as Donbas — and has sent troops to overlook the breakaway process. Russian President Vladimir Putin considers them "peacekeeping" troops, as he has accused Ukraine of "genocide" over Russians in Donbas.
Ukrainian President Volodymyr Zelenskyy has said in response that they're "not afraid of anyone," but are "dedicated to political and diplomatic settlement". At the same time, he believes "there will be no war" or a "broad escalation from Russia," which has somewhat calmed the markets.
Meanwhile, other world leaders have reacted by preparing a new set of sanctions:
Germany stopped the progression of the Nord Stream 2 pipeline that would have increased the E.U.'s reliance on Russian energy.
The U.K. plans to sanction five Russian banks and three "very high-net-worth" (HNWI) individuals.
The U.S. will impose additional sanctions, but the full package is pending "further actions" by Russia.
As the situation grows more tense, investors are holding their breath … and their trades. Many are in risk-off mode — in both the equities and crypto markets — until a resolution is found.
The most probable risk is that we see a repeat of what happened in Donbas and Crimea in 2014 if Ukraine refuses to yield the area. While it seems both nations are averse to an all-out war — thankfully — regionally limited conflicts carry certain risks of escalation.
And that's very true in this case, as well, considering the decades-long tension between Russia and NATO has reached its peak … and not much is done to de-escalate it.
So, in the short term, we can expect to see fear continue to influence investors. But in the long term, this very situation shows the need for crypto … and exactly why it should reduce its correlation from the S&P 500 and the Nasdaq.
As former fund manager James Lavish says, "If you are selling Bitcoin (BTC, Tech/Adoption Grade "A-") here because of fears of war and civil unrest, you have absolutely no idea what you own and why it is so vitally important for the world at this very moment."
I couldn't agree more.
Buying Bitcoin just for gains is one thing. But the true value in Bitcoin is in having peer-to-peer censorship-resistant money. In fact, it's essential in times like this, especially to those living in closely affected nations. Ukrainians, Russians and potentially E.U. residents will be able to hold currency that can remain neutral of geopolitical influences.
Crypto OGs already know this. But the wave of new institutional traders who jumped into the crypto market in recent years is still learning.
In the interim, they've shaped the crypto market according to their Wall Street views, trading crypto in line with the Nasdaq Composite. They consider crypto risk assets, similar to technological companies.
This is why we are seeing such a high correlation and why Bitcoin's price has been dropping. And that argument could make sense under certain market conditions … but certainly not this one!
Even if the situation gets (hopefully) contained at Donbas, Russians may have a hard time economically due to sanctions … especially if they end up excluded from the international banking system.
Remember, that's why Putin put pressure on policymakers to reverse course on crypto and to "stand in our way of technical progress."
During times of heightened political tensions, affected nations can survive without imported luxuries. But they will have an extremely hard time functioning without censorship-resistant money!
I know this as I survived years of war, sanctions, hyperinflation and hunger. I wish crypto existed back then, as it would have made the life of the affected ordinary people so much easier.
Can those buyers — the average retail investors who need the BTC now — going to outweigh institutional players who are shorting and unloading it, thinking the price needs to go down in line with Nasdaq?
It's hard to say. Institutional players might begin to understand the significance of Bitcoin at times of uncertainty … but herd mentality bias and old habits are hard to beat.
Right now, longing Bitcoin would be a contrarian behavior for them. However, there is certainly some hope — the Nasdaq is down –0.5% today, while Bitcoin is up +2.62%!
The BTC/USDT one-hour TradingView chartshows that BTC dropped due to the news regarding Ukraine … but then bounced from the support level of around $36,300. It's currently trading near $38,000.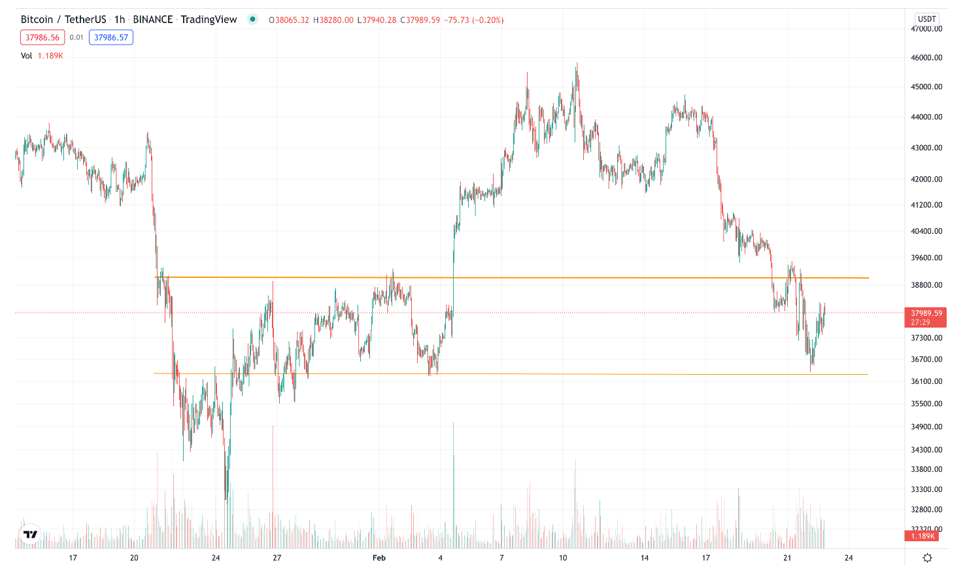 And decentralized stablecoin maker Terra (LUNA, Tech/Adoption Grade "D") has been notably strong within the crypto market, gaining almost 7.2% today. It might be early to say, but this may be an indicator of what investors may consider as safe havens.
Notable News, Notes and Tweets
Tether slashes commercial paper holdings by 21% ($6.2 billion). Tether also drastically reduced its cash assets to $4.2bn. Instead, the company allocated most of its reserves to Treasury bills, almost doubling assets in short-term government securities to $34.5 billion.
What's Next
Bitcoin's price has been unwillingly affected in the geopolitical games. Apart from that, there's really not much to say as the market largely depends on the political situation and how Bitcoin is viewed by institutions.
We will see in the coming days if the demand for Bitcoin can outweigh institutional bias.
Best,
Marija Matić