The Buzz on Bitcoin's Newest Upgrade
#Uptober came in with a roar. And, despite being more subdued, it left with a bullish trumpet.
The monthly Bitcoin (BTC, Tech/Adoption Grade "A-") price closed above support at $58,800. And that's with Bitcoin's recent pullback.
It's a nice end to the month that kept giving, and a solid start to November.
Bitcoin is currently trading in a "bull flag" range. And while no one can say for sure when it'll break out, there is a date to watch closely.
That's because on Nov. 16, the Bitcoin network will see its first significant upgrade in four years.
If everything goes as expected, the Taproot upgrade will bring additional privacy and efficiency to Bitcoin transactions. It should also improve smart-contract capabilities on the Bitcoin network.
The last upgrade — rolled out back in 2017 — brought some important features, such as SegWit, which helped Bitcoin to become more scalable, and the Layer-2 solution Bitcoin Lightning Network (LBTC), which allowed instant and free transactions.
El Salvador started using LN on a national level two months ago, while Twitter (NYSE: TWTR) added it to its platform a few days ago.
With that upgrade Bitcoin's price jumped 50% by the following month. And we've seen how Ethereum's upgrade pushed its price higher earlier this year. There's a high chance that Bitcoin will follow a similar trajectory this time as well.
The following BTC/USDT TradingView's daily chart shows BTC bouncing off strong support at its 21-day exponential moving average (EMA) five days ago. Now, its trading above another important support level: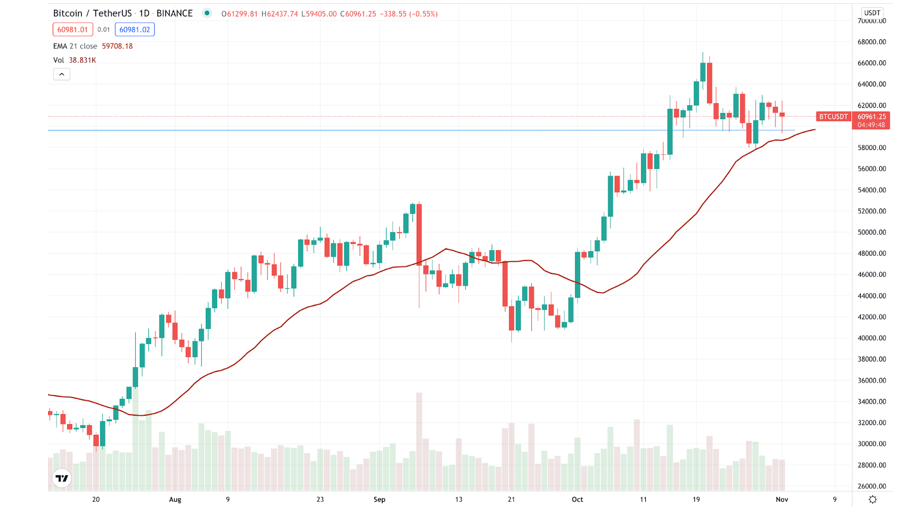 Ethereum has managed to hold support at $4,170 and bounce from there.
It looks ready to go after the psychologically important $5,000 level soon, according to this TradingView's daily chart: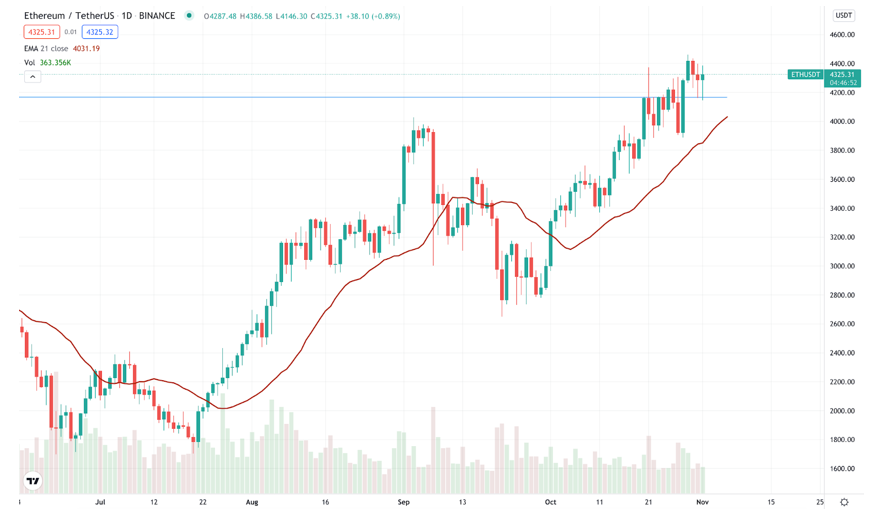 Meanwhile, quality altcoins like Polkadot (DOT, Tech/Adoption Grade "B") and THORChain (RUNE, Tech/Adoption Grade "C") are breaking out!
It's not quite altseason yet. But we do expect well-positioned altcoins to shine as the parabolic phase gets underway and liquidity moves from BTC and ETH down the line.
Notable News, Notes and Tweets
• Big banks have been building up their ranks of crypto experts — and offering huge salary bumps to bring on new talent.

• Stablecoins are a compelling payment option, but they need to be regulated, Biden administration report

• After Facebook (Nasdaq: FB) changed its name to Meta and announced investments in virtual realities (metaverses) worth billions of dollars, Sfermion announced the close of its new metaverse fund worth $100 million, backed by the Winklevoss twins and Alan Howard.
What's Next
The momentum is clearly bullish, and Bitcoin is forming a bull flag pattern, which means that a breakout is nearing.
When it comes to supply of Bitcoin on exchanges, investors' behavior is also bullish as anticipation for the Taproot upgrade builds.
However, there is some fear, uncertainty and doubt (FUD) circulating regarding the Mt. Gox case that could come home to roost just after the upgrade goes live.
Mt.Gox is a defunct crypto exchange that got hacked and stopped working in 2014. It was the largest Bitcoin exchange at the time, facilitating 70% of all trades. 800,000 BTC were lost, but a significant part was recovered.
The Mt.Gox estate is said to hold 141,686 BTC, 142,846 Bitcoin Cash (BCH, Tech/Adoption Grade "C+") and about 68 billion in Japanese yen (JPY), or roughly $601.8 million.
These sums are about to be distributed as creditors that held Bitcoin on Mt.Gox exchange are soon due to get billions. While the payouts will be done in complicated stages and ways over time, some may start to be released as soon as Nov. 20 — just four days after the Taproot upgrade.
So, the question is: How will this surge of BTC affect the market?
The sum is certainly large, so it's not unreasonable to assume it could influence BTC's price at some point ... but not immediately.
MtGoxCreditors Telegram group polled creditors to see how much of their Mt. Gox BTC they plan on selling. A narrow majority — 54% — answered that they won't sell BTC at all. In fact, only 17% plan to sell.
Notably, their responses are flipped for BCH.
Unlike BTC, on which creditors are bullish, 68% respondents said that they want to sell all BCH that they receive, while only 17% of respondents want to keep their BCH.
The vote was done on a just sample of 271 creditors. So, while we can't know for sure what the over 30,000 other creditors are thinking, it's likely that the majority are bullish on Bitcoin ... and they'll likely wait for the parabolic phase before even considering selling.
After all, these people have waited seven years to receive their money. A two- or three-month wait for much higher gains is an easy call.
What we do know is that the HODLers ARE waiting for higher prices. Even though BTC gained upwards of 40% in October — the highest monthly gain since 2020 — they're holding out to see what November has in store.
We recommend you do the same: Sit tight and HODL!
Best,
Marija Matić