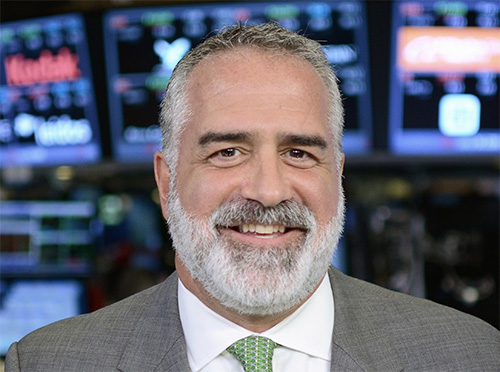 Kenny Polcari — Managing Partner — Kace Capital Advisory — A financial services consultancy serving wealth managers, Industry participants — incumbent b/d's and emerging fintech companies.
Currently he serves as the Chief Market Strategist at Slatestone Wealth — A boutique wealth advisory firm with > $1 billion dollars of investor assets under management. In this role, his responsibilities range from market and economic analysis, investor education, and interpreting the ever changing economic and market landscape on behalf of Slatestone and how those impacts may affect future investment and planning strategies on behalf of their clients.
In addition — Kace Capital Advisors raises capital for distressed/High Yield Bond Fund manager — Cratus Capital while representing an array of investment opportunities for UNHW family offices. Finally — he is advising a handful of fintechs on strategic marketing and positioning.
With more than 35 years of industry experience as a member of the NYSE serving institutional investors both at home and abroad — he is a seasoned and well-known voice on the markets. You may recognize him from his many years serving as a market analyst on CNBC or you may know him from being an avid reader of his daily market commentary — "Morning Thoughts" — a missive that is not a typical Wall Street piece of research — it is an informative, engaging and entertaining look at global markets and provides insight into the day's action and ends with a 'recipe of the day'.
An avid cook and entertainer — Kenny combines his financial industry knowledge and acumen with his love of cooking — giving you both 'food for thought' as well as 'something for dinner'.
Earlier in his career, he built the U.S. equities business at the largest inter-dealer broker, ICAP, and was among the first traders to go direct to institutional money managers, executing on the opportunities market evolution created, and bringing greater transparency and accessibility to the customer.
Before that, Kenny ran the Salomon Brothers New York Stock Exchange (NYSE) division during the nineties bull market and was a part of the team that launched the first electronic order delivery system in the industry. Kenny began his career on the floor of the NYSE in 1985 and has lived through the many significant and life changing/industry changing events and has a special perspective having seen it all through the lens of the NYSE. He served as a member of the exchange for nearly forty years and as a NYSE Governor for more than a decade, representing the interests of institutional asset managers in the global equities markets.
He is an active member of the financial community and is a board member of the National Organization of Investment Professionals (NOIP). He is also a big supporter of our Veterans — as a direct result of his own 9/11 experience — and served on the board of the Headstrong Project for 5 years. Kenny recently stepped down to lead the advisory board as this organization continues to grow — serving more than 1500 veterans across 11 states and 26 cities that suffer from the hidden effects of PTSD.
He met his wife on the NYSE — herself a former member — and they have 2 daughters.
DISCLAIMER: The Weiss Investor Podcast is for informational and entertainment purposes. Nothing discussed on the podcast should be construed as personal financial advice. All opinions expressed are those of the guests and host with no implied endorsement by Weiss Ratings.
All investments carry inherent risk. Weiss Ratings is not liable for any direct or indirect damages arising from information provided on this podcast.