3 Small Companies with Huge Potential in Uranium, Gold & Silver
I was in New Orleans recently for the New Orleans Investment Conference, and I spoke to a bunch of companies in uranium, gold, silver and lithium. I have three of those interviews for you today.
If you want to ride the coming rallies in uranium and precious metals, maybe you'll see something you like.
Near-Term Uranium Potential
I talked to Scott Melbye, executive vice president of Uranium Energy (UEC). What I learned in that talk convinced me you should consider UEC for your portfolio sooner than later.
Mr. Melbye told me that the company will make a decision to restart its uranium production as soon as December or January. Assuming that decision is "yes," the company will be in commercial production as soon as June or July.
Uranium Energy has two past-producing uranium projects it can start up rather quickly. That's because these mines are In-Situ-Recover (ISR) projects.
An ISR mine works by pumping carbonated or sometimes soapy water into one side of a uranium deposit, then recovering it on the other side and using a modified water treatment plant to recover the uranium. It's simple, and it's cheap. It only works with certain deposits, and UEC has two of them ready to go.
But why don't you hear about it from Scott Melbye himself:
I'm sorry about the bouncing camera in the beginning of the video, but passersby were bumping up against the table. Aside from that, it's a great interview.
What's driving uranium? Mr. Melbye and I talk about how there is a 50-million-pound gap between uranium mine production and global demand PER YEAR. This gap has been filled by stockpiles in the past, but those are dwindling fast. The race for new supply is on.
Now, a company like UEC will sell most of its uranium under long-term contracts, and those contracts have a lower price than the spot price. But the contract price is rising, too! The squeeze is real!
Massive Cash Flow from Silver
I also talked to Christopher Ritchie, President of SilverCrest Metals (SILV). This silver-gold producer has a market cap of $753 million. It produces 10 million ounces of silver equivalent per year, has low costs and BIG cash flow — about $7 million to $9 million per month.
I've liked this stock for quite some time. In this video interview, Mr. Ritchie explains why SilverCrest has so much going for it.
This stock was punished — I believe unfairly — in the recent precious metals correction. To me, it looks cheap.
A Producer with a New Gold Discovery
I also talked to John McConnell, CEO of Victoria Gold (TSX-V: VGCX) (VITFF) in New Orleans. Victoria has a market cap of $263 million and is a fairly new producer. It started right as COVID-19 clamped down! So, that was a rough patch. But the company is coming out of it strong.
The company's flagship Eagle Mine is getting in gear. It should produce close to 170,000 ounces of gold this year and 190,000 by 2025. And the company is now exploring a higher-grade deposit near its producing mine.
Mr. McConnell can give you the scoop in this video interview here.
The new deposit Victoria Gold is exploring is called Raven. It's 10 miles to the east of the Eagle Deposit. The company put out a maiden resource estimate on Raven, with just over a million ounces with a grade more than double the grade at Eagle. We'll see what more drilling brings! Mr. McConnell expects a new resource estimate for Raven in Q1 of 2024.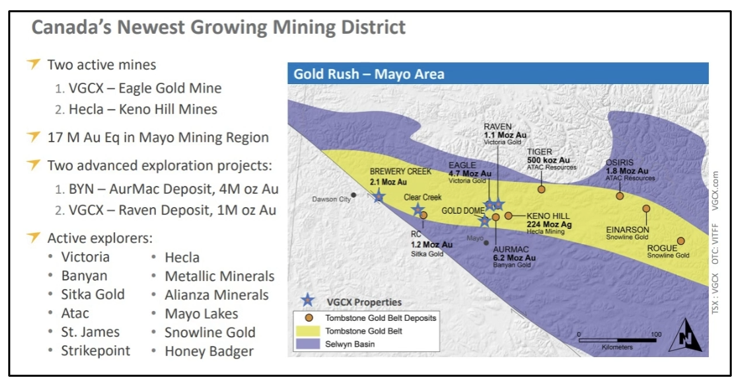 All three of these companies are producers or near-term producers. For me, that puts them in the sweet spot of the rallies I see coming in uranium and precious metals. They are small, which means more risk. But that can also mean outsized rewards.
All the best,
Sean
P.S. If quick-moving, actionable profit opportunities are your thing, you'll love what our founder Dr. Martin Weiss has cooked up for you. On Tuesday, Nov. 21, he's going to host an exclusive conference for Weiss VIP Members. You are invited, as long as you let us know by clicking here.