4 Forces Driving Markets This Year
It's a new year ... and with any new year comes a lot of new investor questions.
And the answers will help determine how profitable 2022 will be.
Nobody has a crystal ball. But I do want to share the four burning questions on MY mind for 2022, as well as my answers to them!
Get these things right, and I'm confident this year can be one of the best ever for your portfolio.
Question #1: With interest rates jumping on the first few trading days of 2022, are Treasurys in for rough year? Is this FINALLY the start of a lasting advance for rates or just another flash-in-the-pan move?
My answer: With our economy buried in debt, our population aging and our long-term structural challenges still severe … it's very difficult for rates to rise too high, too quickly and for too long.
We'll probably see them creep higher in early 2022. But I don't think long-term rates will get anywhere near what we saw in the last economic cycle, the one before that or the one before that.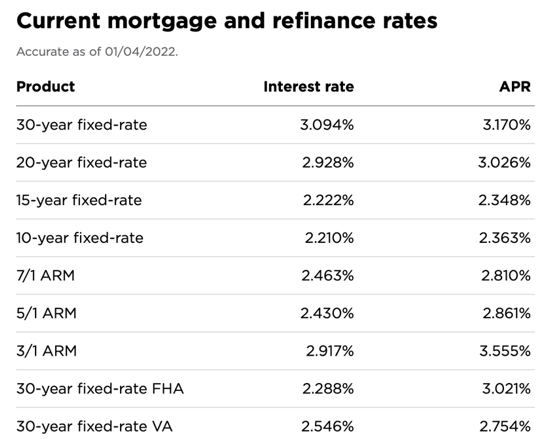 Instead, even as the Federal Reserve pushes through a handful of short-term rate hikes, long-term yields will remain relatively flat.
That will flatten the yield curve. And that, in turn, will continue to support the kinds of income-generating investments and strategies I've been recommending for months.
Question #2: With Apple (Nasdaq: AAPL) just becoming the first company in the world to hit $3 TRILLION in market capitalization, are we in for more technology stock dominance? Will the S&P 500 remain as top-heavy in tech as it is now?
My answer: There's no doubt tech giants like Apple have become ubiquitous. The COVID-19 outbreak only further underscored the need for cutting-edge tech to keep our lives going in an era of remote work.
No wonder Apple breached the $1 trillion market cap level in August 2018. Then it topped $2 trillion in August 2020 and $3 trillion on the first trading day of 2022.
Meanwhile, at the end of 2021, the top seven stocks in the S&P 500 were all tech names (Apple among them). They accounted for a hefty 27% of the index.
Still, many smaller, second-tier tech names faltered in the back half of 2021. Plus, tech wasn't actually the strongest S&P 500 sector in 2021.
Energy came in first with a gain of just under 48%, followed by one of my favorite "Safe Money" groups — real estate — at around 42%. Tech rose "only" 33%.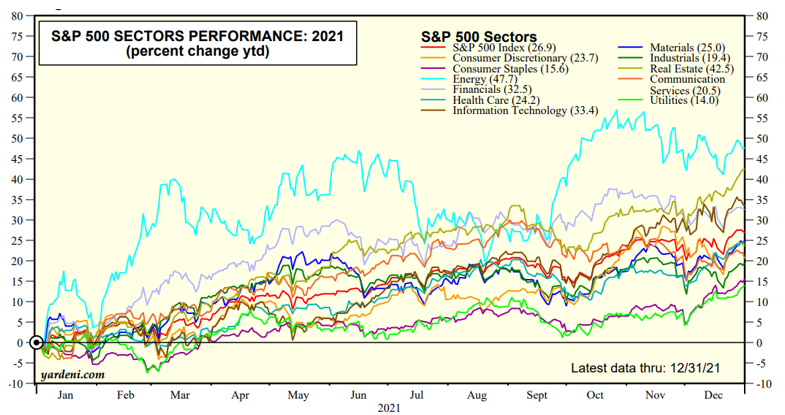 Source: Yardeni Research
I don't think big-name tech stocks will crash. But I do expect to see Safe Money sectors perform very well this year as markets broaden.
That's why I continue to emphasize them in my monthly newsletter, Safe Money Report. You can join my subscribers and start 2022 on the right foot by clicking here.
Question #3: With Omicron infections soaring, will COVID-19 continue to hamstring the economy or markets?
My answer: It's true that case numbers are going through the roof. Yesterday alone, a record-setting 1 million new cases hit the United States. But many government officials and investors are focusing on something else: the apparent disconnect between rising infections and hospitalizations and deaths.
They're doing so for good reason. This latest variant APPEARS to be less virulent and/or deadly than previous ones, despite it being significantly more transmissible.
Whether that's because of Omicron's inherent nature (it isn't as effective at damaging the lungs as prior variants) or the hundreds of millions of vaccines administered worldwide … is unclear.
But from an investment standpoint … it doesn't matter.
We're not going back to the kind of widespread lockdowns we saw early in the pandemic. That means COVID-19 won't hammer the economy or markets like it did in the past.
Question #4: Will we ever see a bear market again? Is 2022 the year?
My answer: Few analysts focus more on SAFETY when recommending investments and strategies than me.
Why?
It's easy to make money in bull markets. Everyone looks like a genius.
But when the going gets tough, those who lack bear market experience often fall by the wayside. They torch their investors and subscribers because they don't prepare them in advance or refuse to adapt when conditions change.
I don't see financial or liquidity conditions that warn of an impending bear market … YET. But you can rest assured that I'm watching closely and will alert you if I do.
In the meantime, you can still generate handsome profits from Safe Money stocks and Safe Money sectors. The numbers I just shared prove it. These names will also allow you to sleep better at night, rather than expose you to wild volatility.
Bottom line?
Armed with the answers to these four burning questions, I'm confident you can prosper handsomely in 2022.
And I'll be here every step of the way to help you as conditions evolve during the course of the year.
Until next time,
Mike Larson