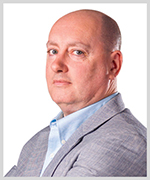 By Gavin Magor
Yes, in this kind of chaotic market, picking sound and quality stocks has become more of a challenge.
No, it is not impossible, nor quite difficult, to still add quality names to your portfolio.
In bear and sideways markets like we have now, finding solid stocks that will yield strong returns is harder in this environment. But when you have the power of Weiss Ratings on your side, it can make your investment decisions far easier.
The Weiss Ratings database uses all publicly available data (which is vast) and takes an especially close look at a security's track record of ratings and price relative to its earnings prospects. Then it provides an "A" through "F" rating based on what it has screened.
As the director of research and ratings, I can wholeheartedly say that any stock that has a poor Weiss Investment Rating is just not my cup of tea.
I prefer highly-rated stocks because they feature …
Valuable Criteria You Should
Look for as an Investor
"A" stocks get my priority, and "B"- and "C"-rated stocks get consideration. But I always focus on the "A"-rated stocks first for my personal portfolio.
And the best part? It's extremely easy to search the Weiss Ratings website to screen the top-rated picks.
Take a look at the current "A+" and "A"-rated stocks: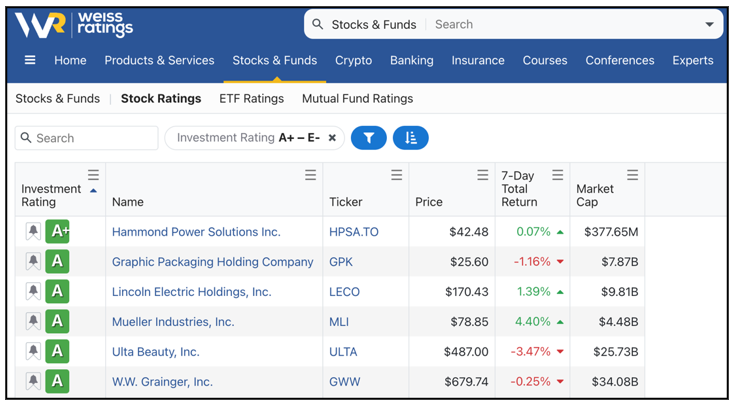 Current "A"-rated stocks.
Click here
to see full-sized image.
As of writing, there are only 13 "A"-rated stocks out of the 12,937 that we rate, so I recommend giving these names some special attention.
Members of my service, All-Weather Portfolio, were able to grab 68% gains on a highly-rated stock back in February, and I just recommended they get back in on Friday as its ratings has gone up since.
Five of those 13 "A"-rated stocks have jumped into that elusive club as recently as the past few weeks. Let's take a closer look …
5 New "A"-Rated Members
By taking a stroll over to the Weiss Ratings website, it's extremely easy to see our top new "A"-rated stocks. Just filter the stock screener based on the highest Investment Rating, and the top names populate.
The new "A-"-rated picks are MPLX (MPLX), Arch Capital Group (ACGL), Intact Financial (IFC.TO), Applied Industrial Technologies (AIT) and CBIZ (CBZ).
One important trend I look at is what sector these new "A"-rated stocks are coming from. MPLX is energy, Arch Capital, Intact Financial and CBIZ are financials and Applied Industrial Technologies is from the industrials sector.
It's definitely noteworthy that three of these came from the financial sector.
Another great feature on the Weiss Ratings site is being able to see a stock's ratings history. For example, if you wanted to check the exact date and reason for Arch Capital Group's promotion into "A" territory, it's neatly presented for you: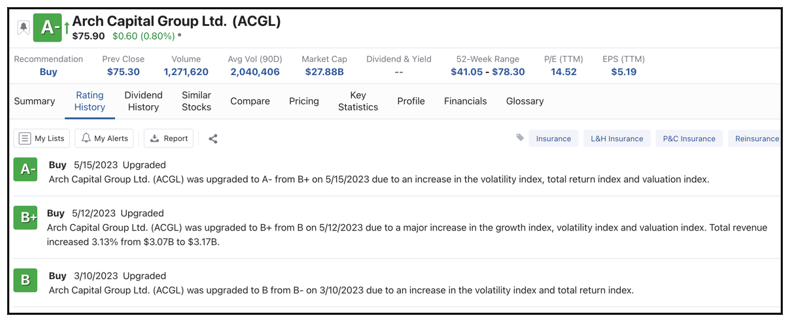 Arch Capital Groups rating history.
Click here
to see full-sized image.
Arch Capital was upgraded on May 15.
And as you can also see in the image above, dividend history, similar stocks, comparisons, pricing, key stats, company profile, a deeper look into the company's financials and the glossary section are all readily available for your convenience.
And that similar stock feature can often times get overlooked. Say, for example, there's something about a company that just doesn't tickle your fancy, like it being too expensive. You can check out highly competitive other names who might have a more attractive share price.
In the case of Arch Capital Group: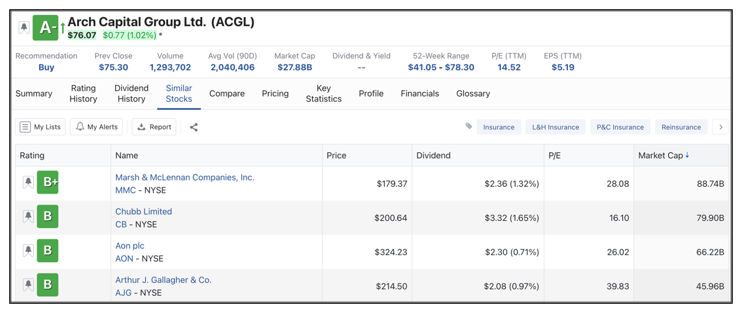 Arch Capital Groups' similar stocks.
Click here
to see full-sized image.
Other recommended names populate that may better suit your personal investing needs and wants, and that's what the tool should be used for.
Turbulent market times are among us, and whilst nobody has a crystal ball, having tools at your disposal is a tremendous asset to have.
Rising interest rates, default fears and ongoing geopolitical tensions are just some of the top stock market challenges that are the first to come to mind.
As I have always preached, safety should be among your top priorities when investing. So please, do your investing self a favor and utilize these incredible tools. Your portfolio will surely thank you later on.
Don't forget to check out my service, All-Weather Portfolio, if you want more data- and ratings-driven recommendations to land in your inbox every single Friday.
Until next time,
Gavin Magor