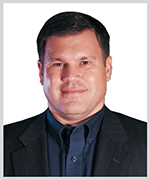 By Grant Wasylik
It's the "R" word nobody likes to hear, and I hate to be the bearer of bad news, but it looks like signs are increasingly pointing toward a recession.
With the Federal Reserve hell-bent on taming inflation, Powell and Co. have been hiking rates — with more increases promised in the coming months — and maintaining their hawkish stance until inflation reaches their 2% target.
They've even acknowledged there will be "some pain" — a vague admission that recession is likely … without actually saying it.
But unlike the Fed, we're going to be completely up front and candid with you to help you safeguard your portfolio. And that's exactly why I've put together a list of the six signs indicating a recession is likely approaching.
Let's take a look …
Recession Sign No. 1: Bonds on Pace for Worst Year(s) in History
The 10-Year U.S. Treasury bond is on pace for its worst year in history with a loss of 15.9%. Since 1928, there has only been one calendar year with a negative double-digit return (-11.1% in 2009). Investment-grade corporate bonds are down 16.8%. Since 1973, their worst calendar year was -6.8% in 2008.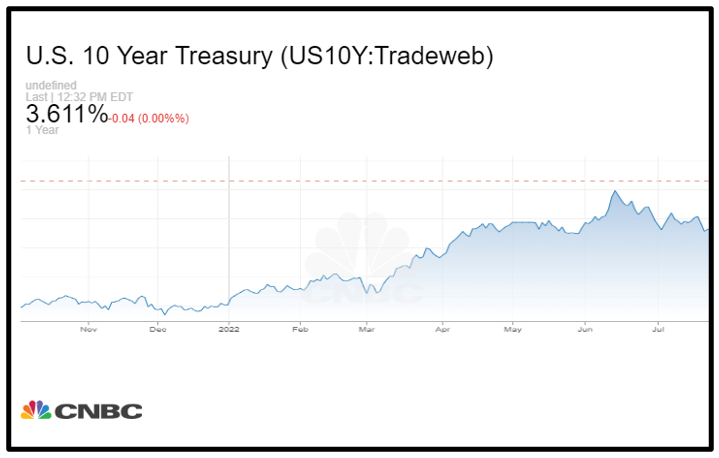 10-year Treasury bond.
Click here
to view full-sized image.
Recession Sign No. 2: The Dollar
The U.S. Dollar Index is at its highest level in over 20 years (since May 2002), up 58% from its low in 2008. On April 29, the U.S. Dollar Index reached an area of long-term resistance, recording a peak just below the 104 level. In January 2021, the DXY bottomed at the 82 level, after which the index consolidated for five months to begin a 16.5% rise in May 2021 that continues today.
In the meantime, the dollar managed to break through and confirm as support two important resistance levels: the first at 94.5 and the second near 98.
The weekly technical indicators are giving very bullish readings, but at the same time, they are signaling an overbought level. The Bollinger Band Width Percentile, which measures volatility, generated its first maximum reading of 100% since August 2020 and its second red reading in seven years. This means that upside momentum has peaked, and a cooldown period is expected.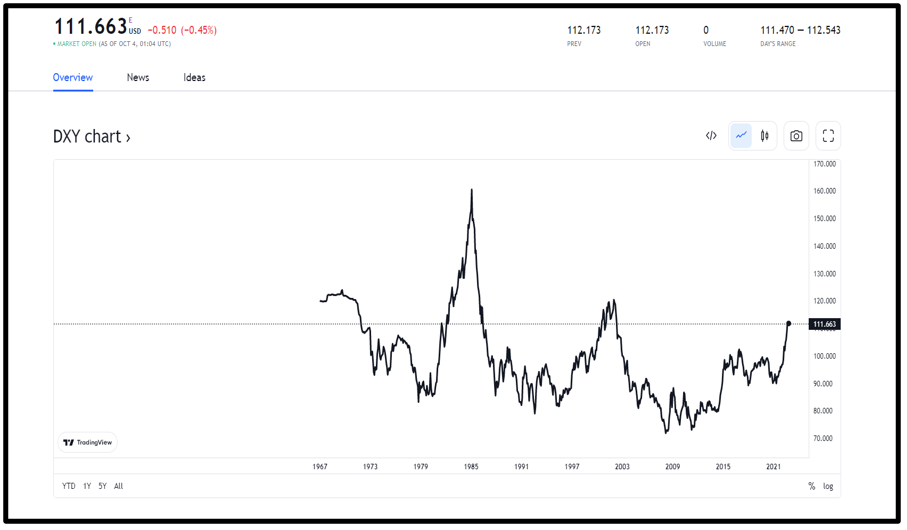 Recession Sign No. 3: More Inverted
As of Sept. 30, the 10-Year Treasury yield (3.38%) is now 39 basis points below the 2-Year (4.22%). In September, the 2/10 spread was the most inverted it has been in the U.S. since April 2000.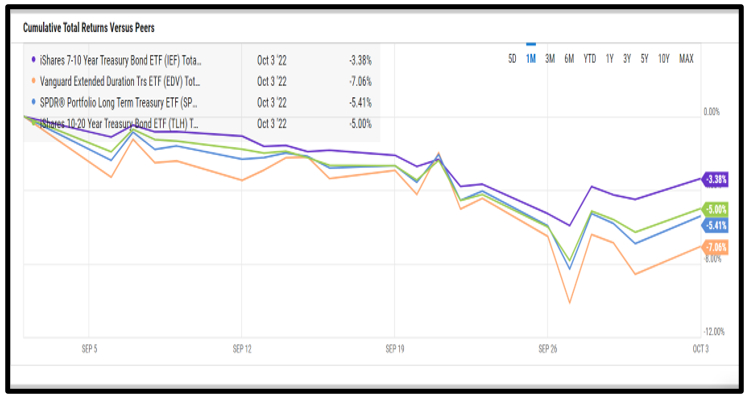 IEF one-month performance chart.
Click here
to view full-sized image.
Recession Sign No. 4: More Rate Hikes
As I previously mentioned, the Fed will be handing us an additional 75-basis-point hike in November, 50 bps hike in December and 25 bps hike in February 2023.
If the market is correct, that would mean another 1.50% of rate hikes before a pause at a peak effective federal funds rate of 4.50%–4.75%.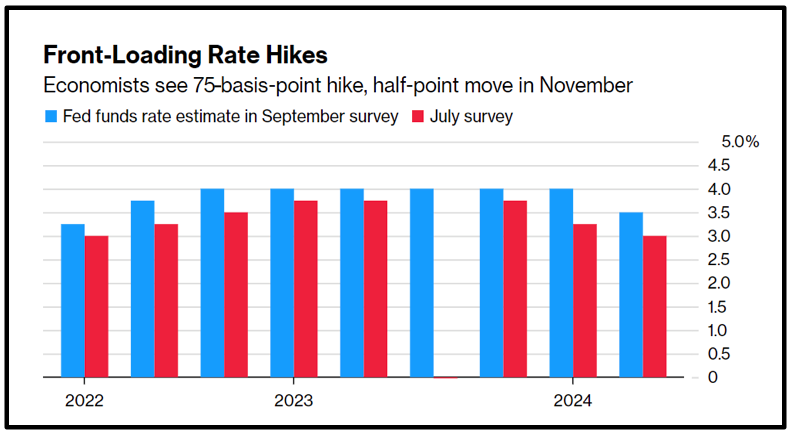 Fed rate hikes
Click here
to view full-sized image.
Recession Sign No. 5: Recession Props
Analysts from Ned Davis Research recently noted that the firm's Global Recession Probability Model now stands at 98.1%. The only other times the indicator hit this mark? The pandemic downturn of 2020 and in the financial crisis of 2008.
Recession Sign No. 6: Vanguard Return Estimates
Vanguard cautioned that subdued returns are likely to continue for the next 10 years.
Vanguard's latest 10-year annualized return forecasts: U.S. stocks 3.4%–5.4%, international stocks 6.1%–8.1%, U.S. bonds 3%–4% and international bonds (hedged in U.S. dollars) 2.9%–3.9%.
As Vanguard's senior international economist, Andrew Patterson, put it, "Global economic growth will likely stay positive this year, but some economies are flirting with recession, if not this year, then in 2023."
When it comes to the markets and the economy, it's always a good idea to expect the best but prepare for the worst. That's exactly what we're here to help you do.
And as the markets keep tumbling, here at Weiss, our analysts just held a special video session explaining how investors can spot the market's next big bottom.
Find out more by clicking here.
Best wishes,
Grant Wasylik