A New Arms Race Getting Underway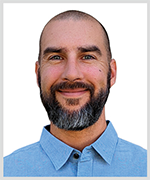 By Nilus Mattive
Between still-high inflation and rising debt levels, Americans already have plenty to worry about.
Yet they were recently reminded of yet another major threat looming on the horizon … literally.
I'm talking, of course, about the Chinese weather balloon that made a cross-country trip before getting blasted out of the sky over the Atlantic Ocean.
Obviously, we all know that spy games are happening around the world on a continual basis. But rarely do we have such open evidence of ongoing geopolitical tension right in our own backyard.
Just consider: My Dad saw the missile-induced deflation firsthand while golfing with a few retired buddies near his home in Myrtle Beach, South Carolina!
And while it gives me no pleasure to say this, the Chinese balloon debacle was just another small escalation in what seems to be an ever-growing adversarial situation.
Meanwhile, it's no secret that Washington's been sending substantial military aid to Ukraine, including more recent shipments of everything from a Patriot missile system to Abrams tanks. All told, the U.S. has provided:
More than $23 billion in weapons and equipment.
Another $18.3 billion for training, supplies and additional weapons through the Ukraine Security Assistance Initiative.
And an extra $4.7 billion in grants and loans.
With many strategists expecting a prolonged battle ahead, those numbers will only continue to rise.
Yet the war in Ukraine is really just a drop in the bucket compared to the spending that will be needed for the U.S. to maintain its competitiveness with China.
In fact, as The Wall Street Journal recently reported on a study that found the war in Ukraine "has exposed widespread problems in the American armaments industry that may hobble the U.S. military's ability to fight a protracted war against China."
According to the study, the U.S. would run out of weapons far too quickly under certain military scenarios … for example, a protracted battle with China over Taiwan.
Several prominent military officials have said the same things. U.S. Navy Secretary Carlos Del Toro pointed out that China has a larger naval fleet and continues to expand its ship count at a faster pace than the U.S. He went on to say, "We do need a larger Navy; we do need more ships in the future, more modern ships in the future, in particular that can meet that threat."
Four-star General Mike Minihan has told troops to prepare for the very real possibility of armed conflict with China. Minihan, the head of Air Mobility Command, sent out a memo to airmen on Feb. 1 saying, "My gut tells me we will fight in 2025."
There is no denying U.S.-China relations have only gotten more strained. In a recent note, the managing director of advisory firm Teneo said, "The nascent U.S.-China détente is now in critical condition, if not entirely dead, and any future détentes would be similarly vulnerable to derailment by domestic politics."
China continues to ramp up its own military capabilities quite aggressively, too. A preliminary budget just presented at the National People's Congress shows that China will increase defense spending by 7.2% in 2023, the fastest pace in four years and substantially higher than spending increases in other parts of the country's economy.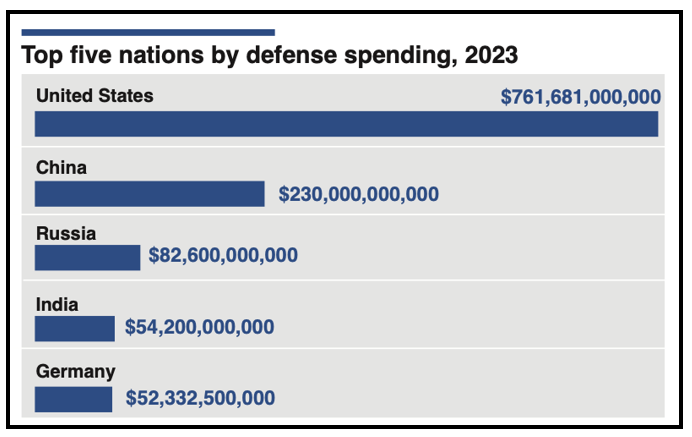 Top five nations by defense spending in 2023.
Click here
to view full-sized image.
So between ongoing demand from the Ukraine war and a behind-the-scenes arms race with China, it's hard to imagine U.S. defense spending going anywhere but up in the years ahead.
Bottom line: Under the best-case scenario, we should expect heightened military tensions for the foreseeable future. Under the worst case, we could see some type of actual conflict.
It gives me no pleasure at all to say that. But as an investment analyst, it's my job to be objective about what's happening in the world and suggest ways to position your portfolio accordingly.
That's why you should consider taking several important steps right now.
First, make sure your portfolio is adequately diversified across a range of assets. Any further escalation in geopolitical tensions could create ripples throughout the market and not all in a single direction.
For example, oil prices might go up. Meanwhile, the broad stock market could sell off.
A well-diversified portfolio has a far better chance of continuing to increase in value when we see major divergences like that. Speaking of which …
You might also consider additional hedging strategies.
Having a stake in a wide range of assets — including traditional safe havens like gold — is the first way to hedge against rising uncertainty in the world.
But more aggressive investors can go one step beyond that.
For example, we currently have two different inverse ETFs in the Safe Money Report model portfolio. These investments are designed to rise when broad stock market indexes are falling.
And you should also take a closer look at more focused investments that might benefit from an ongoing arms race between the U.S. and China.
This is precisely why I just made a new defense stock recommendation to our Safe Money Report members.
It gets a solid Weiss rating. It has paid steadily rising dividends for decades. And it looks rather undervalued compared to its peers or the stock market at large.
It wouldn't be fair to my paying members if I gave you the name here. But the larger point is that there are plenty of direct — and indirect — ways to keep your wealth protected (and growing) … even under some of the worst-case scenarios imaginable.
Best wishes,
Nilus Mattive