"A"-Rated Weiss Prescription Packed with Profits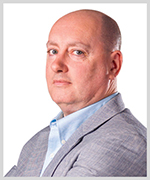 By Gavin Magor
We're in the thick of hurricane season, and now, Hurricane Lee is brewing at a rapid pace as it looks to be very slowly heading toward the warm Bermuda Triangle waters.
The National Hurricane Center is forecasting it to strengthen to a possible Category 5 storm, with 155+ mph winds and 80+-foot-high waves.
If you live along the East Coast of the United States, keep your guard up and be prepared. Alerts are issued by the NHC at 5 a.m., 11 a.m., 5 p.m. and 11 p.m. Eastern daily.
Florida currently looks like it will be largely unimpacted from this storm due to a curve north, but where it's headed after that remains far more uncertain.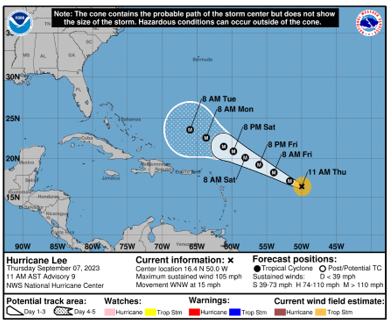 Latest advisory on Hurricane Lee.
Click here
to see full-sized image.
Satellites, aircraft, ships, buoys and radar are currently working overtime to decipher where this formidable beast is headed as it churns in the Atlantic.
I am really hoping this storm stays out in the ocean, because the financial implications of recent storms have been massive.
Just recently, Hurricane Idalia hit one of Florida's least-populated areas, the "Big Bend" as it is referred to, and it's estimated to have caused anywhere from $3-$20 billion in damages. Right now, there are major property insurance coverage problems going on in several natural disaster-prone states, like Florida and California.
Property owners who really need the coverage can't get it due to insurers pulling out. I've written about the topic before, and I will share more with you soon. In the meantime, be sure to check out our insurance ratings.
The markets can often seem like a storm, as well. You just need to search for strong stocks that can best weather the storm. One of my favorite sources for guidance is the Weiss stock ratings.
Diversify with Strong Healthcare Names
When it comes to managing a portfolio, strong asset allocation and diversification is paramount to my investing style. Sure, everyone has their own tolerance to risk, but I value safety and stable returns.
And one of the best sectors that historically correlates to safety and stability is with healthcare industry names.
My three biggest reasons are:
Technological innovation: I'd argue that technology is impacting healthcare more so than any other industry so far in the 21st century. This is ultimately great for patients and doctors, but also an immense opportunity for investors.
Inelastic demand: Demand for healthcare products is relatively stable in both good markets and bad.
Large older population: With people living longer lives than in previous generations, this means demand for healthcare services will remain especially strong in coming decades.
My colleagues Jon D. Markman and Dr. Martin Weiss have recently released the latest research on some strong healthcare companies that are embracing disruptive artificial intelligence technologies. I highly encourage you to check it out.
And I also suggest you keep looking at our stock ratings.
"A"-Range Ratings & Healthy Profits
After a quick search on the stock screener for stocks in the healthcare industry that are rated "A" or "A-" … here's what I got:

I like both of these names, but especially McKesson (MCK).
When I think of a large, stable company in the healthcare industry, McKesson first comes to mind. The company distributes pharmaceuticals, medical supplies and care management tools and has a long history of strong financial performance.
I like its balance sheet. It's a strong cash flow generator. AND it's a great pick for staying flexible and adapting to newer technologies.
The company has also benefitted from lots of consolidation within the healthcare industry.
Let's look at the chart: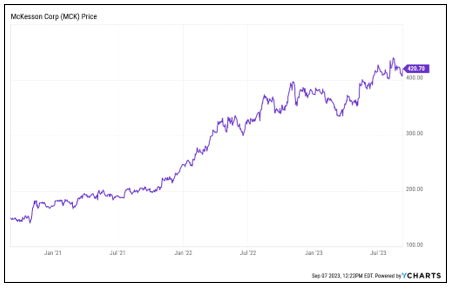 MCK price chart.
Click here
to see full-sized image.
Shares are up 187% over the past three years. If you like this name, please consider doing more research on it. That goes for all our highly rated stocks.
Whether it's storms, financial uncertainty — anything really — your best bet is to prepare, research and stay nimble. And remember, you can always count on the Weiss ratings to help you prepare and navigate anything that comes our way.
You be safe out there.
Cheers!
Gavin Magor