A Sweet Addition for Your Portfolio
Investors are always looking for the big events … did you miss out on this one?
I'm a fan of Reese's Peanut Butter Cups. The original ones. OK, I like Reese's Fast Break bars, too. But now there are some with pretzels and cookies in them.
The brand must be doing something right because it generates more than $2 billion in annual sales and is consistently the top-selling candy in the United States.
Now, the brand goes beyond its humble beginnings with the peanut butter cup, which initially only cost one penny. You can get Reese's flavored pudding cups, breakfast cereal … there's even the possibility of a Reese's combination with Yuengling, America's oldest brewery.
Last year, Reese's was taking shots at coffee cake claiming that its Reese's Snack Cakes were the perfect midmorning snack to accompany your coffee. And this year, they're taking shots at your grandma's pumpkin pie.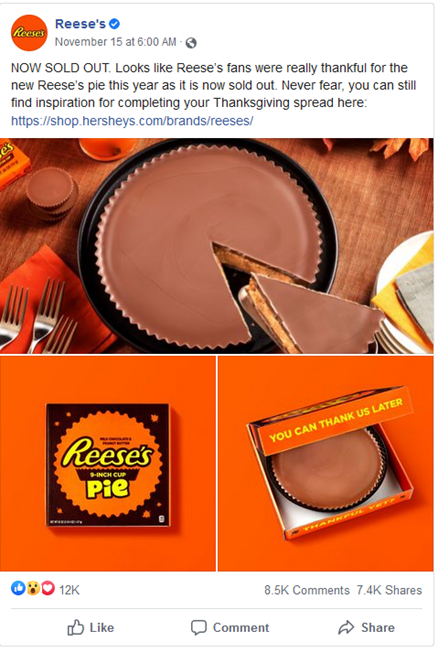 The Reese's Pie is a monstrosity that is as big as a basketball, weighs more than a bottle of wine and retails for just $44.95. And the 3,000 pies available sold out in less than two hours.
The pie clocks in at 7,680 calories and 816 carbs. And according to Reese's, it should be cut into 48 pieces. Let's be real: That pie is going to get cut into six to eight pieces like a conventional nine-inch pie.
If you missed out, you'll now have to head over to eBay where pies are selling for $350–$395 plus shipping.
If you didn't know, Reese's Peanut Butter Cups are one of 90 brands under The Hershey Company (NYSE: HSY) umbrella. This is along with other favorites like Kit-Kat, Jolly Rancher, Almond Joy … and of course, all of Hershey's originals.
The Reese's history is especially interesting because founder Harry Burnett (H.B.) Reese originally worked on a Hershey Dairy Farm. After working on the farm for several years, he began working in the company's chocolate factory.
Then after working in the chocolate factory, he decided to set out to make his own chocolates in his basement, using Hershey's chocolate. His success came in 1928 when he started selling the peanut butter cups and realized that local retailers wanted to buy them in bulk for their candy displays.
Upon this success, H.B. Reese built a 100,000-square foot factory on Chocolate Avenue in Hershey, Pennsylvania, making a wide assortment of candies including raisin clusters and chocolate covered dates.
Yes, he set up shop right next to Hershey and kept buying their chocolate to make his creations.
Milton Hershey didn't seem to mind since he saw Reese as a customer instead of a competitor. And it's even rumored that Hershey kept a stash of peanut butter cups in his desk.
During World War II, supply shortages and economic hardship forced Reese to focus on his most popular product, the peanut butter cup. He unexpectedly died of a heart attack and his children eventually sold the company to Hershey for $23.5 million in 1963.
And as we've seen, Hershey's continues to rake in billions from the brand every year. In fact …
It's about a quarter of Hershey's annual revenue.
So why is all of this important to investors?
Because earlier this month, The Hershey Company hit the highest Weiss Rating we've seen in seven years. It now sits at an "A-" after its most recent earnings call where it saw earnings before interest and taxes (EBIT) increase 26.5% and total revenue increase 18.6%.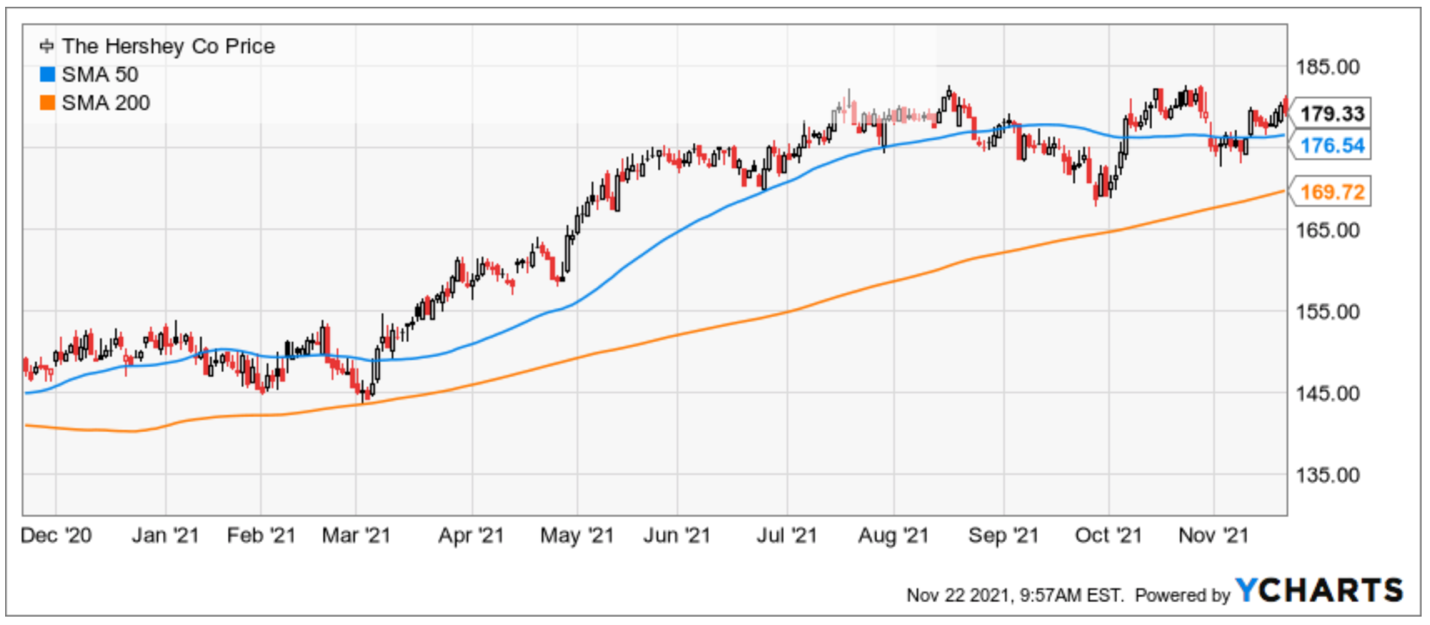 Shares of the company are up 21% over the past year and pay a 1.9% dividend.
So, if you're looking for a sweet addition to your portfolio this holiday season, this might just be the stock for you.
Happy Thanksgiving!
Best,
Kelly Green