After Midterm Distraction, Back to Inflation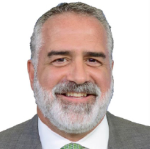 By Kenny Polcari
Regardless of which side of the political fence you sit on, the midterm elections left just about everyone in limbo with less-than-spectacular results for both parties.
No one likes to settle for a tie in any competition, but the way results look today — as some states continue to count ballots more than a week after Election Day — Republicans have taken control of the House, and Democrats have retained control of the Senate.
And there's still the Georgia Senate runoff in early December — which is likely eliciting feelings of déjà vu from 2020.
At least the picture is clearer today than it was one day post-election: Political uncertainty took a big toll on the stock market.
It tanked as investors wrestled with whether wild cards would upend the complexion of the U.S. gov't for the next two years.
Others, like you and me, wondered if some of the winners in this race reflect a country that is not only deeply divided but can't seem to get out of its own way. We have political division that I haven't seen in my 61 years on this planet.
But I think, with a split Congress, we can expect less out-of-control spending and much less of the fringe narrative and extremes from the left and right. And that is good for the country, for stocks and for other assets.
Only time will tell what impact (if any) former President Trump's announcement that he will run again in 2024 has on stocks.
Now that the noise of midterms has quieted somewhat, what's back on most investors' minds is …
40-Year High Inflation
And we can expect that this will remain on their minds until we really see it start to fall. Some expect that to happen in Q1 2023, while others don't see it just yet.
I certainly don't. And last month's modest month-over-month decrease could very well be an anomaly.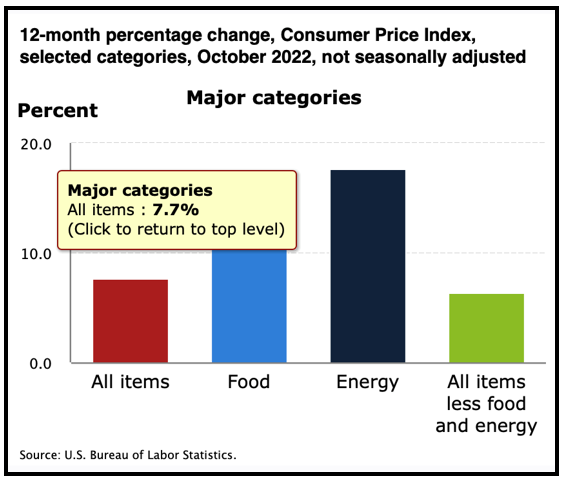 The CPI reading for October 2022.
Click here
to view full-sized image.
The Fed's goal is to dial back inflation to 2%, and it's still at 7.7%. So, I don't see how anyone can even think the words "pivot or reverse," let alone believe them.
Since March, the U.S. central bank has hoisted its benchmark rate from nearly zero to a target of 3.75%–4% in November. That's still a far cry from the 5.25%–5.5% it will take to reduce inflation to 2%. Remember, it took decades of overspending and a loose monetary policy to get to where we are today.
And now that the Fed finally admits to completely dropping the ball and being forced to "overreact" to tame inflation, stopping short of its target isn't even an option.
That's whether the economy heads south and sinks into a recession, or if inflation comes down a notch after one or two reports. None of that suggests that it's "all clear ahead."
The recession is coming and plenty of pain will come with it as rates rise.
Remember, with each increase in the Fed funds rates, we see increases in a range of consumer rates. Think mortgages, now running at 7.35% for a 30-year fixed and headed higher. Think home equity lines of credit, adjustable-rate mortgages and insidious revolving credit card rates, which just took their highest leap in over 20 years.
However, none of the above needs to sink your portfolio.
Remember not to try to time the market with your long-term money. Invest it in a well-balanced, thoughtful portfolio, and then let it run. Don't look at every tick as if it's a day trading account; it isn't … focus.
Look beyond the next six weeks and instead focus on the next six to 12 months. Look at the mega-cap, multinationals that generate good cash flow, pay nice dividends and can weather the storm.
Buy stock in companies focused on stuff that people need: energy, healthcare, consumer staples and utilities.
I'm talking about stocks rated highly by Weiss, such as UnitedHealth Group (UNH), General Mills (GIS) and DT Midstream (DTM), which receive ratings of "A," "A-" and "A-," respectively.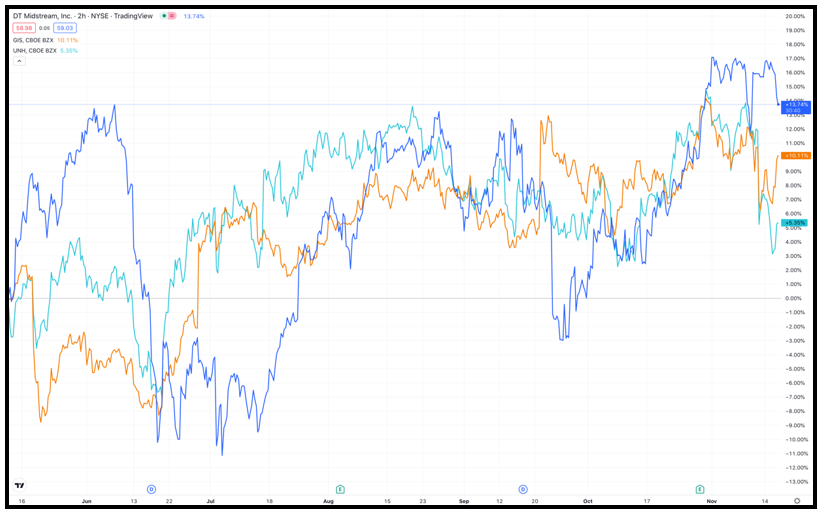 Six-month chart of DTM (dark blue), GIS (orange) and UNH (light blue).
Click here
to view full-sized image.
After a dismal decade or two, even bonds are starting to look attractive. If you buy and hold them, you can lock in 4.65% for two years.
The key is to stay cautious and know where to look for the right opportunities in the turbulent economic and political climates we find ourselves in today.
This too shall pass; and when it does, playing the long game will position your portfolio to emerge healthy — and even stronger — on the other side.
To your Wealth & Wisdom,
Kenny Polcari
P.S. To find out how you can better navigate this volatile market, consider joining my colleague Tony Sagami's trading service, Disruptors & Dominators. Members are currently sitting on open gains of 40%, 27% and 51%!