An Rx for Profits During Market Turmoil
Soaring inflation, rising interest rates and the threat of a recession are among the crises weighing heavily on the markets.
In this segment, Financial News Anchor Jessica Borg interviews Senior Analyst Sean Brodrick about high-performing stocks in a recession-resistant industry, and a prescription for profits in a bear market.
You can watch the video here or continue reading for the full transcript.
Jessica Borg (narration): To summarize, the Fed has started a cycle of dramatic interest rate hikes.
The goal is to fight soaring inflation.
It's also begun quantitative tightening to make a dent in its $9 trillion balance sheet.
Sean Brodrick: Basically, it'll be $1.7. to $1.8 trillion of quantitative tightening by the end of next year.
What that does is it dries up the "free money" that the market likes so much.
JB (narration): The concern is that rates will be raised too high, too quickly. Rate hikes are already affecting the housing market.
Senior Analyst Sean Brodrick — editor of Wealth Megatrends and SuperCycle Investor — says anything can happen.
JB: Now, you don't think that a recession next year is necessarily a done deal.
SB: What we're talking about is the future and that's a problem because the market is a discounting mechanism. It looks at the future.
And so, it's anticipating now that we are going to have a recession probably sometime in 2023.
The Fed might be able to engineer a soft landing. It can change the rules as much as it wants.
JB (narration): Sean says that inflation is not something entirely in the Fed's hands.
SB: About 3.5% of the 8.6% year-over-year inflation that we're seeing comes from Russia's invasion of Ukraine.
That lit a fire under oil prices. That lit a fire under food prices. So, the Fed is trying to control something that it doesn't have a direct tool to control.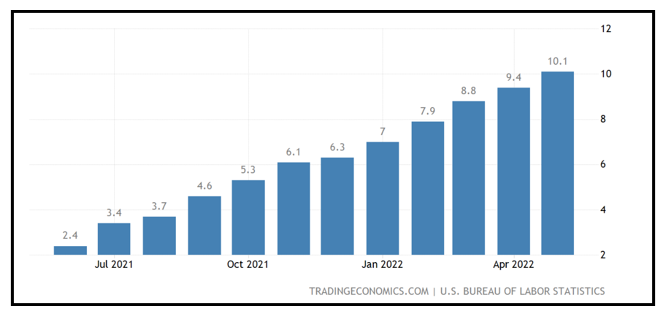 Global food inflation by month.
And so, as it hikes rates to try to deal with this, what it's really trying to do is slow down the economy. That's the only way to really lower energy prices at this point — to lower demand — and you lower demand by slowing down the economy.
JB: You've written about how the healthcare sector is viewed as recession resistant.
SB: As long as people can afford healthcare, they'll get it.
Nobody likes to be sick, nobody likes to have any sort of problem that can fixed by a doctor, so they will pay for it.
And so, it's doesn't make healthcare recession proof, but makes it recession resistant.
JB (narration): There are several ways to take advantage.
One is through the exchange-traded fund, Health Care Select SPDR Fund (XLV).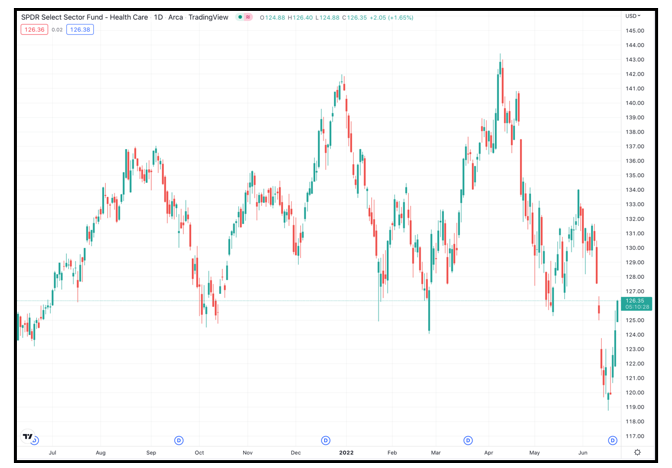 One-year chart of the XLV.
SB: You can see how it's coming down to major support. It hasn't been immune from the stock pull-back.
But, in something like healthcare, this pullback is a buying opportunity, especially as it comes down to major support.
It has a dividend yield of 1.58%. That's really good for an ETF that's less vulnerable to the wild swings in the market.
JB (narration): Its top holdings include …
SB: Johnson & Johnson (JNJ), UnitedHealth Group (UNH), Pfizer (PFE), AbbVie (ABBV), Eli Lilly and Company (LLY), so you get all the big names in one basket.
JB (narration): And different types of healthcare stocks, such as medical device stocks, payer stocks, healthcare provider stocks, and pharmaceutical stocks.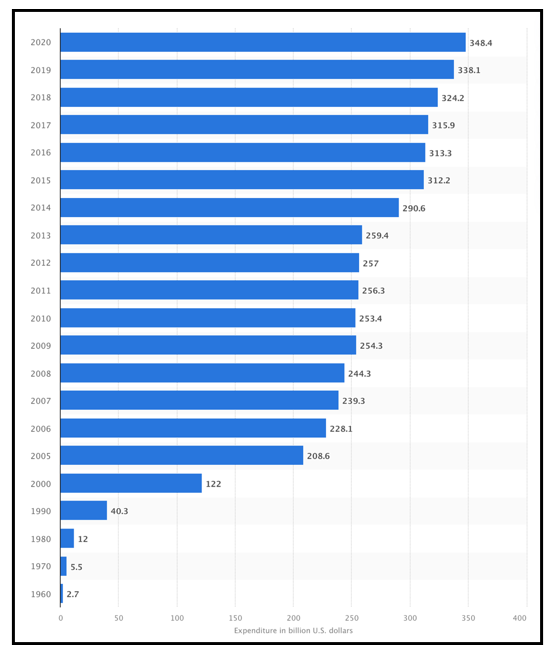 Prescription drug expenditure in the U.S., 1960-2020 (in billions of dollars). Source: Statista
Look at how much the global market, just for over-the-counter drugs, is expected to grow over the next eight years — from about $171 billion to $294 billion.
JB (narration): When picking individual stocks, look for growth prospects, financial strength, valuation and dividends.
SB: What I would really recommend is that people buy individual healthcare stocks that have the potential to outperform.
JB (narration): Like Johnson & Johnson, which Sean recommended in the SuperCycle Investor portfolio.
SB: This is one of the biggest and best healthcare stocks in the world. It pays a dividend of 2.66%. It's a dividend raiser.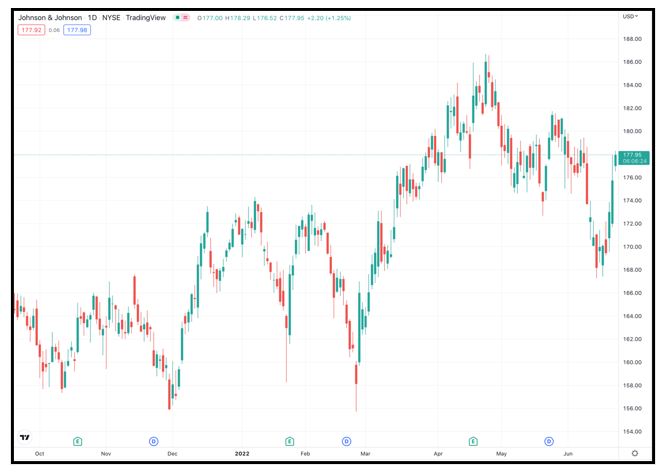 One-year chart of JNJ.
And you can see that despite all the market chaos, J&J is actually holding its uptrend.
JB: How do you think investors should view this period right now?
SB: I am short-term bearish. Intermediate term? I don't know.
There are lots of things that can affect the market and push things around, both in the negative and in the positive.
The longer-term trend of the market is up.
We're having a bit of a rough patch here. We can still make money during a rough patch.
Look at value stocks. That is where you're going to make your money in the short-term, and perhaps the intermediate term, as well.
These stocks tend to have better cash flow and they use that cash flow to pay dividends.
This is the hallmark of many great healthcare stocks.
JB (narration): Right now, you can prepare for and profit from any number of forces.
JB: Senior analyst and megatrends expert Sean Brodrick, it was great speaking with you today. Thank you so much for your insights.
SB: Thank you very much for having me on.
Best wishes,
The Weiss Ratings Team