Where To Hide When the Market's on the Edge
Everyone's worried about the market lately, with new forecasts that we're heading into recession coming nearly every day.
So, what should you consider buying?
The answer is value stocks, and I've got a chart that's worth a thousand words.
Value stocks, by definition, look cheap compared to a company's revenue, dividends, earnings and cash flow. That sets them on the opposite side of the seesaw of pain from growth stocks.
Growth stocks look expensive compared to their fundamentals. The idea is that growth stocks will "grow" into their fundamentals.
Many of the most high-flying tech stocks are growth stocks. Whereas you'll often (certainly not always) find value stocks in sectors including energy, materials and finance.
And since the beginning of the year, year-to-date (YTD) performances of those respective sectors have demonstrated the exodus from growth to value.
Look no further than the S&P 500's tech sector, which has lost over 28% of its value YTD. The energy sector, on the other hand? Up over 50%!
I've been banging the table about this since January, explaining how we were seeing a massive shift in the market — a rotation from growth to value stocks after a decade of growth outperformance.
I talked about it again in April and showed you more evidence this big change was taking place.
And now? Now, value stocks are starting to break out and leave growth stocks in the dust.
Check out this chart showing the performance of the iShares Russell 1000 Value ETF (IWD) compared to the iShares Russell 1000 Growth ETF (IWF):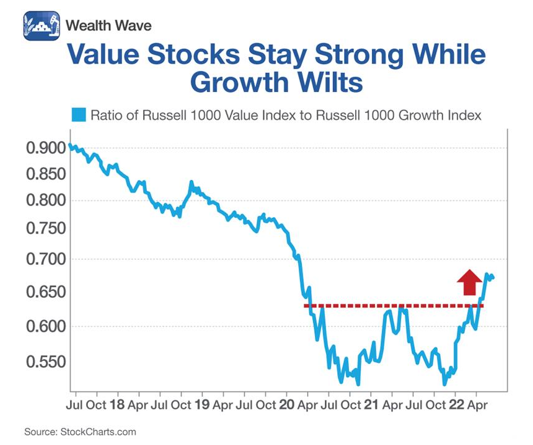 Not only has IWD outperformed IWF since October of last year, but this ratio also just broke out through its pandemic high!
To be sure, this is relative performance. And many value stocks got slapped down during the market's recent sell-off along with the broad market. But value isn't getting hit nearly as hard as growth — down 12.5% YTD compared to 28.7% for growth stocks.
Sure, you'd rather have price appreciation. That will come eventually.
But for now, you want to protect your capital by limiting losses. That sets you up to buy individual stocks that can outperform the averages.
And by doing so, you can actually make money when the market's hanging by its fingertips.
So why is value outperforming growth?
Rising interest rates! Growth stocks tend to live on borrowed money, and the cost of borrowing that money is going up every month.
Value stocks, meanwhile, tend to be cash generating machines. Exactly the kind of companies that can do well in a high interest rate environment.
Now, it's also true that stocks are way oversold. Charlie Bilello, the founder and CEO of Compound Capital Advisors, reports that recently, less than 5% of stocks in the S&P 500 closed above their 50-day moving average.
That's lower than 99% of historical data points. That's not just oversold, that's EXTREMELY oversold. That's where bounces begin.
And I fully expect that growth stocks will do well in that short-term bounce, simply because the smart money has been shorting growth, and will cover short positions.
But longer term?
The big trend has shifted. Value is the new black.
As for a recommendation, I'll go with a fund I've recommended before when I talked about this topic: the Invesco S&P 500 Pure Value ETF (RPV).
This exchange-traded fund (ETF) prioritizes sectors with stocks trading at lower multiples, meaning the fund's holdings are less susceptible to inflation and higher interest rates.
Those holdings include companies like Berkshire Hathaway (BRKB), Ford (F), MetLife (MET) and CVS Health (CVS), and Valero Energy (VLO) among others.
The ETF has a sector weighting of over 29% financial services, nearly 13% healthcare and over 10% in energy.
Since December, RPV has managed a small gain despite getting kicked down the stairs in the most recent market washout. That's much better than the S&P 500, which lost more than 16% in the same time span.
The market's on the edge. Many are saying the next step down could be a doozy.
If so, you know RPV will suffer less than an equivalent growth fund. And I believe when the next rally comes, RPV will leave growth stocks in the dust.
Best wishes,
Sean