Try Profiting From the Trend Wall Street Hates!
Money is flowing out of growth stocks like they're water balloons with poked holes.
I told you about this trend in my Jan. 8 article, Profit While Wall Street Panics.
Since then, the white-shoe crowd has done its best to ignore this great rotation. In fact, you'll see plenty of articles telling you to buy Big Tech stocks now that they're discounted.
But you know what? Those tech discounts are going to get BIGGER!
And if you acted on my recommendation in that Jan. 8 article — to buy the Energy Select Sector SPDR Fund (XLE) — you'd already be up 23%!
Well, if you didn't listen to me then … listen to me now.
It's not too late. As I said back in January, this rotation from growth to value is a massive shift. It's going to take time — years! And I have a brand-new recommendation for you today. One that should surge as the growth rally continues.
"V" is for Value
With inflation at multi-decade highs and the growing likelihood of swift interest rate hikes, no wonder investors are de-risking their portfolios by moving into stable dividend payers and stocks with strong, free cash flows.
Mind you, for years, growth stocks outperformed their value stock counterparts. But man oh man, is that changing. The chart below shows the ratio of the Russell 1000 Value Index to the Russell 1000 Growth Index: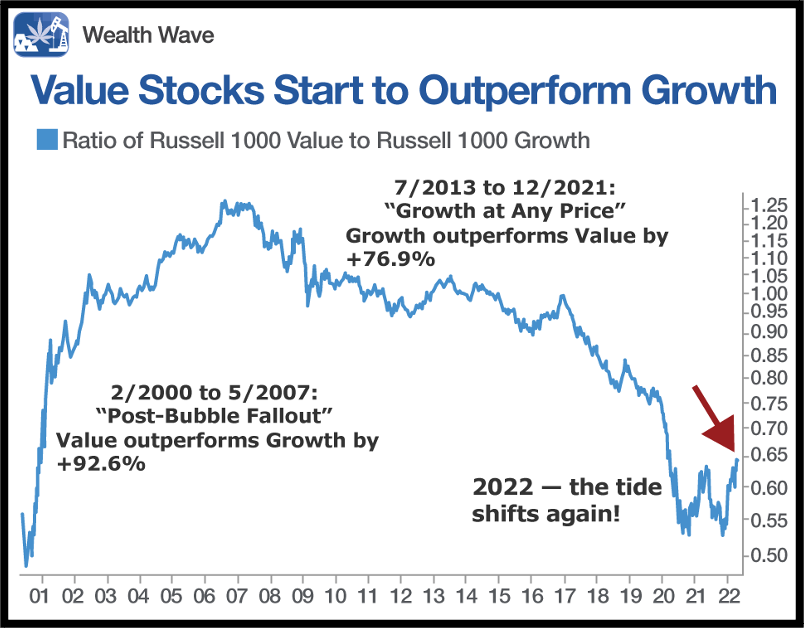 You can see that value outperformed growth in the wake of the 2000 crash. Starting around 2007, growth outperformed again. That's because a low-interest- rate environment with loose monetary policy allowed growth stocks to run. And just recently, outperformance switched back to value.
These are big trends that take years to unfold. And the reason for this recent big shift is simple.
Growth stocks are banking on cash flows in the distant future. With higher inflation and interest rates, the rate used to discount those cash flows to their present value increases.
That crunches growth stock valuations back down to Earth because which would you rather have: a dollar today or a dollar in the future when inflation has eroded its value?
We've seen the big picture. But what about the shorter term?
Growth stocks — as tracked by the Vanguard Growth Index Fund ETF (VUG) — are down 22%. That's much worse than the 11% decline in the S&P 500. But value stocks, as tracked by the Vanguard Value Index Fund ETF (VTV), are down just 1.5% year to date (YTD).
You can outperform any broad index, and that's what I recommend you do with the
Invesco S&P 500 Pure Value ETF (RPV). Most of the stock market is down YTD, but RPV tracks a small gain.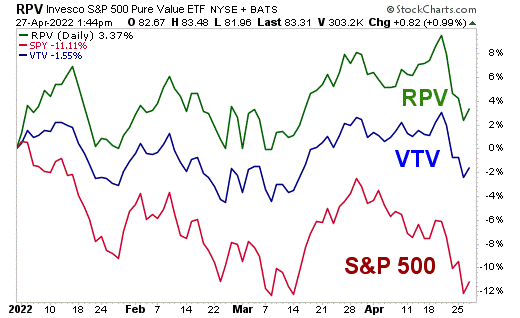 This exchange-traded fund (ETF) prioritizes sectors with stocks trading at lower multiples, meaning the fund's holdings are less susceptible to inflation and higher interest rates.
RPV assigns a value score to all S&P 500 companies by comparing each stock's price-to-book, price-to-earnings and price-to-sales ratios. Companies' value scores are then compared with their growth scores, and only stocks deemed "deep value" make the cut.
The financials, healthcare and consumer staples sectors account for over 50% of the fund's assets. RPV's top three holdings are Berkshire Hathaway (BRKB), Cigna (CI) and Archer-Daniels-Midland (ADM).
The ETF's expense ratio is a low 0.35%, and it manages about $3.9 billion of assets across 122 total positions. The fund has plenty of liquidity, with an average daily volume of about 922,000 shares.
Even in a tougher environment for stocks this year, this ETF has traded resiliently. What's more, the recent broad market pullback put the RPV down 6% from recent highs. So, you'll be buying it on a pullback!
Again, Wall Street will keep touting big-name tech stocks. Don't listen to them. They own too much tech, and they're desperate to unload THEIR shares on YOU.
And the big trend — the rotation from growth to value — is your friend, even if Wall Street hates to admit it.
And if you're interested in similar topics, check out all my articles that are conveniently located on the Weiss Ratings site.
Always make sure to do your own due diligence.
The bottom line? With greater uncertainty spooking the market, it helps to own the companies that are making money and paying dividends.
All the best,
Sean