Bet on This Consumer Staples Winner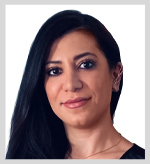 By Mahdis Marzooghian
In today's capricious market environment, investors are always on the lookout for sectors that stay afloat no matter what the market and economy are doing.
Whether we're facing lingering inflation or seeing troubling signs of a looming recession, it's smart to have a few stocks in your portfolio that are both inflation- and recession-resistant.
Consumer staples is one such sector. Stocks in this sector do well during inflation because price increases are passed on to consumers. According to Smart Asset:
"Some businesses tend to do better than others during inflationary spells, and those that sell consumer staples are often popular among inflation-hedgers. These include companies that sell basic foods like milk and bread and necessities such as toilet paper. Pharmaceuticals and utilities are also used as inflation hedges."
Consumer staple stocks also do well during recessionary periods. Indeed, the U.S. consumer staples sector has a reliable track record of outperformance during recessions. Just take a look at these charts: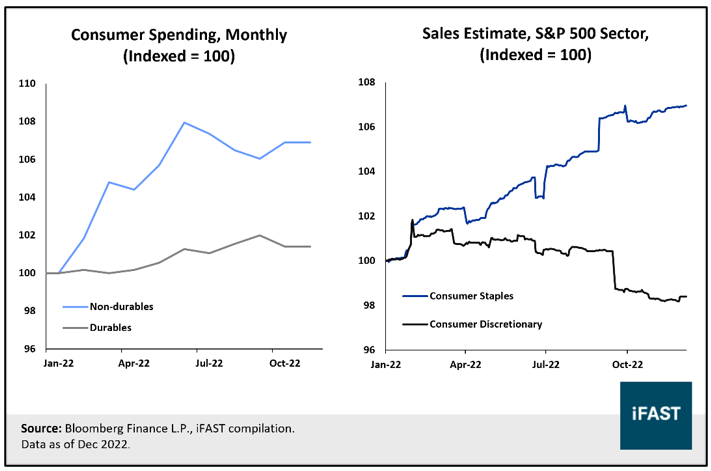 Consumer spending and consumer staples.
Click here
to see full-sized image.
So, as recession fears now loom, the consumer staples sector can provide shelter from the impending storm. As the markets were weighed down by inflation and the Federal Reserve's ongoing rate hikes this year, the consumer staples sector has served as a safe haven for investors.
In fact, over the past three months, consumer staples is the third-best performing sector of the S&P 500's 11 sectors, posting a 5.36% gain over that span.
This naturally defensive space has been largely protected against the waves of drawdowns and volatility that have battered other sectors, like the volatility-prone real estate and financials sectors, which have posted losses of 5.99% and 7.31%, respectively, over the same three-month period.
Your Daily, Essential Needs
The consumer staples sector comprises companies with primary business activities in:
1. Food and staples retailing and distribution.

2. Provision of food, beverage and tobacco products.

3. Manufacturing of household and personal products.
In the U.S., the food, beverage and tobacco industry makes up the lion's share of the U.S. consumer staples sector, which is a whopping 51%.
Next is the food and staples retail industry, which is 28%, and lastly, the household and personal products industry follows closely behind at 21%.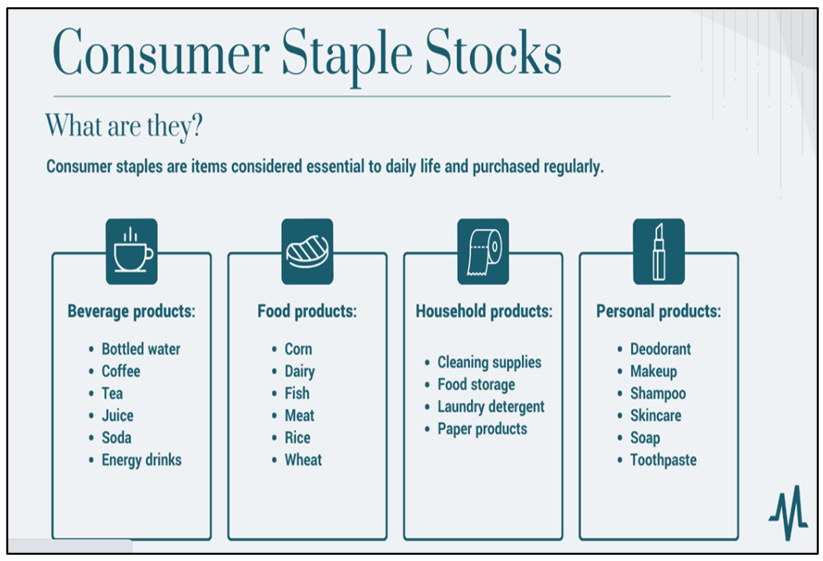 Consumer staples overview.
Click here
to see full-sized image.
5 Benefits of Investing
in Consumer Staple Stocks
1. Consumer staples are considered essential products people need regardless of economic conditions. Companies in this space are less likely to be impacted by economic downturns than those that produce nonessential products. As a result, they may provide more stable and reliable earnings even during challenging economic periods.
2. A second advantage is that consumer staple stocks create defensive positions, helping stabilize your portfolio during market volatility.
3. Consumer staple stocks often provide consistent and sustainable dividend income, and if you've been following us for a while now, you know we're big fans of dividend-payers here at Weiss.
4. Consumer staples companies often have established brand names and loyal customer bases, which not only provide protection against competition, but also a level of security to investors looking for companies with long-term growth potential and stability.
5. Lastly, investing in consumer staple stocks provides portfolio diversification and can potentially reduce overall risk.
With that in mind, today I'm going to be talking about …
A Staple in
Consumer Staples
The consumer staples stock that I'm going to be talking about today is none other than Walmart (WMT), which currently receives a "C+" on Weiss Ratings, meaning it's a solid "Hold."
Though for the purposes of today's issue, I'd like to make the case that Walmart is indeed a "Buy." Here's why …
Walmart is not only one of the world's largest retailers with 10,500 locations worldwide, but it's also the world's largest company by revenue and the largest employer, with over 2.1 million employees.
Globally, Walmart gets more than 260 million customer visits each year. The retail giant also offers members-only Sam's Club and Walmart+ subscription delivery options.
Founded by Sam Walton, the company is headquartered in Bentonville, Arkansas, but now operates everywhere in the U.S. and in 24 countries around the globe.
WMT has an impressive market cap of $400 billion and an average five-year annualized return rate of 12.21%. Its dividend yields 1.48% and shares trade at around $151 as of this writing.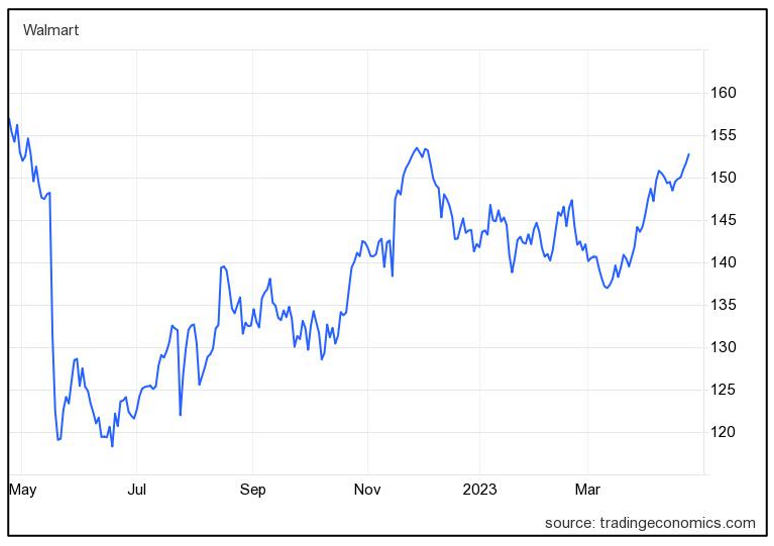 One-year chart of WMT.
Click here
to see full-sized image.
The company's year-over-year annual cash flow increased 19.27% to $28.84 billion, and its price-to-cash-flow ratio is an appealing 14.26 compared to the industry's 38.62.
Walmart's next earnings call is scheduled for May 18, but if recent performance is any indication, earnings per share should again beat estimates. Over the past three quarters, WMT has beat EPS expectations by:
• 12.88% in Q4 2022.

• 13.95% in Q3 2022.

• And 10.59% in Q2 2022.
All during a period of elevated inflation and extreme market volatility.
While there are various other strong, resilient stocks in the consumer staples space, Walmart is …
In a League of Its Own
And right now is the perfect time to add it to your portfolio as a recessionary hedge.
In fact, over the past three decades — across four recessions — the sector has managed to beat both the S&P 500 and most sectors during the 12 months before and after the start of a recession.
On average, the sector generates a return of 14% in the 12 months before and 10% in the 12 months after a recession. Again, this is attributed to the sector's defensive nature and the fact that sell-offs tend to be relatively milder.
Collectively, the strong track record of earnings resiliency and outperformance before and after the start of a recession add to the consumer staples sector's reliability as a strong recession play.
So, if I've won the case that makes Walmart a "Buy," go ahead and add WMT to your portfolio. As always, make sure to conduct your own due diligence beforehand.
All the best,
Mahdis Marzooghian
Assistant Managing Editor
Weiss Ratings Daily
P.S. Back in December 2018, talking heads were calling "the death of crypto." At the same time, Weiss Crypto Analyst Juan Villaverde was calling the start of the largest bull market of any asset class on the planet.
Spoiler alert: The talking heads were full of hot air. Juan was right. Investors who understood that risk and were glad to buy at bargain prices could've seen our list of high-rated coins surge dramatically — 20x, 54x, 102x and even as high as 234x!
How did Juan know to call the start of the next big bull? He's a student of the cycles, and using his Crypto Timing Model, Juan monitors the cycles to determine when to act. As the next leg of the crypto bull market heats up, you can learn more and join him by clicking here.