Mahdis Marzooghian
|
Managing Editor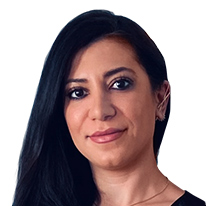 A seasoned writer and editor, Mahdis Marzooghian has a master's degree in professional writing and nearly 15 years of overall professional writing and editing experience, six of which have been in financial publishing. Coming from a creative writing background, she strongly believes in using her skills as a writer to create powerful, engaging financial content for a wide range of subscribers.
Mahdis is the Managing Editor for the team of research analysts and senior editors at Weiss Ratings.
Before Weiss, Mahdis was Managing Editor at Money Map Press, a subsidiary of Agora Publishing based in Baltimore, Maryland. For over four years, she edited the Money Morning financial e-letter, working directly with marketing teams and various financial experts to write content.
Mahdis also has years of experience in marketing, SEO, SEM, copywriting, copyediting, content management, publication/email/newsletter-writing, and product management. She is a contributing writer for Weiss Ratings Daily.
Mahdis Marzooghian's Articles