Billions Pour Into this Industry as Storms Flood Farmlands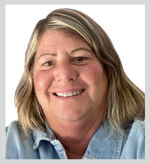 By Karen Riccio
The last time I took a road trip through farmland-rich Central Valley in California, I saw acres and acres of fallowed, dusty land.
None of the electronic traffic signs stretching hundreds of freeway miles warned drivers of dangerous road conditions as they normally would.
Instead, as part of a statewide educational campaign, the California Department of Transportation changed all of them to flash one message: "Serious Drought. Help Save Water."
Today, an estimated 100,000 acres of cropland in the San Joaquin Valley is completely underwater — the result of the wettest winter in 50 years to hit the Golden State.
Our weather for the past four months consisted of 12 atmospheric rivers, bomb cyclones and graupel. I'd never heard of graupel until I saw it falling outside my window. It's when water droplets freeze onto a snow crystal to create slush.
And the 180 Mother Nature pulled after a years-long drought caught Californians off guard, especially farmers.
It's been so bad that a long-lost lake is refilling. Tulare Lake was drained close to a century ago to serve as a food grower's paradise. From the photos I've seen recently, it looks more like the Pacific Ocean, minus the sand and beach umbrellas.
Prior to being drained, Tulare Lake was the largest body of fresh water west of the Mississippi. Now, when and if the water recedes, soil testing will be required because of possible contamination from fuel, oil, landfill waste and more.
That could be a long and costly fix. Unfortunately, it's likely that …
The Worst Is Yet to Come
The Central Valley is bracing for the impending monster, an over 50-foot-deep Sierra Nevada snowpack — the most in 75 years — that's due to melt. This weekend will be telling as temperatures are finally expected to feel springlike.
So, emergency workers have been putting Band-Aids on cracking levees, dams and culverts to circumvent water from nearly overfilled reservoirs.
It sure seems like the Central Valley Project — a 400-mile multipurpose network of dams, reservoirs, canals, hydroelectric plants and other facilities — isn't accomplishing one of its main goals: to reduce flood risk.
California needs a system-wide facelift. Its water infrastructure was built in the 20th century with the help of the Federal Bureau of Reclamation, the Army Corps of Engineers, the California Department of Water Resources and dozens of city, county and regional water agencies.
The statewide flooding only exacerbates existing water woes. For years, the focus was squarely on drought and a shortage of water. Now, the problem is twofold.
Believe it or not, California still hasn't figured out how to make potable water accessible for the 41.3 million people who call the state home. The lack of a comprehensive, cohesive water management plan and updated structures almost guarantees ongoing struggles in the face of flooding or shortages.
But there's one company that's been rubbing elbows with California officials, as well as federal and international agencies for more than 50 years …
A Water Infrastructure Giant
Founded in 1966 as the Water Management Group, the company based in Pasadena, California — now called Tetra Tech (TTEK) — initially designed waterway structures at harbors, ports and marinas and supported water quality control projects.
Today, Tetra Tech is known for its strength as an engineering consultant for water infrastructure and management, including wastewater treatment, stormwater and disaster recovery.
The $7.6 billion company generates 30% of its revenue from federal spending, with 15% coming from U.S. state and local spending, 25% from U.S. commercial spending and the remaining 30% from international markets. Last year, revenue rose 9% from the prior year to $3.5 billion.
Although shares are down 12.1% year over year, they have appreciated and rewarded long-term investors with 173% gains over the past five years.
If you click on the Stock Ratings tab at the top of the Stocks & Funds Weiss ratings page and plug in the ticker "TTEK," you'll discover it's currently rated a "C+". Then, click on the stock in the Name column, click on Rating History and you'll see that the stock was downgraded from a "B-" in October 2022 due to a decline in its total index return.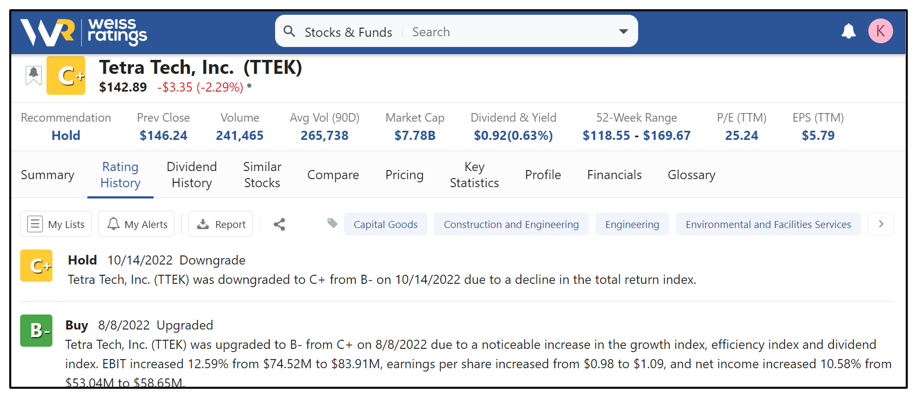 TTEK Weiss ratings page.
Click here
to see full-sized image.
If you'd rather not invest in a single company and instead like the idea of ETFs that offer you a slice of an industry, below is a list of ETFs with the most exposure to TTEK.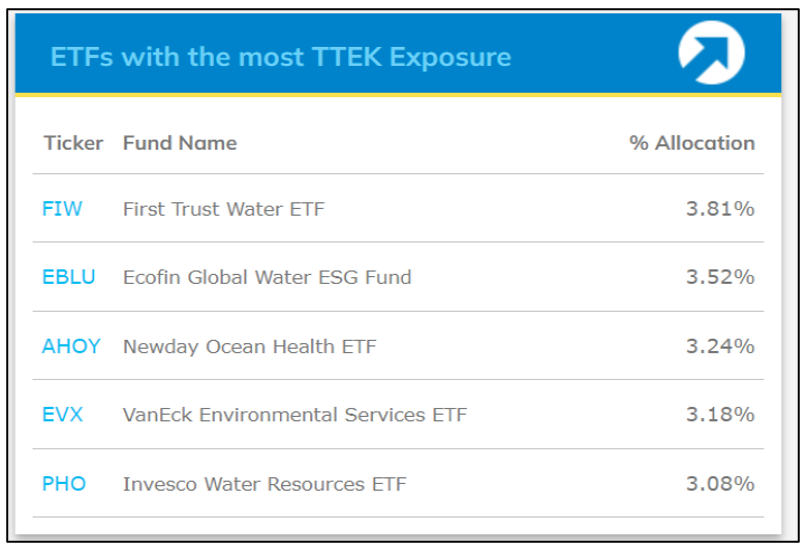 ETFs with most exposure to TTEK.
Click here
to see full-sized image.
You can consult the Weiss ratings page again and compare the above ETFs; just make sure to click on the ETF Ratings tab instead.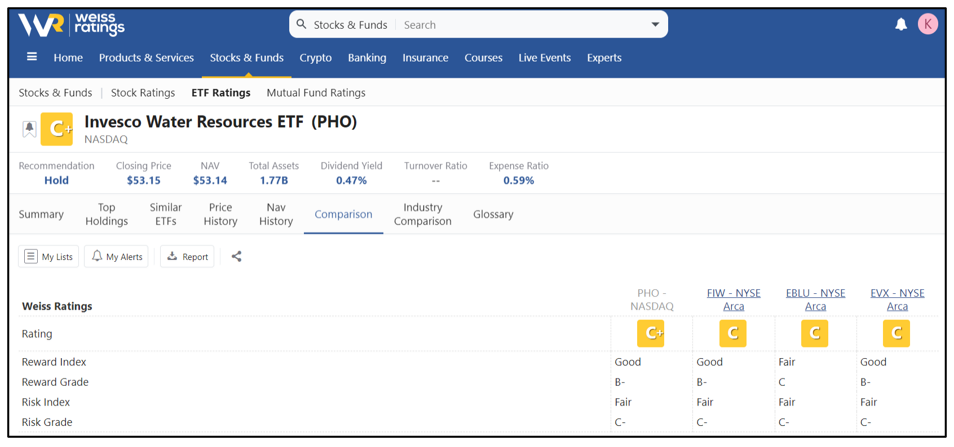 PHO Weiss ratings page.
Click here
to see full-sized image.
As you can see, Invesco Water Resources ETF (PHO) has the strongest rating at "C+". All the others received a "C."
An investment in water can be lucrative, considering that money is constantly flowing into the technology and infrastructure behind proper management.
Just wait until the $50 billion earmarked by the Infrastructure Investment and Jobs Act, most commonly known as the Bipartisan Infrastructure Bill, to strengthen and rebuild the water infrastructure in the U.S. is put to work.
I expect that this single largest investment in water ever made by the federal government will add to Tetra Tech's and similar companies' bottom lines, as well as to investors' portfolios.
Stay dry, everyone!
Karen
P.S. The Federal Reserve's actions should have investors concerned for their financial well-being. Starting as soon as May 2023, their insidious "Fed Control" powers could go live, which means that any accounts linked with the U.S. banking system could soon be at risk for surveillance of all transactions  … or worse. Investors who want to take action to protect their money should click here for four steps to take now to stay safe and grow their wealth.