Biotech Miracles for Your Portfolio
A pastor I know claims Jesus was actually born in September, and that it was possibly quite an ordinary birth.
To him, the REAL miracle of Christmas was the conception of Jesus in the womb of a virgin in late December.
Whatever your personal beliefs on this subject are, I bring it up because my friend also used to do biomedical research ...
And he's seeing "miracles" of another sort play out almost daily in the biotech world.
I told my Wealth Wave subscribers about one of these miracles — genome editing — this past summer.
Now, I want to turn your attention to another biomed miracle.
This miracle is based on what you might think of as one of God's "ickier" creations ... the spider.
Because of its strength, resilience and flexibility, spider silk holds enormous potential.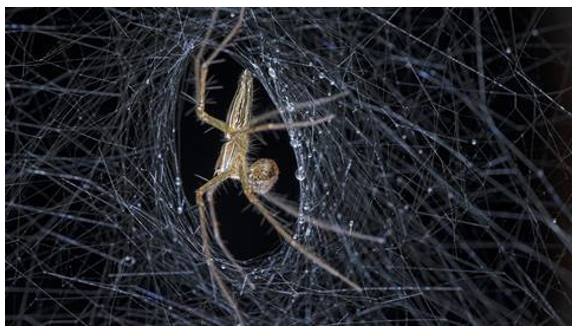 But until now, as spiders are cannibalistic and can't be raised in colonies, there was no way to produce their silk in large quantities.
Kraig Biocraft Laboratories (OTCQB: KBLB) is changing that.
It's the leader in genetically engineered spider silk, applying their proprietary technology to one of the most efficient commercial producers of silk: the silkworm/caterpillar.
A whopping 40% of the caterpillar's weight is devoted to silk glands, and Kraig envisions genetically engineered spider silk — with its mechanical characteristics, which are stronger than steel — surpassing the current variety of high-performance fiber.
An expansion of demand (and market opportunities) will follow spider silk's commercial introduction as the new "super fiber" to be used in an array of applications ... even bulletproof vests.
Others have tried to produce spider silk using genetically engineered bacteria. But production costs could exceed $37,500 per kilogram. On the other hand, Kraig can make its silks at less than 1% of that cost.
The company is currently ramping up production. And it recently announced their first contract with the U.S. military to deliver Dragon Silk™.
Let's look at the chart: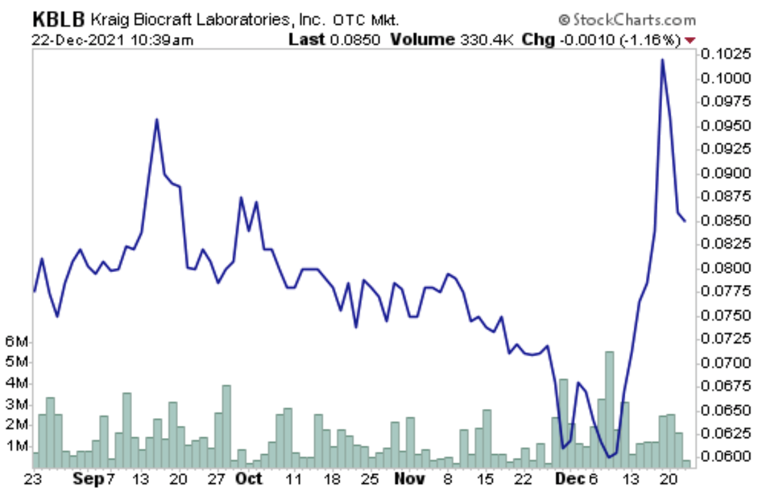 This is a penny stock, so it carries far greater risk … but like I mentioned earlier, the reward could be a web full of profits.
Like always, do your due diligence before investing.
Of course, you didn't think I could end any discussion of biotech without mentioning COVID-19, did you?
In addition to mRNA vaccines and monoclonal antibodies, and with the pandemic possibly continuing at some level for the foreseeable future …
One company leads the way in identifying each new strain of SARS-CoV-2 that rears its ugly head.
Just two weeks after the World Health Organization (WHO) classified Omicron as a variant of concern, Thermo Fisher Scientific (NYSE: TMO) updated its TaqMan SARS-CoV-2 Mutation Panel to detect the new variant in just over an hour on real-time PCR instruments.
Manoj Gandhi, Thermo Fisher's senior medical director for genetic testing solutions, says:
The TaqMan Mutation Panel can be easily tuned to account for such emerging variants, allowing laboratories to conduct large-scale surveillance testing in this phase of the pandemic. This will allow public health agencies to track the Omicron variant and determine if countermeasures need to be implemented to mitigate the spread.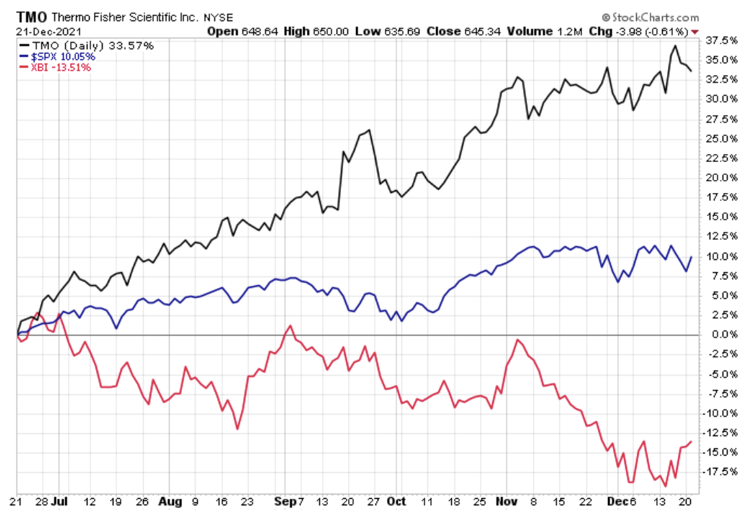 Incorporated in 1956, and with a market cap of over $258 billion, Thermo Fisher Scientific offers a vast array of life sciences solutions, including analytical instruments, specialty diagnostics and laboratory products and services worldwide.
This stock keeps on marching higher, unlike the broader biotech sector as shown by the SPDR S&P Biotech ETF (NYSE: XBI). Plus, it's outperforming the S&P 500 by a longshot.
Unlike Kraig Biocraft Laboratories, Thermo Fisher is an established, blue-chip stock with a market cap of $255 billion.
If you have less risk tolerance, that could be a much better option.
Whatever your investment future holds, I hope you have a wonderful holiday season, and a most joyous new year.
All the best,
Sean