Buy This When Gold Blasts Off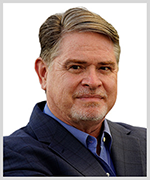 By Sean Brodrick
We just got word that the world's central banks — which bought record amounts of gold last year — accelerated their gold purchases in January.
This is just one of the forces lining up to send the yellow metal on its next rocket ride. And I have a couple ideas on how you can play it.
Around the globe, central banks added another net 77 metric tonnes to their gold reserves in January, according to the World Gold Council. January's shopping spree was a 192% month-on-month increase from December.
Singapore, China and Kazakhstan were just three of the big buyers. The biggest, however, was Turkey's central bank, which scooped up 23 tonnes in January in a bid to battle rampant inflation.
Turkey's inflation zoomed as high as 85% last year and was 64% in December. You can see why that country is buying gold, which is historically a safe harbor against inflation.
And rising inflation explains why central banks bought 1,136 metric tonnes last year — the highest level of purchases going back to 1950. Inflation has cooled this year, but remains stubbornly strong. We can expect more central bank gold-hoarding going forward.
Other bullish forces for gold include a worsening conflict in Ukraine, rising jewelry demand, tight supply from the world's mines as "peak gold" production looms and a big cyclical rally that's already in place.
So, what should you buy to ride the next leg higher in gold? Let's begin with …
Profit Margins in Mining
My long-time readers know that the best way to ride a gold bull is not through the metal itself, but rather through gold miners.
That's because miners are leveraged to the underlying metal. Miners' profit margins widen as the price of gold goes higher.
Readers of my premium services and reports also know that silver historically outperforms gold in a bull market, and silver miners outperform gold miners.
That's because silver is the drama queen of precious metals. When gold is down, silver falls on the floor. When gold is up, silver leaps for the rafters.
But man, is that changing!
There have been four big gold rallies since 2020. The biggest was from March 16 to Aug. 3, 2020. Gold rallied 36.6%, but silver miners led the way, rising 42% compared to 38% for the big gold miners.
The next gold rally was from March 1 to May 24, 2021. Again, silver miners outperformed.
Then, something changed. The next gold rally was Jan. 24 to March 7, 2022. The yellow metal rose 11%. Big gold miners — as tracked by the VanEck Gold Miners ETF (GDX) — rose 15%. And silver miners, as tracked by the Global X Silver Miners ETF (SIL), only managed a 7% gain.
Wow! So, silver producers went from leading miners to managing only half the gains of big gold miners.
It happened again in the most recent gold rally, from early November of last year to late January of this year. Look at this performance chart of that rally …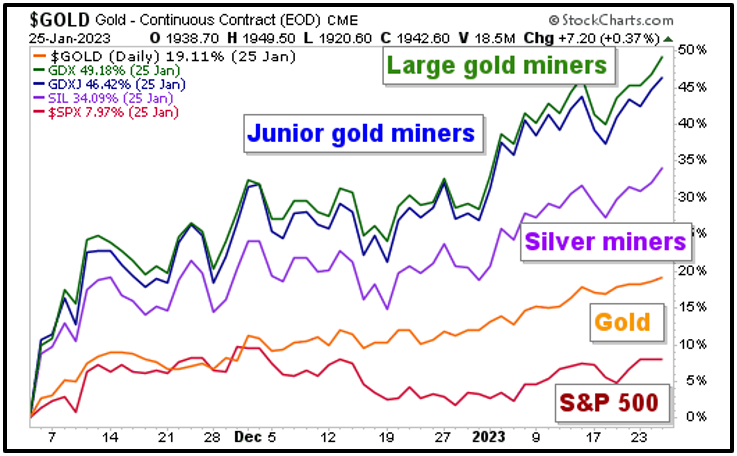 Three-month chart of GOLD, GDX, GDXJ, SIL and SPX.
Click here
to see full-sized image.
Gold clocked a gain of more than 19% in its most recent rally. Silver miners jumped 34% — not bad.
But Junior gold miners, as tracked by the VanEck Junior Gold Miners ETF (GDXJ), went up 46% and the big gold miners managed a nearly 50% gain in less than three months!
During the same time period, the S&P 500 managed an 8% gain. That's because when gold rallies, miners are off to the races, leaving the major indices in the dust.
So, what's changed? Why are silver miners underperforming?
The "I" Word
I believe inflation has something to do with it. Generally speaking, silver miners have to move much more rock and dirt to get the same value as gold miners.
If the cost of mining is increasing — and recent earnings reports show that is true — then the profit margins of silver miners are being chipped away faster than the profit margins of gold miners.
Now, there could be other factors, as well. High taxes, problems with the mining process, you name it. Life is never easy for miners. But for now, it looks like big gold miners are leading the pack. And they are the horses I would bet my money on in the next gold rally.
What about individual mining stocks? I have some ideas there, too. And I'll be talking about them in my presentation at the "Inflation Survival Tips" MoneyShow Virtual Expo this Thursday, March 9, at 11:15 a.m. Eastern.
I explain why inflation is going to heat up again and will give you my best picks to play the next wave. Even better — this MoneyShow is packed with great speakers who'll offer all sorts of ideas on how you can beat inflation. It's something you shouldn't miss, and you can sign up for FREE. Click here to sign up now.
The next gold blastoff is coming and it could be a doozy! Be ready for it. The right picks might just help you beat inflation.
All the best,
Sean
P.S. America could default on its debt as soon as July, triggering the worst economic earthquake in history. What can investors do? The best option is a strategy that works regardless of volatility. Over the past 5 years, one little-known strategy produced 535 real winning trades, averaging 16% gains in just 4 days. Join Dr. Martin Weiss for an urgent video briefing where he reveals how to put this strategy to work starting immediately.