Corporate America's Buyback Barrage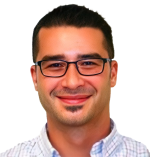 By Jordan Chussler
For the past several months, the market landscape has been murky at best.
A lot of that has to do with inflation, which registered at 9.1% in the latest Consumer Price Index reading — a 41-year high.
The Federal Reserve shares some of the blame with its aggressive hiking of interest rates. The central bank is eyeing another 75-basis-point increase after this month's FOMC meeting concludes.
The result?
Typical safe-haven assets — those that historically perform well during inflationary periods and bear markets (e.g., precious metals) — are being beaten down alongside most other investment vehicles.
Look no further than gold, which, after reaching a year-to-date high of $2,052.60 in early March, now sits just above its year-to-date low around $1,704.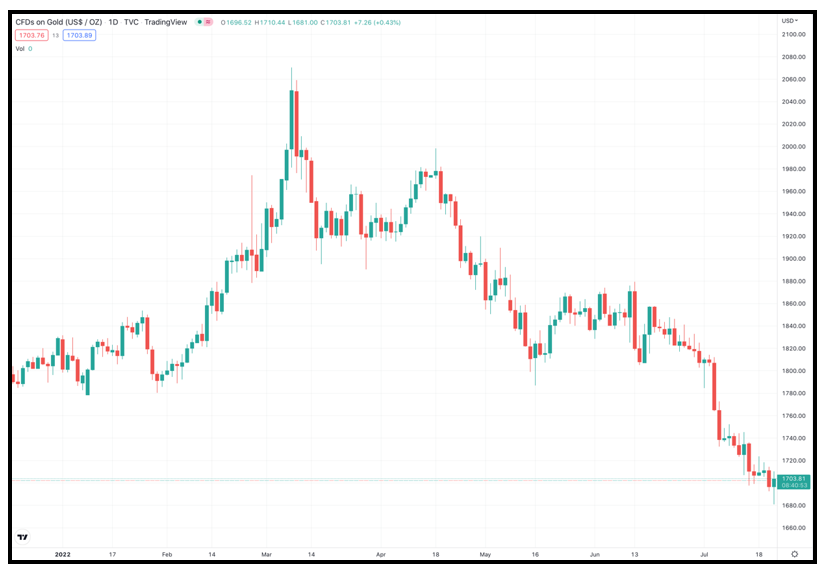 Year-to-date price of gold. Source: TradingView
And as the U.S. dollar gets stronger — as it's been doing in response to Fed policy, which recently pushed it to a 20-year high — there's a direct negative correlation between its value and the price of gold.
But despite gold lacking its luster, there are glimmers of strength in the market.
With the arrival of earnings season, news of stronger-than-expected jobs data and surprising increases in retail sales, the market's enjoying a small rally.
The S&P 500 is up 7.9% since bottoming in mid-June, and over the past month, each of its 11 sectors is in the green.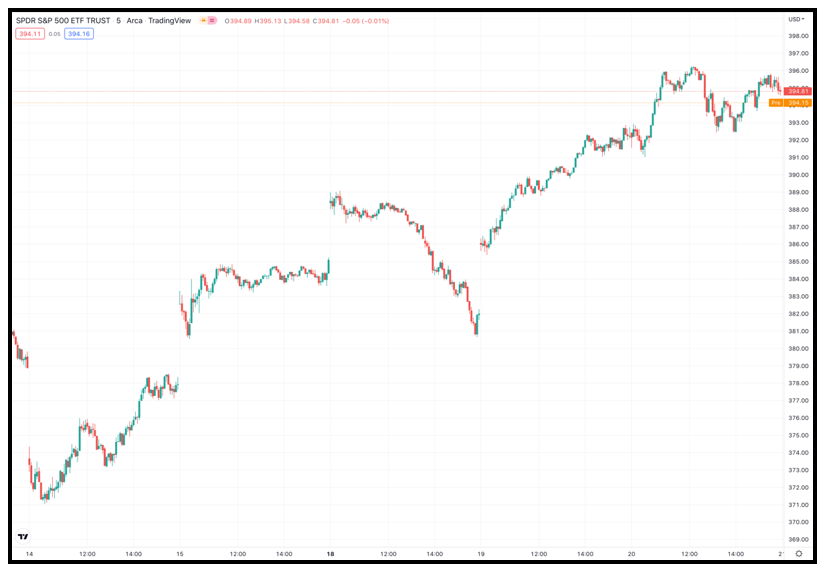 Five-day chart of the SPY, which has climbed 5.63% this week. Source: TradingView
These market conditions might not be ideal for retail investors, but they aren't stopping corporations from slowing the historic pace of their stock buybacks.
In fact, companies are on pace to repurchase a record $1 trillion of their own shares by the end of 2022.
Keeping Up With the Joneses
One way investors can position themselves for the long term is by emulating what corporate America is doing amid current market weakness.
After all, according to Oscar Wilde — and my buddy who mimics Warren Buffett's every move — imitation is the sincerest form of flattery.
By keeping an eye on those companies propelling a record $1 billion in stock buybacks, investors can potentially profit from the actions of large corporations that are using pullbacks and market corrections to generate value.
According to Bankrate, share repurchases reduce "the total number of shares outstanding. In effect, buybacks 're-slice the pie' of profits into fewer slices, giving more to remaining investors."
And so far in 2022, not unlike 2021, companies are significantly trimming the pie.
In just the course of one week last month:
In that one week alone, those four companies — which span the consumer discretionary, finance and energy sectors — repurchased $41 billion worth of their own shares.
Parroting the Pillars of Profit
Similar to how I explained a path for investors to benefit from insider trading, finding which companies are acquiring their own shares is no secret.
MarketBeat compiles an updated Stock Buyback List, replete with publicly traded companies taking such actions.
Investors can sort by market capitalization, buyback amount or percentage of shares, and have the option of exporting the data to Excel.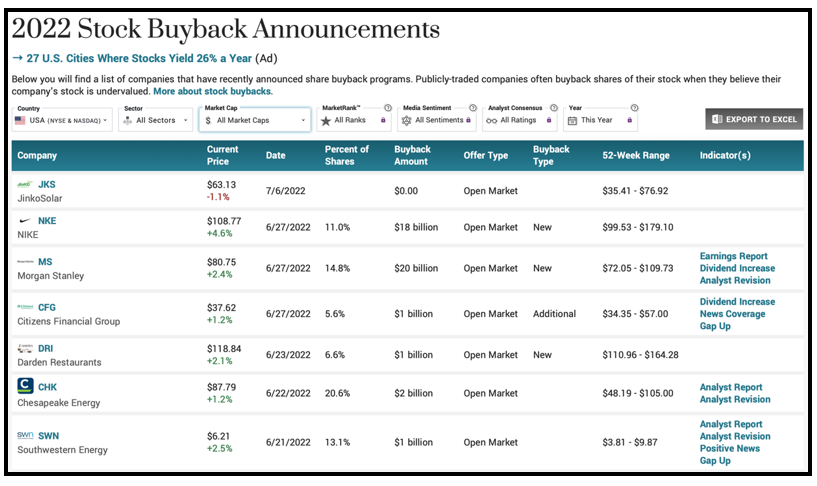 From there, navigate to the Weiss Ratings stock screener and look at each company's rating, dividend yield and recent price action. The best opportunities will be in plain sight.
If you prefer guidance on companies buying back stock, members of Senior Analyst Sean Brodrick's Wealth Megatrends have been protected from the broad market's sell-off.
They're enjoying double-digit open gains in positions that yield generous dividends and in companies that routinely repurchase their own shares.
No matter what you decide, always conduct your own due diligence before entering any trade.
Until next time,
Jordan Chussler
Managing Editor
Weiss Ratings Daily