Dividend Raisers Are Key in This Climate
The Fed is walking a tight rope, tackling demand to deal with surging costs and trying to do it without kick-starting a full-blown recession.
In this segment, I speak with Research Analyst Sam Blumenfeld about several recession-resilient stocks across a diverse range of sectors and why dividend raisers are crucial in this investing climate.
You can watch the video here or continue reading for the full transcript.
Jessica Borg (narration): It's a game of wait and see …
JB: What's your assessment of the market climate, especially on the heels of the Fed's most recent interest rate hike?
Sam Blumenfeld: There were no surprises really. The Fed raised rates by 75 basis points for the second consecutive month. That was largely priced in by the market.
But the market did like that Fed Chair Jerome Powell said he would look at the data for the future when considering leaning back and slowing down the rate of the rate hikes, so that was definitely favorable for stocks.
JB (narration): The U.S. has entered the second consecutive quarter of negative GDP growth, which meets the technical definition of a recession.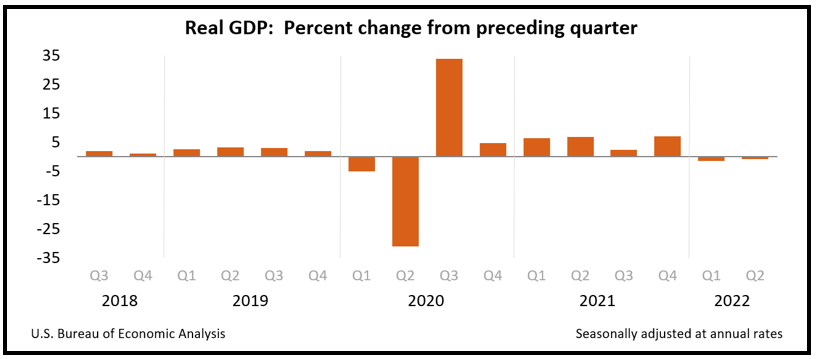 To be clear, though, a recession is not official until the National Bureau of Economic Research announces it.
Weiss Ratings Research Analyst Sam Blumenfeld says the risk for one, though, seems to be growing.
SB: We're definitely seeing recession-area indicators that are spooking economists and just the market, in general.
JB: Sam, you're a big fan of dividend stocks and say it's a great form of protection for investors, right now.
SB: In an inflationary environment, companies with lower multiples and companies with current stable cash flows do better than growth stocks that are discounted further into the future.
JB (narration): Dividend stocks essentially pay you to own them, giving quarterly payouts from the company's profits, or reserves.

Sam, who works closely with Senior Analyst Sean Brodrick on his publications,like Wealth Megatrends and Supercycle Investor, says the companies to watch …
SB: Companies that are raising their dividends over a long period of time — companies like Walmart (WMT) and Procter & Gamble (PG) and others that continuously raise their dividends, and that you know are going to be around for the long haul.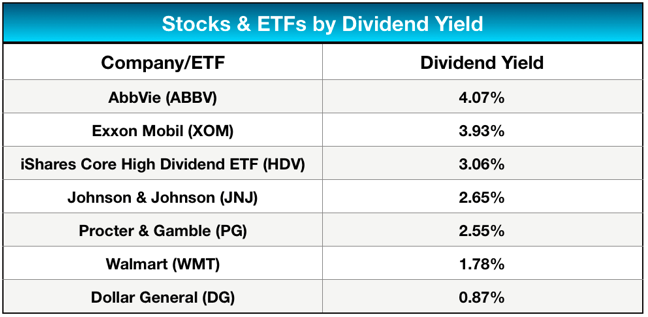 Within the S&P 500, dividend raisers have vastly outperformed those that have not paid a dividend, and those that have kept them the same over time.
JB (narration): For high-dividend exposure, there's the iShares Core High Dividend ETF (HDV).
The fund trades with an average daily volume of more than 1.7 million shares.
Among the top holdings are Exxon Mobil (XOM), Johnson & Johnson (JNJ) and pharmaceutical giant, AbbVie (ABBV).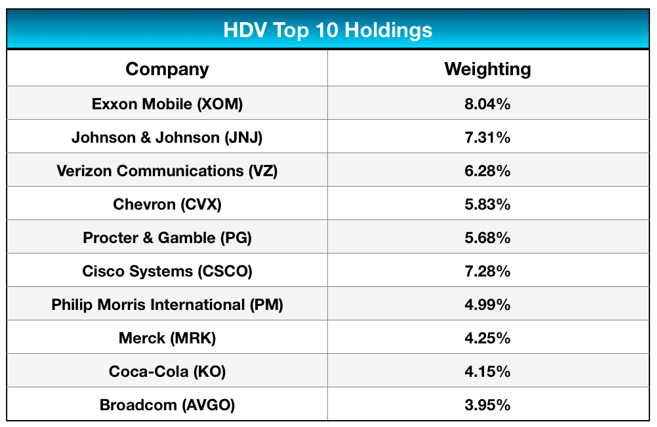 SB: That exchange-traded fund has vastly outperformed the S&P 500 year to date.
There's plenty of diversity within the ETF across all market sectors.
JB (narration): And there areindividual stocks to consider amid market uncertainty.
JB: There are companies that are tailor-made for this type of environment.
SB: Specifically, Dollar General (DG) is considered a recession-resistant stock because as families and consumers tighten their belts in a period of a recession, then foot traffic generally increases in their retail locations.
Shares of DG are up nearly 25% in the past six months. Source:
TradingView
Consumers will likely flock to those types of stores, discount retailers.
JB (narration): So, as you prepare your portfolio for the rocky months ahead, keep these kinds of investments in mind.
JB: Research Analyst Sam Blumenfeld, it's always a pleasure to talk with you. Thanks so much for making time today.
SB: Thanks, Jessica.
Best wishes,
Jessica Borg
Financial News Anchor
Weiss Ratings