'Don't Be Afraid of Tapering'
This week Weiss Ratings Financial News Anchor Jessica Borg interviews Tony Sagami, analyst and senior editor of Disruptors & Dominators and Weiss Ultimate Portfolio.
The two discuss inflation, consumer confidence, unemployment and staggering stock buybacks, touching on how all those factors add up for a promising year ahead for investors.
Jessica Borg has more ... you can watch the video segment or continue reading for the full transcript.
Jessica Borg (narration): New year, similar hopes for the market …
JB: So, Tony, how do you see this investing environment over the next few months?
Tony Sagami: 2022 should be another great year for investors.
JB (narration): Tony Sagami is the editor of Disruptors and Dominators and Weiss Ultimate Portfolio.
He says the stock market will continue to benefit from the so-called money flood.
JB: You've always said it's not tapering that folks should fear, but liftoff, when the Fed raises interest rates.
TS: Yes, they're tapering, but they're still buying $80 billion in bonds a month.
Take a look at this … this is the supply of money. So, even though they announced taper, the money supply is still increasing, so you can see it just doesn't matter.
And that money has to go somewhere.
JB (narration): Much of it is going into cryptocurrencies, real estate and stocks.
TS: Take a look at how the money supply and the stock market are correlated.
The Federal Reserve … their assets continue to rise and rise and rise, so we're almost at $9 trillion. Look at that blue line. Do you see the taper?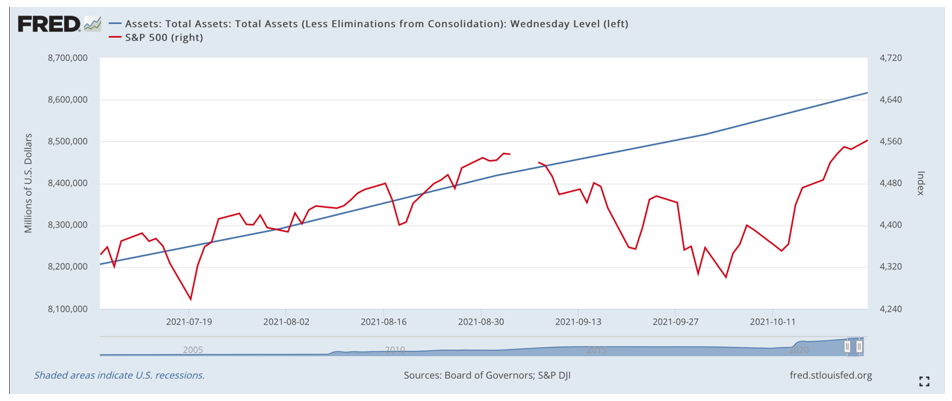 Source: FRED
So, no … don't be afraid of taper. Be afraid of liftoff, higher interest rates.
JB (narration): There are lots of ways to play the double-digit inflation that's giving a boost to many assets.
TS: Gas is up 58% in the last year. Rental cars prices are up 37% for the year. Steak is up 25%, bacon is up 21%, fish is up 11%. Used-car prices are up 31%.
JB (narration): His portfolio includes Horizon Kinetics Inflation Beneficiaries ETF (NYSE: INFL).
TS: And it's a very unusual ETF. It's not widely known. It only has about $650 million in assets, but it owns assets that should produce good returns during periods of higher inflation.
It's up, and I think it's going to go a lot higher.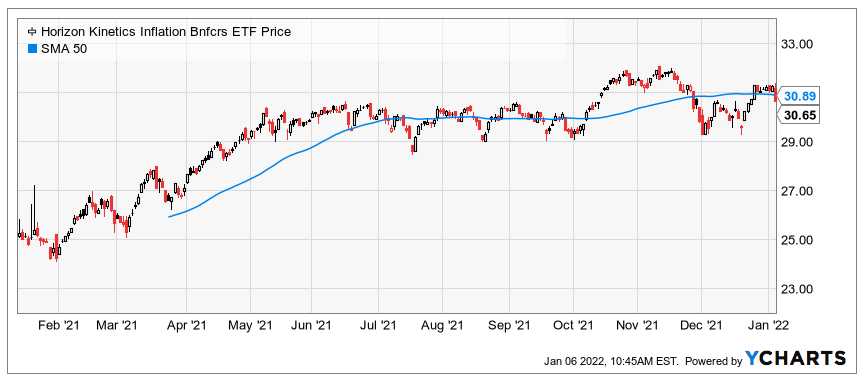 JB (narration): It holds assets in real estate and agricultural producers, like Archer-Daniels-Midlands (NYSE: ADM), the largest producer of soybeans in the world.
Soybeans, along with corn, have shot up in price.
TS: Part of it is you're seeing large institutions, including Bill Gates, buy up farmland like crazy. And it's also the exports to China.
JB: You've written extensively about home-building costs and the price of lumber.
TS: Well, look at what's happened to lumber. It cratered during the summer, but look at how much it's rebounded now. From those August lows, it's almost seven times, 700% rise in the price of lumber.
JB (narration): Lumber makes up about 20% of the cost of building a house, so the price increase is a big reason why real estate has exploded.
TS: Well, this is just another way to look at the price increase. Look at how much a thousand dollars used to buy of lumber, compared to today.
JB (narration): Another opportunity is in precious metals. Tony thinks this is their year to shine.
TS: Gold and silver are excellent inflation hedges, especially silver, which has a lot of industrial uses, too.
JB (narration): In Weiss Ultimate Portfolio …
TS: We have a pretty heavy allocation on it … almost 20%, which is very high for precious metals, but that's how strongly I feel about it.
JB (narration): He holds Pan American Silver (Nasdaq: PAAS).
And U.S. Global GO GOLD and Precious Metal Miners ETF (NYSE: GOAU), which invests in precious-metal royalty companies.
TS: That means they don't dig in the ground. What they do is they loan money in gold explorers, and they get to buy a predetermined amount of their gold at a lower-than-market price.
JB (narration): It's considered a low-risk way to invest in gold.
A trend he sees growing even bigger this year is e-commerce, and the companies that already have strong momentum with consumers are ones to watch.
TS: And I think the best one is Costco Wholesale (Nasdaq: COST). Gosh, I think we're up 70+% since we bought it.
JB (narration): There's also Amazon.com (Nasdaq: AMZN) and facilities that help it do business, like Prologis (NYSE: PLD).
TS: Amazon has their own warehouses, but they transfer a lot of their shipments at Prologis' warehouses. And so, they are making fantastic money.
The price of industrial warehouse space is going up even more than homes. And so you have the double-dip of the rising appreciation of the properties that they own, plus more and more business from companies like Amazon, and Walmart (NYSE: WMT) and other online caterers.
JB (narration): So, here are a few trends to capitalize on to make the start of the new year, a prosperous one.
JB: Senior Analyst Tony Sagami, pleasure speaking with you here in early 2022.
TS: Okay … next month!
JB: Absolutely, see you then.
Best wishes,
The Weiss Ratings Team