Dr. Copper's Rx for Riches in 2023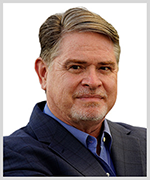 By Sean Brodrick
I have never seen a market so divided.
The bears are certain that we are headed for recession as the Federal Reserve hikes interest rates. Meanwhile, the bulls are pointing out that the labor market is as strong as a juggernaut, and inflation is starting to weaken.
So, what to do? I have an idea. I'm going to take a prescription for profit from the best doctor on Earth.
I am Talking About Copper
Yes, the metal. They call it Doctor Copper because it takes the temperature of the global economy.
And while the jury is out on U.S. growth, Doctor Copper says the global economy is doing just fine. Here's a weekly chart: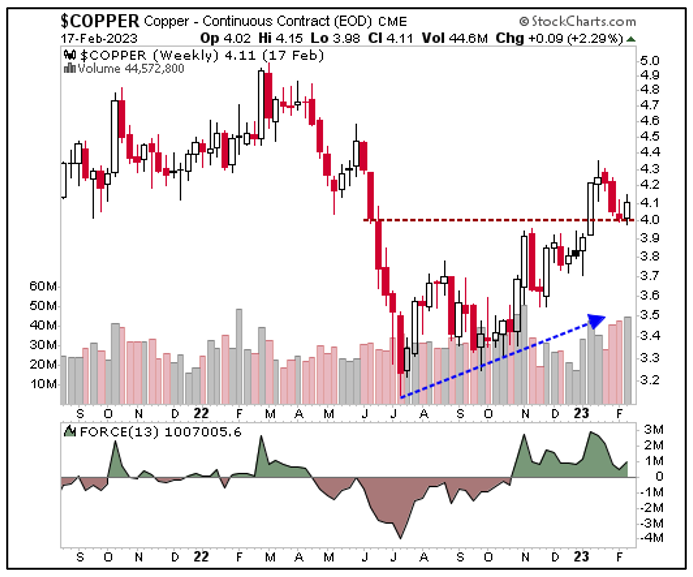 Weekly chart of copper prices.
Click here
to view full-sized image.
As you can see, copper has enjoyed a heck of a run, rising about 38% from lows last July to its peak in January. More recently, it pulled back as traders digested fears about growth. But then copper found support, and it is headed higher again.
In the short term, the driver of copper prices is a one-two-three combo:
1. Rising demand from China, which is emerging from a three-year COVID-19 lockdown. In fact, China is the world's main copper smelter and produced 853,300 tonnes of refined copper in January, up 4.3% year over year.

2. Supply squeezes. We've seen major copper mines shut down in Panama, Peru and Serbia over taxation, bloody unrest and labor protests. Some of these mines may reopen. But First Quantum's Cobre copper-gold mine in Panama — which produced 206,007 metric tons of copper in Q4 — may suspend operations for quite some time.

3. Copper is not renewable, so as it is mined, resources go down and grades of the ore fall (because miners are smart and mine the rich ore first). That is why in the first 11 months of 2022, Chile's copper output fell 5.84% year over year. No mines shut down. Grades are just getting worse. The average age of the world's top 10 copper mines is 95 years! The math is not favoring more supply.
Longer-Term Demand in Overdrive
That is the short term. Longer term, copper is facing the mother of all supply and demand squeezes.
This is partly due to surging demand from electric vehicles and green energy programs. That's because the intensity of copper usage in renewables and EVs is much higher than in fossil fuel technology. For example, an EV uses about four to five times as much copper as a car with an internal combustion engine.
S&P Global recently published a chart showing the annual growth rate in copper demand for various energy applications: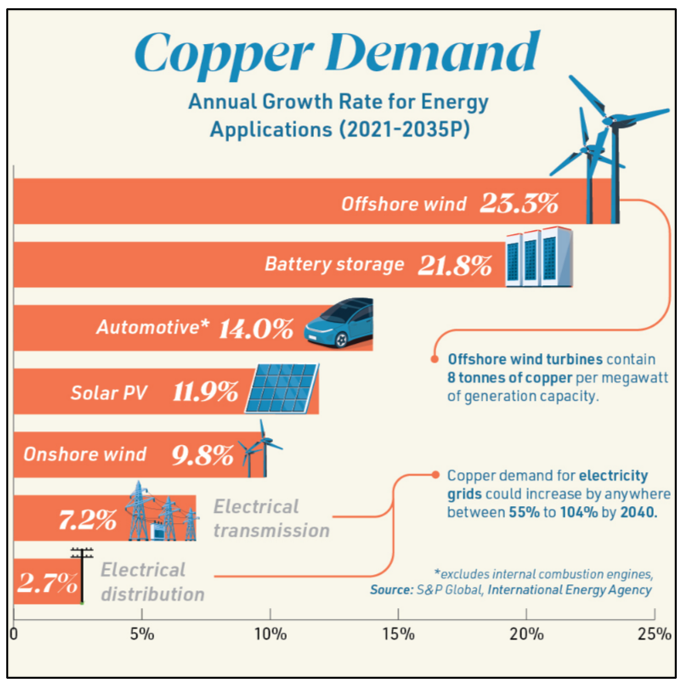 Copper demand.
Click here
to view full-sized image.
The S&P forecasts that demand for copper used in offshore wind will grow by 23.3% each year between 2021 and 2035. Battery storage will see a 21.8% compound annual growth rate. And automobiles will see a 14% compound annual growth rate.
And for some applications — like energy grids — there are so many variables that it is hard to predict exactly how high demand will increase.
To meet this challenge, copper miners are investing in finding new deposits. Oh, wait … no they're not! At least, not at anywhere near the level of investment we need to ensure future supply.
I cannot really blame them. New copper mines need to be big. It takes many years and boatloads of money to get one up and running.
It is much, much easier just to buy existing production. That is why we saw BHP Group (BHP) recently acquire Oz Minerals in Australia, and why Rio Tinto (RIO) bought out Turquoise Hill's share of the vast Oyo Tolgoi copper mine in Mongolia.
The supply/demand squeeze will get worse. That is why Goldman Sachs (GS) expects the price of copper to rise about another 30% between now and the end of 2023.
Think this won't affect us? In the U.S., the demand for copper is projected to rise at three times the supply by 2035. Plus, research and consulting firm Wood Mackenzie is forecasting major copper deficits to 2030.
How You Can Play This Rx for Riches
You can buy individual copper miners. I am already recommending members of my services do that.
I have also recommended the Global X Copper Miners ETF (COPX). It holds a basket of the world's top copper companies, is very liquid and has an expense ratio of 0.65%. Look at a weekly chart: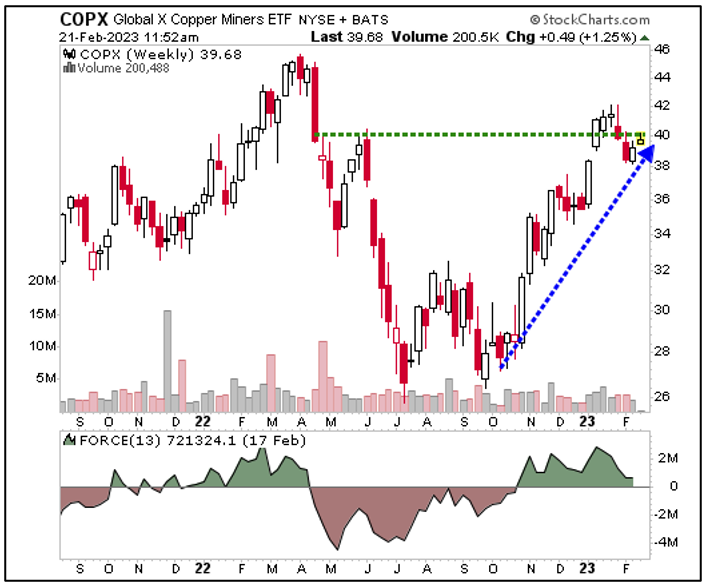 Weekly chart of COPX.
Click here
to view full-sized image.
You can see that COPX entered an uptrend in October of last year. It is hammering away at overhead resistance. I see about 81% upside from here!
So, yes, Doctor Copper has your Rx for riches in 2023. Heed his advice, or risk missing out. Either way, be sure to conduct your own due diligence beforehand.
Best wishes,
Sean
P.S. The Federal Reserve's actions should have investors concerned for their financial well-being.
Starting as soon as May 2023, its insidious "Fed Control" powers could go live, which means that any accounts linked with the U.S. banking system could soon be at risk for surveillance of all transactions  … or worse.
Investors who want to take action to protect their money should click here for four steps to take now to stay safe and grow their wealth.