Elon's Up to His Old Tricks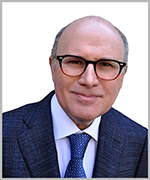 By Jon Markman
Artificial intelligence is the most disruptive and potentially dangerous technology ever developed … according to Elon Musk.
The Tesla (TSLA) chief executive officer met onstage Nov. 3 with the British prime minister to discuss AI risks. Two days later, Musk hinted that where possible, a powerful AI digital assistant might run natively in Teslas.

Forget the paradox. Investors should still consider buying Tesla shares. Let me back up and show you why.
Most probably believe that adding dangerous software to two tons of rapidly accelerating glass and steel might be a bad idea. Tesla vehicles are already full of extremely advanced technology, like advanced driver assistance systems that speed up and slow down to avoid potential accidents.
And there are clever automations, too. The lights and windshield wipers automatically turn off and on as required. The locks open as the driver approaches, then lock after exit — a feature made more impressive by the absence of keys and fobs.

Vehicles can also be monitored remotely from anywhere in the world because they are constantly connected to the internet. And some would even say that many Teslas are self-driving, although that is controversial.
Adding a truly smart AI would be a game changer in the automotive industry, though. Here's the rub …
Musk Remains an AI Doomsayer
Unfortunately, Elon Musk has spent the past few years telling anyone who will listen that AI is potentially more dangerous than nuclear weapons.
He led a group of academics and technology thought leaders in March calling for a six-month pause in AI development to allow governments to put together a framework for regulation.
The open letter from the Future of Life Institute asked if it was wise to allow machines to flood information channels with untruths and propaganda … or automate away all of the jobs. The AI future that Musk is warning about would see humans cede control of civilization.
Many of these same sentiments were echoed in the early November discussion with British Prime Minister Rishi Sunak. Musk claimed that for the first time ever, AIs are on the verge of becoming smarter than the most intelligent human.
He likened AI to opening a bottle to a magic genie that is capable of granting any wish, only without the need for the three-wish limit. This, he argues, would bring devastating unintended consequences.
Musk told the prime minister that it is going to be difficult for humans to find meaning in life if AIs are capable of doing everything you want.It would be a dangerous world where humans are obsolete.
Despite these beliefs, it is now clear Musk has been working furiously for months to develop a powerful AI digital assistant called Grok. He hinted last week that a compact version of Grok is coming to Tesla's suite of vehicle technologies.
Grok is an AI modeled after the Hitchhiker's Guide to the Galaxy, a 1979 comedic radio series that chronicles the adventures of the only man to survive the destruction of Earth. While haplessly travelling the universe, the protagonist learns the absurd truth about existence.
Putting levity aside, bringing this AI tool to Teslas would give owners access to up-to-date information about the world, in real time.

Unlike other AIs such as ChatGPT, Grok is trained on live data from X, formerly Twitter, the social media platform owned by Musk. Added to Tesla's best-in-class suite of technology tools, this would be a powerful competitive advantage over every other vehicle on the road.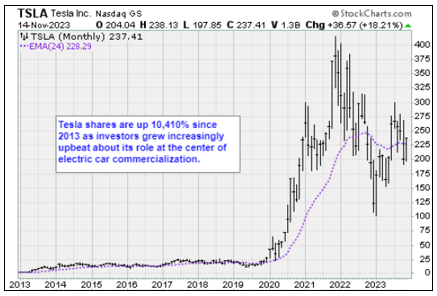 TSLA price chart.
Click here
to see full-sized image.
This comes at a time when other automobile manufacturers are stepping aside from electric vehicles and lower-prices cars and trucks in general.
Executives at General Motors (GM) and Ford (F) announced plans in October to pause work on new EV factories. And Honda (HMC) will suspend its partnership with GM to make affordable EVs.
Rising labor costs and poor sale of EVs at legacy automakers are forcing the current rethink. Old school car companies are putting short-term profitability over longer-term market share planning. This benefits Tesla, the low-cost EV producer and technology leader.
Despite the above chart, shares of Tesla remain cheap … and getting cheaper.
At $240, Tesla shares trade at 61.4 times forward earnings and 7.8 times sales. That may sound expensive, but these metrics are falling quickly as the company sells more EVs each year.

Tesla has been a buy for a decade. It is still a buy.
Based on the size of the expected EV market,Tesla shares could trade to $360during the next 18 months, a gain of 52.5% from current levels.
So, even though it seems like Musk is talking out of both sides of his mouth about AI, his company is uniquely positioned to excel because of it. That's why it's worth considering whether Tesla is right for your portfolio.
All the best,
Jon D. Markman
P.S. Even though it doesn't take a genius to see how Musk constantly offers paradoxes like this one on AI, his words do still move the market. In fact, my colleague just put together a presentation outlining what his next tweet might do to a select few stocks. Check it out here.