More "Buy"-Rated Stocks to Choose From
Every three months, I make sure that I take a look at the distribution of the stock ratings.
This year, I've shared that info with you in February, May, August and now November.
Why those particular months, you ask? Why wouldn't I just make it easy on myself and line it up with the end of the quarter?
Well, that's actually what I'm doing here.
Most companies line up their quarters with the calendar year. This is not always the case, and the first quarter of the fiscal year may not be the same as the first quarter of the year.
But generally, companies close their books on December and March 31 and June and Sept. 30.
Then we have to wait for companies to actually file the data with the U.S. Securities and Exchange Commission (SEC) and release their quarterly announcements to investors.
• That's where earnings season comes in!
In general, earnings season begins 10–14 days after the end of the quarter. Then it lasts for about four to six weeks.
During that time, there are certain clusters that investors look for. A few issues ago, I pointed out that it was an important week for tech companies as many of the giants were reporting.
This week, we're seeing a lot of retail names on the earnings schedule, including Home Depot (NYSE: HD), Target (NYSE: TGT), Walmart (NYSE: WMT) and Macy's (NYSE: M).
The point is that we're just about to the place where earnings numbers are starting to slow down.
• That influx of data has been run through the model, and we now have an accurate idea of where the ratings sit for the third quarter of the year.
When we checked in August, there were 1,125 "Buy"-rated stocks. Now we're looking at 1,344.
There were 19 stocks in the "A" range! That's the most we've seen since we've been looking at the ratings distribution over the past year and a half.
Most of them were rated "A-," but three of them were a solid "A."
So ... let's take a closer look at those top three.
1. Duke Realty (NYSE: DRE)
First up is Duke Realty, a business that launched in 1972 with the development of one industrial building in Indianapolis. Now it owns and operates approximately 159 million rentable square feet of industrial assets.
This is the first time that DRE has made it into the "A" range since 2017. In fact, the company had been sitting in the "Hold" range until its upgrade at the beginning of August when it jumped to a solid "B." Then, at the beginning of November, we saw it jump again to its current solid "A."
Shares are up 17% in the past 90 days and 53% year to date. Plus, it pays a 1.81% dividend.
2. Granite Real Estate Investment Trust (TSX: GRT.UN)
Next up is Granite Real Estate Investment Trust. There are a couple of interesting things to point out about this company. First, you'll notice that it's listed on the Toronto Stock Exchange (TSX). Second, it's a real estate investment trust (REIT).
REITs are interesting because they pass most of their earnings onto shareholders as dividends. Granite is a Canadian-based REIT that holds logistics, warehouses and industrial properties in North America and Europe. It's portfolio of 108 properties is equal to approximately 45.3 million square feet of leasable space.
Granite has been in the "Buy" range since 2016, and just last week, it made the jump into the solid "A" range. Shares are up 10% in the past 90 days and 25% year to date. Plus, it pays out a dividend of 3%.
3. Thermo Fisher Scientific (NYSE: TMO)
Last up is Thermo Fisher. The company is in the pharmaceuticals, biotechnology and life sciences sector. TMO's mission is to enable its customers to make the world a healthier, cleaner and safer place. It does this by providing innovative technologies and pharmaceutical services throughout the industry through its portfolio of brands.
A quick look through the company's press releases shows that there's never a break in innovation. TMO recently announced it will build a state-of-the-art manufacturing facility in Mebane, North Carolina. The site is part of a recently announced $192.5 million co-investment with the U.S. government.
Thermo Fisher is a clear world leader in serving the science community and has an annual revenue of approximately $35 billion. Plus, the company has been in the "Buy" range all the way back since 2014.
Shares are up 24% in the past 90 days and 35% year to date. It even pays out a small dividend of 0.16%.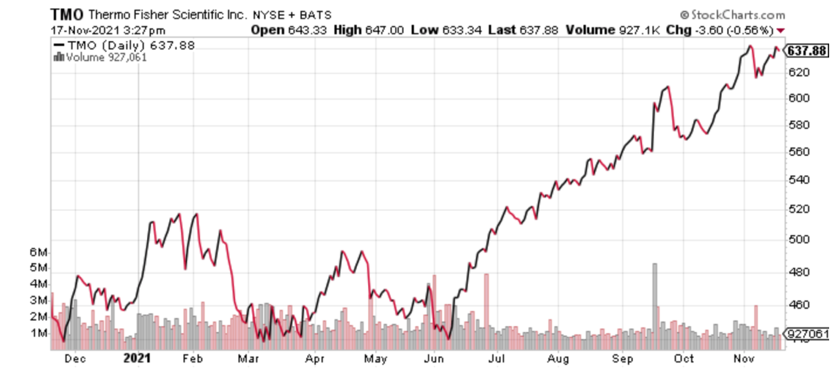 TMO shares are up around 35% year to date.
All three of these companies seem super solid. And it's nice to see new names climb up to the top of the list. You know I'll keep checking in and letting you know what I find.
Best,
Kelly Green