Here Are the Companies Leading the AI Revolution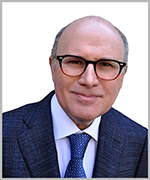 By Jon Markman
AI is the evolution of technology, and a dominant group of companies are emerging to fill key voids.
The internet boom of the early 2000s changed the face of technology. A decade later, new innovators built the digital revolution on that foundation.
The next evolution will take digital to new heights.
In anticipation of that new digital evolution, investors would be wise to buy shares of the four companies likely to dominate the AI arena.
The 4 Horsemen of AI
There is a pattern in the development and evolution of tech that each of these four companies followed to become the pillars they are today.
Those companies are:
AI is transforming every industry and creating new opportunities for innovative firms. At its core though, AI is not substantially different than its predecessors. All these evolutions followed the same path and created core winners in processing, software, hardware and networking.
It's something I've been stressing to members of my service, Weiss Technology Portfolio for some time now.
The Horsemen of Tech
The development of the internet in the early 2000s enabled four tech companies to grow into giants. Intel (INTC) built the processors. The software was handled by Microsoft, with its dominant Windows operating system.
Dell (DELL) brought low-cost personal computers to the masses and created unfathomable wealth for shareholders as its stock rose around 50,000%. (No, that's not a typo.)
And Cisco Systems (CSCO) supplied the networking gear that tied everything together.
These businesses became the four horsemen of tech, and they were unstoppable … at least for a decade. But then came …
The Digital Horsemen
As the foundational elements of the internet were solidified, applications moved from PCs to smartphones. Backend cloud processing turned real-world products into digital files.
For example, music. Vinyl records morphed into compact discs which then gave way to streaming services like Spotify (SPOT).
When all the world's information moved to the web, Google became the processor. Meta Platforms (META) quickly moved one-third of the world's population into Facebook, a walled software garden.
Then Apple (AAPL) built the iPhone and killed the PC. Its powerful hardware allowed people to access the network without having to sit at a desk. And Amazon.com (AMZN) transformed into Amazon Web Services, by far the largest network provider to the corporate world. And now …
AI Is Challenging the
Supremacy of the Digital Horsemen
AI will move everything to new clouds.
NVIDIA is the leader in graphic processing units technology. GPUs enable parallel processing and have become essential to high-performance computing, a prerequisite for AI applications.
The San Jose, California-based company invented GPUs in 1999, fostered scientific research in 2006 with its CUDA software development platform, and powered the AlexNet neural network in 2012, the first breakthrough of the modern era of AI.
Since then, NVIDIA AI GPUs have been coveted by every datacenter in the world. The H100 has 80 billion transistors and is 9x more powerful than the previous generation.
Microsoft was a horseman in the early 2000s, yet the Redmond, Washington-based company completely missed the digital revolution in 2009 when a series of smartphone investments went south.
Everything changed under CEO Satya Nadella, who took over from the botched-up mess left by onetime super-salesman Steve Ballmer. Nadella moved the company into the cloud and embraced the developer community. Microsoft acquired in GitHub in 2018, the world's leading software development platform. The $7.5 billion purchase is being integrated with Azure AI, a cloud-based AI platform that offers tools for data science, machine learning and cognitive services.
Microsoft has also partnered with Nvidia to build one of the world's most powerful AI supercomputers. This project is currently handling the huge amounts of data generated by OpenAI, another Microsoft AI partner.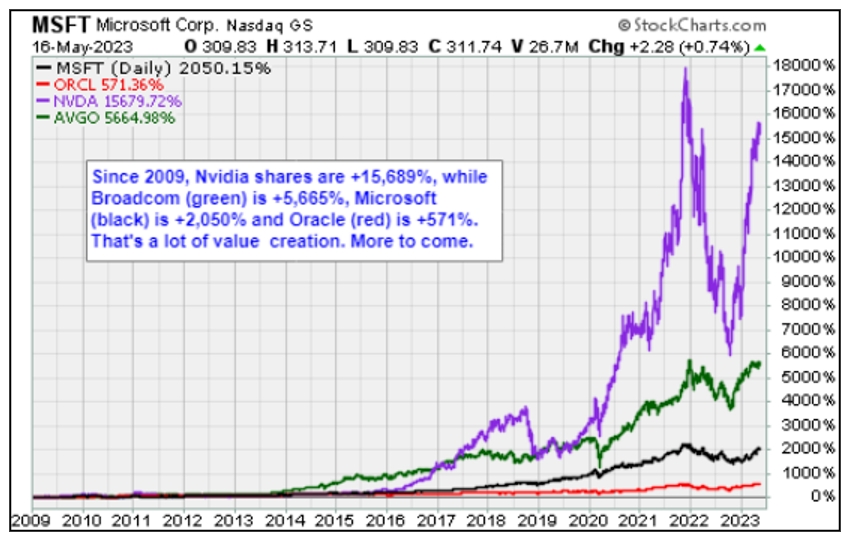 Price chart of ORCL (red line), MSFT (black line), AVGO (green line) and NVDA (purple line), 2009–2023.
Click here
to see full-sized image.
Oracle is best known for its database software, yet the future of the Austin-based company is marrying its legacy software business with state-of-the-art AI hardware.
Oracle Cloud Infrastructure is the first hyperscale cloud provider to offer NVIDIA DGX Cloud, an AI supercomputing service. Oracle also collaborates with NVIDIA to provide OCI Supercluster, a cloud platform that can scale up to 4,096 Compute Bare Metal instances with 32,768 GPUs.
Broadcom is often called the connectivity company. The San Jose, California-based semiconductor business has become the leader in data processing units. DPUs are specialized chips that offload networking tasks from traditional processors and GPUs. Broadcom's BlueField-3 DPUs are integrated into Oracle's networking stack to provide low-latency and high-bandwidth connectivity for OCI Supercluster.
It is often difficult to imagine how technology evolves.
AI will bring the evolution from powerful but bulky smartphones to thin and light devices. Next generation software will put intelligent personal digital assistants in our homes, cars or wherever possible as connectivity becomes ubiquitous. And AI will allow everything to live in the cloud.
NVIDIA, Microsoft, Oracle and Broadcom are set up to be the next horsemen.
Conduct your own due diligence, but investors would be wise to buy dips and position themselves for the potentially explosive future growth of these four companies.
And considering joining members of Weiss Technology Portfolio, who have been riding these trends for years and are positioned to benefit even more with the advent of AI.
In fact, members are currently sitting on gains of over 523% in NVDA, 387% in MSFT, 252% in AMZN. That's in addition to four other triple-digit gains in the model portfolio's current holdings.
Join them for tech's next leg up by clicking here.
Thanks for reading,
Jon D. Markman