How AI Is Shaping Companies From McDonald's to Microsoft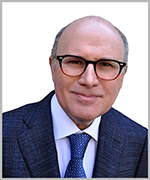 By Jon Markman
An AI chatbot may be coming to your local fast-food drive-thru. It will understand accents, slang and use data analytics to maximize sales.
This is a big deal for investors.
Last week, Executives at Wendy's (WEN) and Alphabet (GOOGL) announced a pilot project will roll out in June at a Columbus, Ohio, drive-thru.
Investors should keep a close eye on Advanced Micro Devices (AMD). Let me explain.
AI:
Moving into the Real World
This is not the first time a fast-food chain has implemented AI to improve its drive-thru operations. In 2018, McDonald's (MCD) bought Dynamic Yield to dynamically alter the drive-up menus offered to customers.
The software pushed ice cream with enticing pictures on especially warm afternoons, and removed items when stock was low. The goal was to get patrons through checkout faster, while increasing the average sale.
Executives at Wendy's want to hurry customers along, too. A staggering 70% of quick service sales occurs at Wendy's drive-thru windows.
Speed is vital.

The partnership with Google will kick up processing speed through more automation. Specifically, the Columbus restaurant is going to get a conversational chatbot that will be undisguisable from a human fast-food worker.
The AI will be able to understand customer accents and different dialects, and jargon such as "JBC" for junior bacon cheeseburger, according to a report at the Wall Street Journal.
All of this might seem like science fiction. It's not.
Google showed off a similar chatbot five years ago at its Google I/O developers conference. Onlookers gasped as the AI set a hair appointment, complete with all of the human-like pauses and semantics.
The technology has improved exponentially since then through generative AI advances, more powerful hardware and time spent training on top of Google's large language model.
LLMs:
The Secret Sauce of AI
The bigger the LLM, the more likely it is the algorithms can make advances quickly. And Google has a lot of digital data to mine.

75% percent of all smartphones, or 3 billion devices globally, run Android, its mobile operating system, according to research from The Business of Apps. Most of these devices have the Google Assistant activated, an AI digital assistant that collects voice inputs to continuously build and train its LLM.
Wendy's implementation takes generative AI beyond developer conferences, and even ChatGPT, the wildly popular chatbot created by OpenAI. The Wendy's AI evolves the technology to commerce. It's a huge opportunity for investors.
The current problem with AI is infrastructure bottlenecks.

Developers see unlimited potential, yet there is simply not enough powerful hardware to crunch through all of the LLM data.
NVIDIA (NVDA) — the industry leader — is running full out to meet demand for its powerful H100 AI graphics processing units. Some of these GPUs are even selling on eBay for $40,000 … or 4x the retail price.
Advanced Micro Devices
Also Makes GPUs
The Santa Clara, California-based company has a strong business relationship with hyperscale data centers like Google Cloud, where its EPYC processors and Radeon Instinct GPUs power their cloud services. AMD also developed bespoke GPUs with Microsoft (MSFT) to power next-generation Xbox consoles, codenamed Project Scarlett.

Bloomberg recently reported that AMD is now working with Microsoft to build a specialized AI chip that software developers can use to train LLMs at Azure, Microsoft's cloud computing unit. This project, codenamed Athena, will help Microsoft compete with Amazon Web Services and Google for enterprise customers looking to stake their AI claims.
Microsoft was an early investor in OpenAI, and reportedly purchased tens of thousands of high-end Nvidia GPUs to make development possible.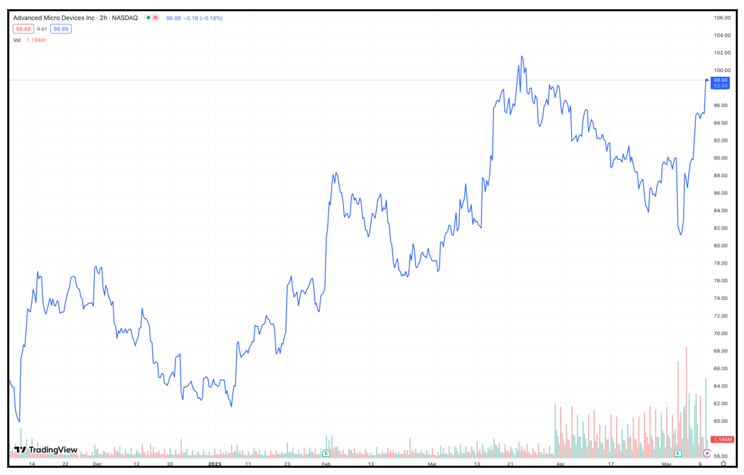 Six-month price chart of AMD.
Click here
to see full-sized image.
At the time of writing, shares of AMD are trading around $95. Since its year-to-date low on Jan 5, 2023, the stock is up nearly 60%.
I am not recommending members purchase AMD today. But add it to your watch list and monitor it for an appropriate entry level.
The market for GPUs used for AI is not winner take all. There will be many winners.
Investors are significantly underestimating the market for AI infrastructure. This isn't hype. It is the next big thing and companies are investing accordingly. Many companies will benefit handsomely, including AMD.
Thanks for reading,
Jon D. Markman
P.S. With my colleague Chris Coney's strategy for going after capital appreciation and yields, you can receive 18% or more when you want to add income to your portfolio. We've recorded a special video explaining how. But today is the last day you can access it. Click here now to learn more.