In the Wake of FTX, Big Data Is a Buy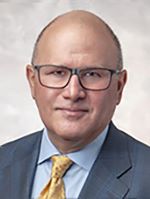 By Jon Markman
In the wake of the centralized crypto trading platform FTX's collapse, there is a big opportunity for big data.
Last week, the collapse of FTX caught most investors off guard. The cryptocurrency exchange was a big part of the transition to transparency in financial transactions. Its opacity ultimately led to ruin.
This is a good opportunity for investors to consider buying Fair Isaac (FICO). Let me explain.
DeFi promises to disrupt fee-taking intermediaries, and their networks use a permanent cryptographic ledger called blockchain. These ledgers can't be changed or duplicated and offer complete transparency because participants on both sides of every transaction can see every entry. This transparency negates the need for middling guarantors. At least that is the theory.
FTX, however, was a centralized exchange. CEO Sam Bankman-Fried built his early career taking advantage of network transparency. After graduating in 2014 from MIT, Bankman-Fried founded Alameda Research. The quantitative trading firm began arbitraging the slight price differences between Bitcoin (BTC) trading in Japan vs. the U.S.
The launch of FTX in 2019, a full cryptocurrency derivatives exchange, underpinned by blockchain, was the next logical step.
Despite his youth, Bankman-Fried took full command in negotiations with venture capital firms seeking to invest. From Sequoia Capital and BlackRock to Tiger Global Management and SoftBank Group, investors were warned upfront that they should "support him and observe," according to The New York Times.
One by one, they lined up to invest $2 billion in FTX. The company, based in the Bahamas, was valued at $32 billion in October, even as other crypto firms began to fail.
Earlier this month, FTX filed for bankruptcy protection. Bankman-Fried, now 30, says he messed up. Insiders speculate that Alameda might have commingled funds with FTX. So much for transparency.
The fall of FTX strengthens the arguments for DeFi, but it's also an opportunity for big data.
Vouching for credit scores with banks was something eaten by software. But Fair Isaac is old-school. Based in San Jose, California, the credit-scoring company was founded in 1956 after Bill Fair and Earl Isaac met while studying at Stanford University. The pair had the radical idea to transform bank lending using algorithms that made sense of past consumer behavior and predictive analytics.
Today, FICO technologies underlie 65% of all credit card decisions. Ninety of the largest 100 U.S. credit card issuers, and 95 of the largest 100 domestic financial institutions, are its clients. The company also works with 600 global insurers and more than 400 retailers and general merchandisers.
FICO business managers have been able to consistently grow the business year after year. Sales grew from $1.29 billion in 2020 to $1.38 billion in 2022 — an increase of 6.9%. The dynamism of the business is reliability.
Executives at FICO recently reported that Q4 revenues grew to $348.7 million, up 4.2% year over year. Net income in Q4 swelled 5.8% to $90.7 million. Earnings per share jumped 18% to $3.55, and the company provided a double-digit EPS growth forecast for the next quarter.
CEO Will Lansing said the strength of the business in the face of current macroeconomic turbulence shows resilience. He's being modest.
Customers are locked in.
According to documents filed at the Securities and Exchange Commission, the net customer retention rate during Q4 was 107%. Platform software retention was 128%, and non-platform software retention was 100%. Despite DeFi alternatives, customers across all business segments are not leaving. They're OK paying the fee.
Would-be DeFi disruptors are imploding.
In fact, Upstart Holdings (UPST) is a good example of this. The company makes artificial intelligence software used by banks and credit unions to evaluate consumer loans. The company, based in San Mateo, California, recently reported that per share losses in Q3 missed estimates by 50%, according to data at Nasdaq.
Let's take a look at its technical chart …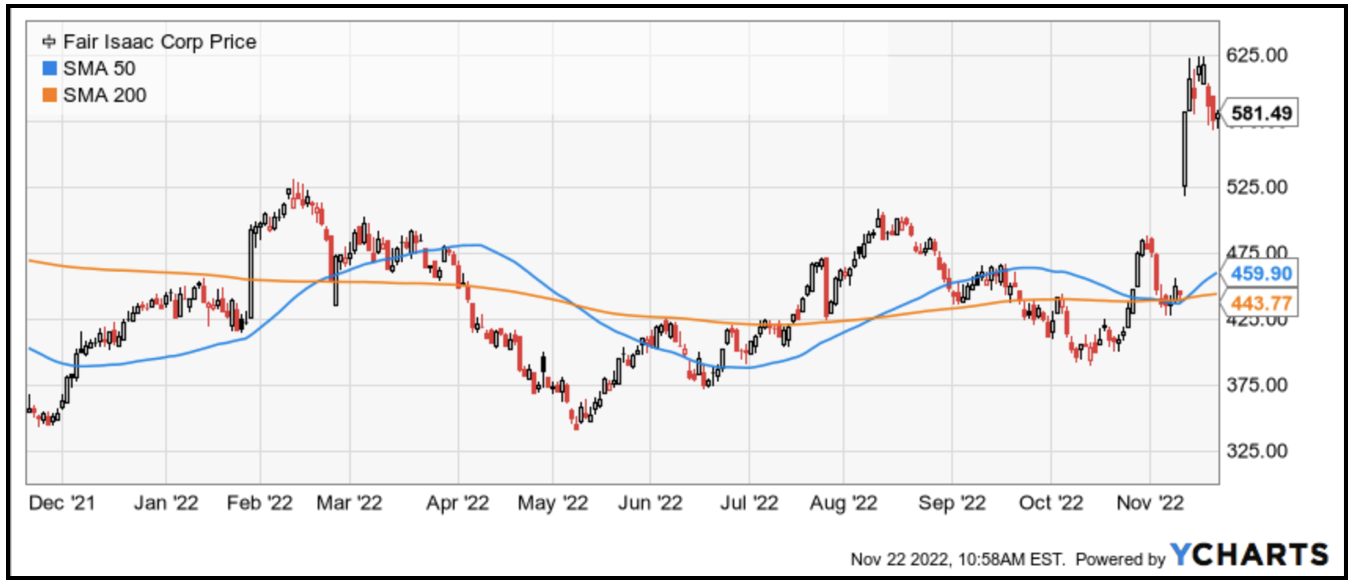 One-year chart for FICO.
Click here
to see full-sized image.
At a price of $580.88, FICO shares trade at 27x forward earnings and 10.6x sales. The stock is up 40.1% in 2022, and it is buyable on pullbacks toward $550.
That's it for today. I'll be back with more for you soon.
Best wishes,
Jon D. Markman
P.S. If you are not yet a member of my colleague Tony's service, Disruptors & Dominators, you should consider subscribing today. Members of this service are currently sitting on open gains of 53%, 35% and 25%!