Investor Sentiment Could Be Shifting Rapidly
Are we or are we not at risk for a recession? According to Senior Analyst and two-time Pulitzer Prize winner Jon D. Markman, the answer is a resounding "No."
In this segment, Jon delves into shares that have shot up despite those companies reporting less-than-thrilling Q2 corporate earnings. He says that's a signal investors are becoming more bullish about the health of the stock market.
Jon also names two breakthrough companies that he believes will thrive long-term.
You can watch the video here or continue reading for the full transcript.
Jessica Borg (narration): Are we, or are we not?
JB: Jon, there's a lot of debate right now about whether we're in a recession now, technically. What's your take?
Jon Markman: Technically, we are not in a recession! I don't know why people think we are in a recession. We are not.
A recession is not defined by the common notion that it's two consecutive quarters of gross domestic production contraction.
We did have that, but that is not a recession.
JB (narration): He points out that the National Bureau of Economic Research, the agency that declares a recession, looks at other indicators and criteria, like job growth.
JM: Just from a common-sense point of view, how can you possibly have a recession when the economy is adding +500,000 jobs per month?
JB: Do you think inflation has peaked, that the highest prices are behind us?
JM: This may sound premature, but there's a growing consensus now that inflation has peaked.
Commodities prices — copper, lumber, iron ore, wheat, even oil — all peaked in the middle of June and they're all coming down.
JB (narration): Jon is the editor of The Power Elite and Weiss Technology Portfolio.
He says there's been a big change in sentiment for investors.
JM: For the first time in 2022, stocks are rallying on bad news.
When you see stocks rally on bad news, that's usually the first indicator that you're making a bottom and moving higher.
JB (narration): He refers to companies that didn't meet their Q2 target numbers, but whose shares surged anyway.
JM: Tesla (TSLA), Microsoft (MSFT) and Alphabet (GOOGL) — they all reported earnings. They all missed their profit numbers, they all missed their revenue numbers and the stocks all rose despite those misses.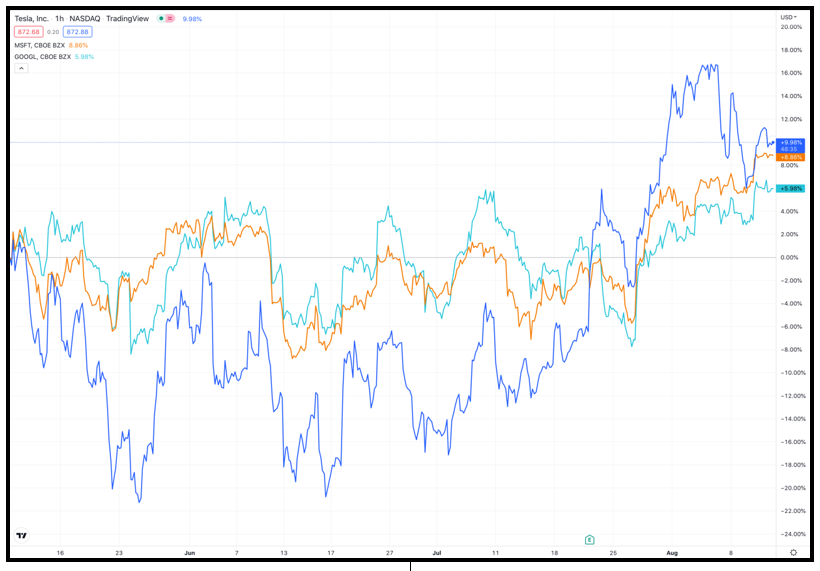 Three-month gains for TSLA (dark blue), MSFT (orange) and GOOGL (light blue). Source:
TradingView
If we're in a bear market and the sentiment was negative, those stocks would've gotten crushed on the results that they provided.
Walmart (WMT) provided its Q2 numbers and a weak full-year outlook. The company's stock fell 13% in a day. You have to understand that's a huge company. For its stock to drop 13% in a day is massive. But they recovered all their losses four days later.
And when stocks do not decline on bad news, they inevitably move higher.
It's hard to make the case that companies are going to get smashed on lousy earnings when the opposite is actually occurring.
JB (narration): Jon sees a bullish future for certain tech stocks, like the high-end chipmaker, Advanced Micro Devices (AMD).
AMD chips power Tesla's entire fleet of electric vehicles, their media control units and other smaller systems.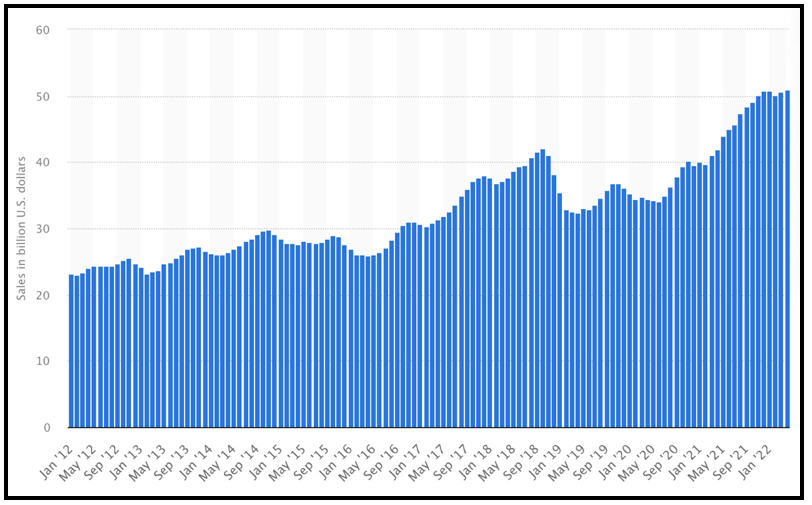 Global semiconductor sales by month, 2012–2022. Source: Statista
The company is also finding new ways to sell its chips as different uses for powerful semiconductors keep growing.
JM: For instance, it's helping hyper-scalers, like Google, develop chips for their data centers.
That used to be something only Intel (INTC) and NVIDIA (NVDA) were doing, and now AMD is doing it, as well.
The data center sales shot up 83% in the most recent quarter, which was supposedly in a recession.
JB (narration): He also sees companies in the biotech space soaring.
DeepMind Technologies is a London-based artificial intelligence research company, owned by Google.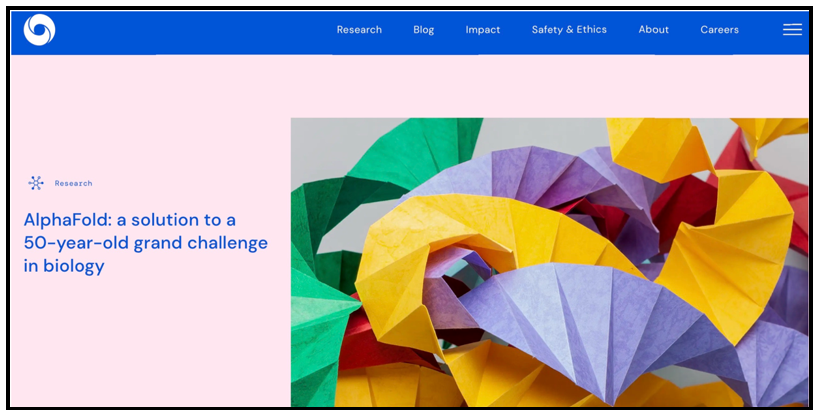 DeepMind Technologies.
It just achieved a major breakthrough.
JM: It announced that it has successfully mapped out all of the known proteins, using AI software that it developed.
JB (narration): The AI algorithms have determined the structures for nearly 200 million proteins.
This new database is considered a game-changer.
JM: This is a hugely bullish story for biotech companies, which had been trashed for the last 12 years. It eliminates the most difficult part of drug development.
JB (narration): Two ways to get exposure to the sector include the SPDR S&P Biotech ETF (XBI) and the Ark Genomic Revolution ETF (ARKG).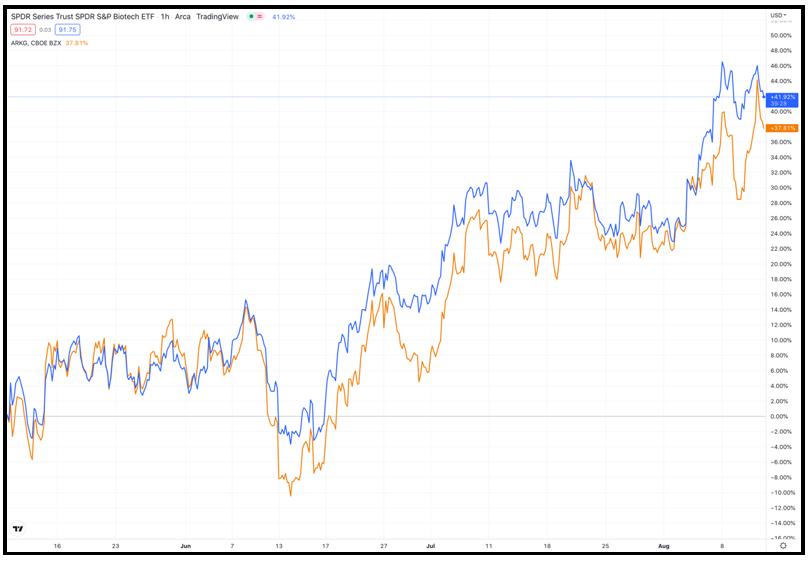 Three-month gains for XBI (blue) and ARKG (orange). Source:
TradingView
It currently trades in the $40 range, but Jon says it could surge to $70 over the next 18 months.
That would be about a 75% gain.
JM: I really think biotech is going to be a big surprise winner for the rest of the year.
JB (narration): He sees winners across these industries.
JM: Bottom line is that the bears are losing the narrative because stocks are no longer declining on bad news.
I think the future economic data will show that inflation peaked a month ago.
I think the economy is strong despite the Fed raising rates.
JB (narration): That means the Fed's so-called soft landing is indeed possible.
JB: Senior Analyst Jon Markman, it is always a pleasure to get your insights. Thank you so much for your time today.
JM: Jessica, great to talk with you.
Best wishes,
Jessica Borg
Financial News Anchor
Weiss Ratings